By Graham K. Rogers
---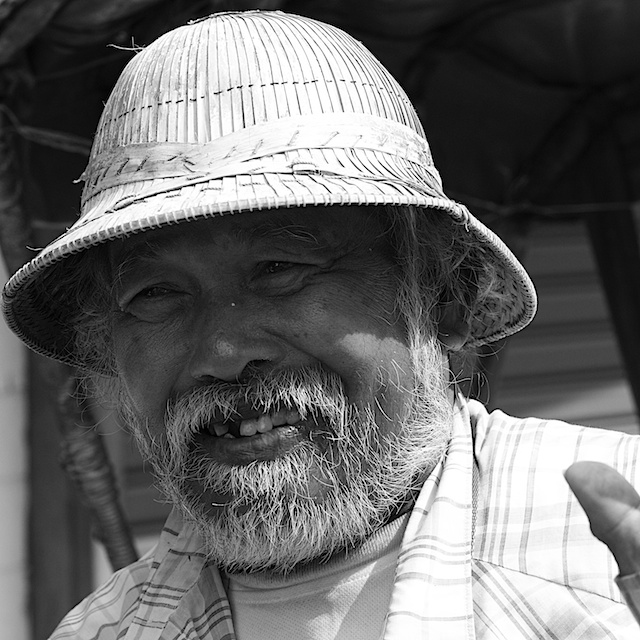 This week I cancelled my TV service. Many worldwide are cutting the cable because delivery on demand offers better choices. Some have never used satellite or cable TV, and only know internet media. This move away from traditional TV threatens not only the providers. Reduced advertising income threatens organised sports. They need to respond to new forms of content delivery.

During the week I went into the offices of the TV provider and cancelled my subscription. I was politely asked Why: Choice. The next morning I was not surprised when the company phoned and a polite young man asked me in rather good English the same question. He made an offer for a better package at a greatly reduced price. Expanding on my previous comment, I explained why it was more convenient and far more economical to use internet delivery systems for content on demand.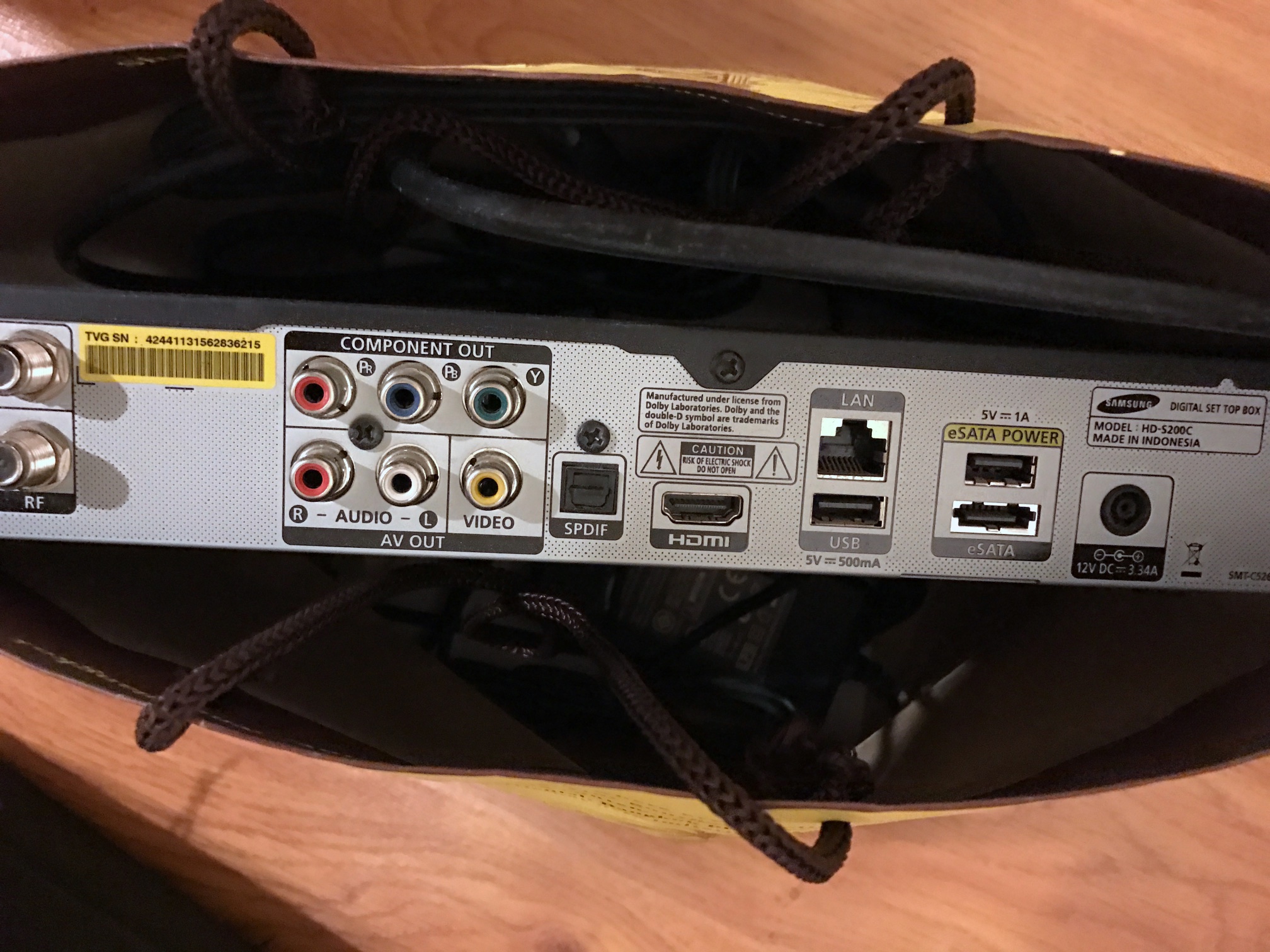 Satellite control box - all wrapped up ready for collection

I had owned the Apple TV 3 for a year or more. It was useful in some ways, especially showing content from my devices on the larger screen. When Apple TV 4 arrived, there was a considerable difference in what was available, even though the number of apps that can be downloaded from the App Store in Thailand are far less than in other countries.
Apple TV is also not quite the bargain here that it is in the USA. Local taxes mean that it is slightly more expensive, while copyright restrictions do not allow the same programming or apps to be available. An example is HBO. Users in America can use the HBO app on Apple TV or an iOS device: no cable or satellite subscription required. HBO channels here are only available in a package from the TV provider; and with those packages, there is no mix and match: the full contents are not the user's choice.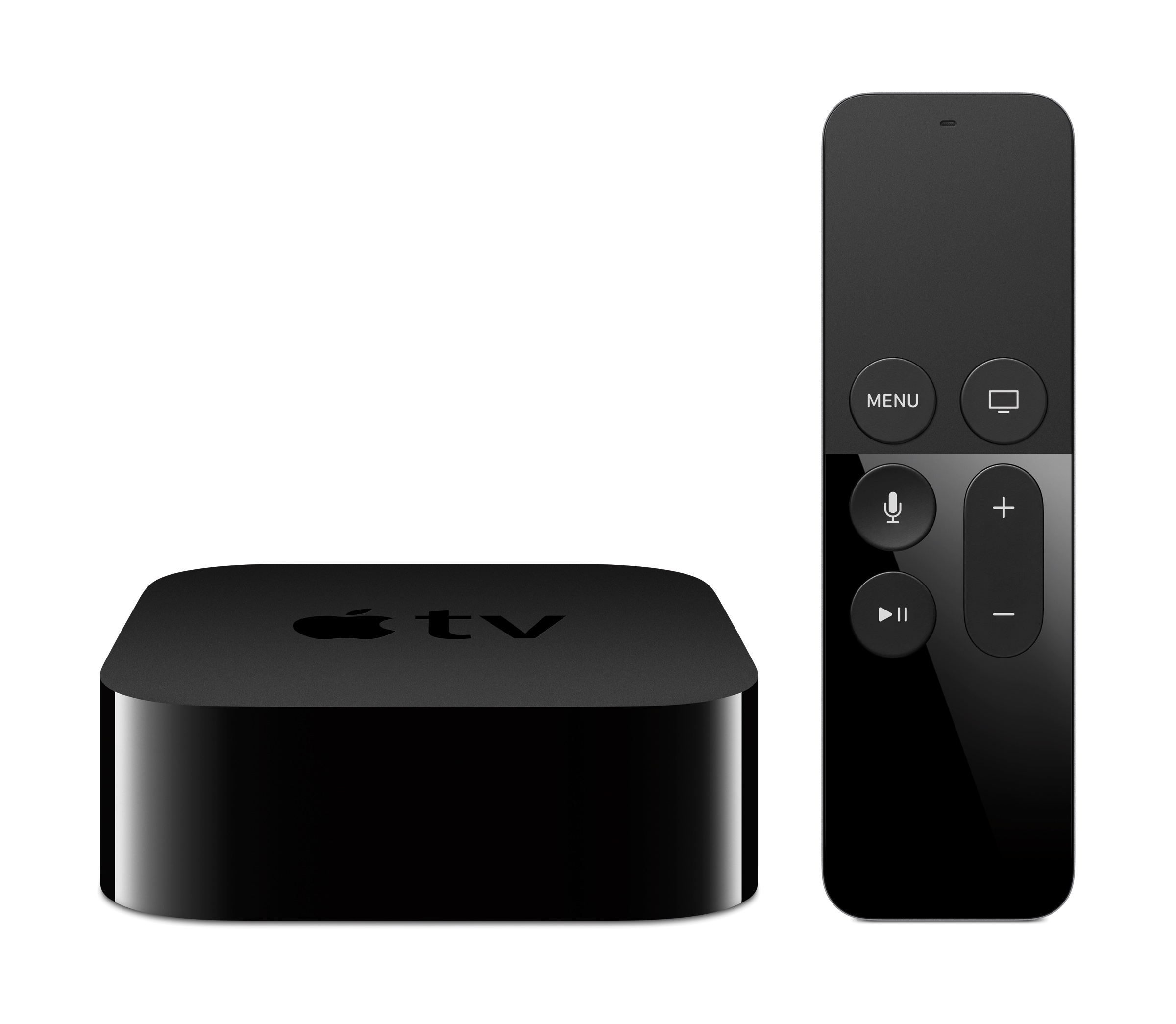 Apple TV - Image courtesy of Apple

Not long after Apple TV 4 landed in Thailand, Netflix announced that it was expanding operations to markets worldwide. When that app arrived here, I subscribed immediately. Despite the limited content (around 10% of what is available to subscribers in the USA), my viewing patterns changed considerably.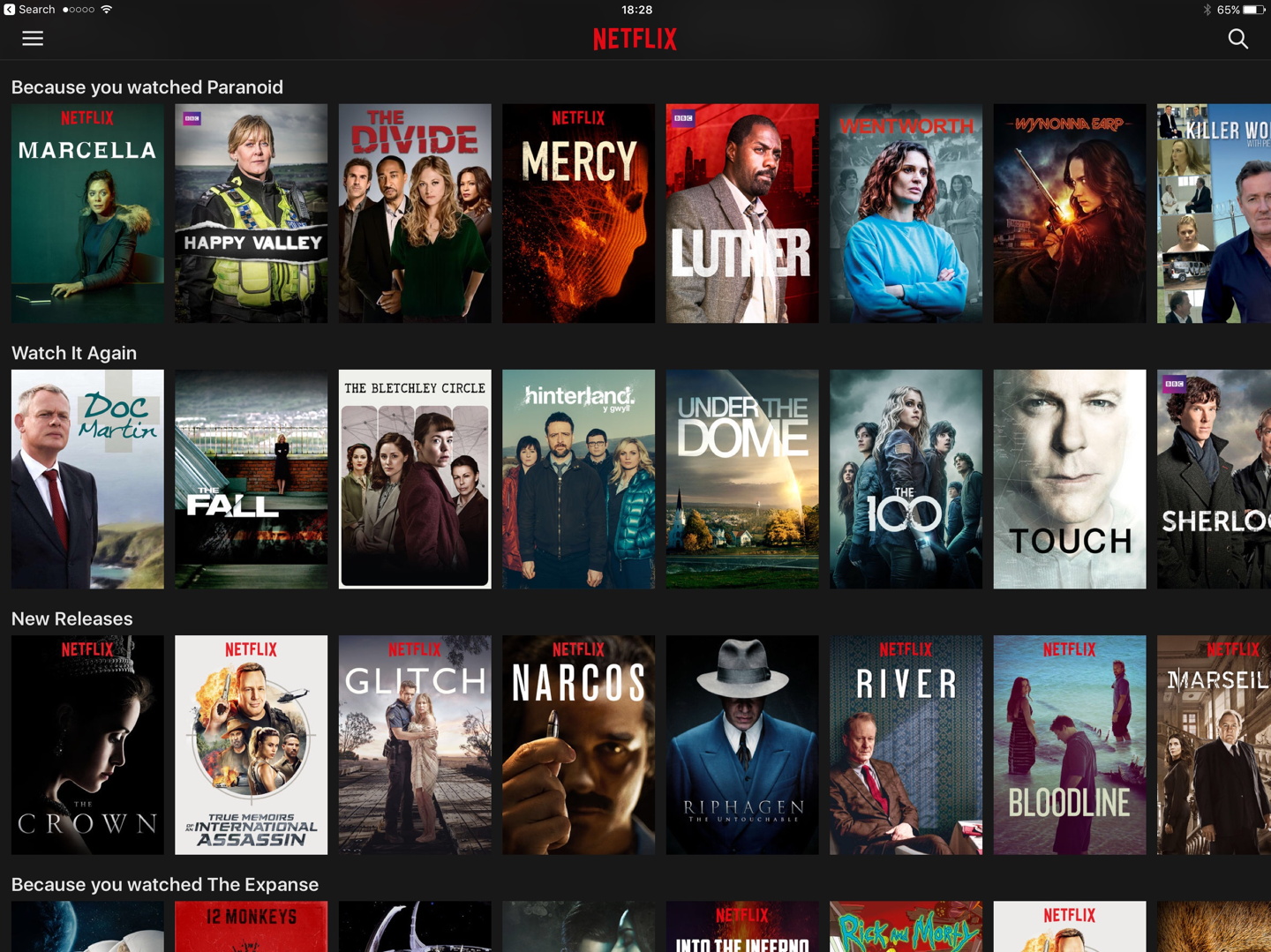 Netflix sample screen on iPad Pro

For 290 baht a month, I have been able to watch movies and several series ("Breaking Bad" was one of my early favorites), at my convenience. If I want to work one evening, I am not tied to TV time scheduling. If I want to wash the dishes, I stop the feed and pick up when the plates are done. Likewise, the inevitable bathroom visit does not have to wait for a commercial break. There are no commercial breaks. I pause and return all at my convenience; and if I want to watch one, two or six episodes of a series, I can do that. Or I can stop watching for a few days and miss nothing. Netflix now also allows users to download content and watch offline. At MY convenience.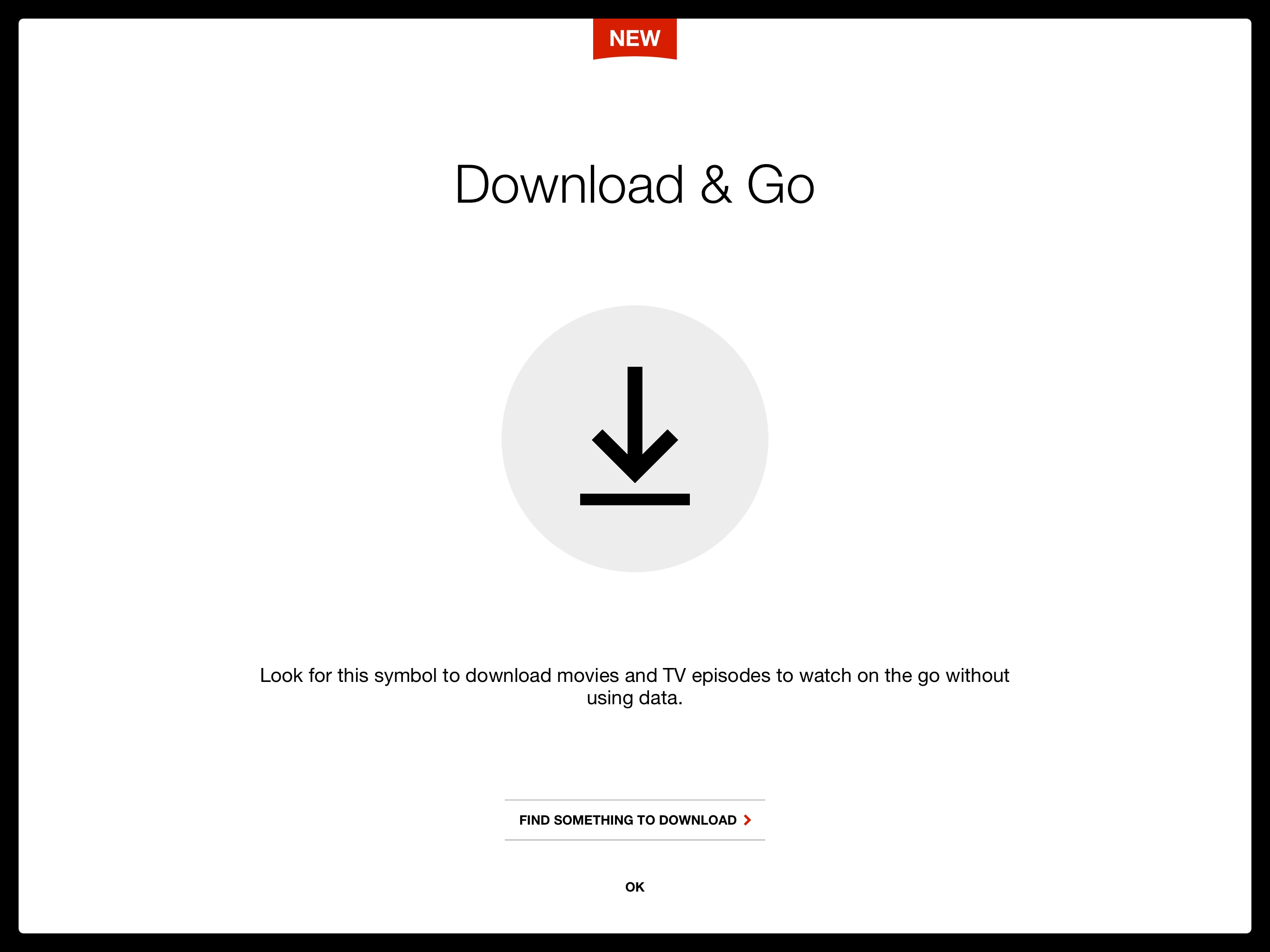 Netflix download information

I also found iFlix which has several series (there is some small overlap with Netflix) plus movies. iFlix has more Asian content, including some Thai programming. Currently there is no app for AppleTV. I have been told (twice) that they are working on it. I pay slightly less for iFlix than Netflix at 1,000 baht for the year. It is normally 120 baht per month, I was told when I signed up.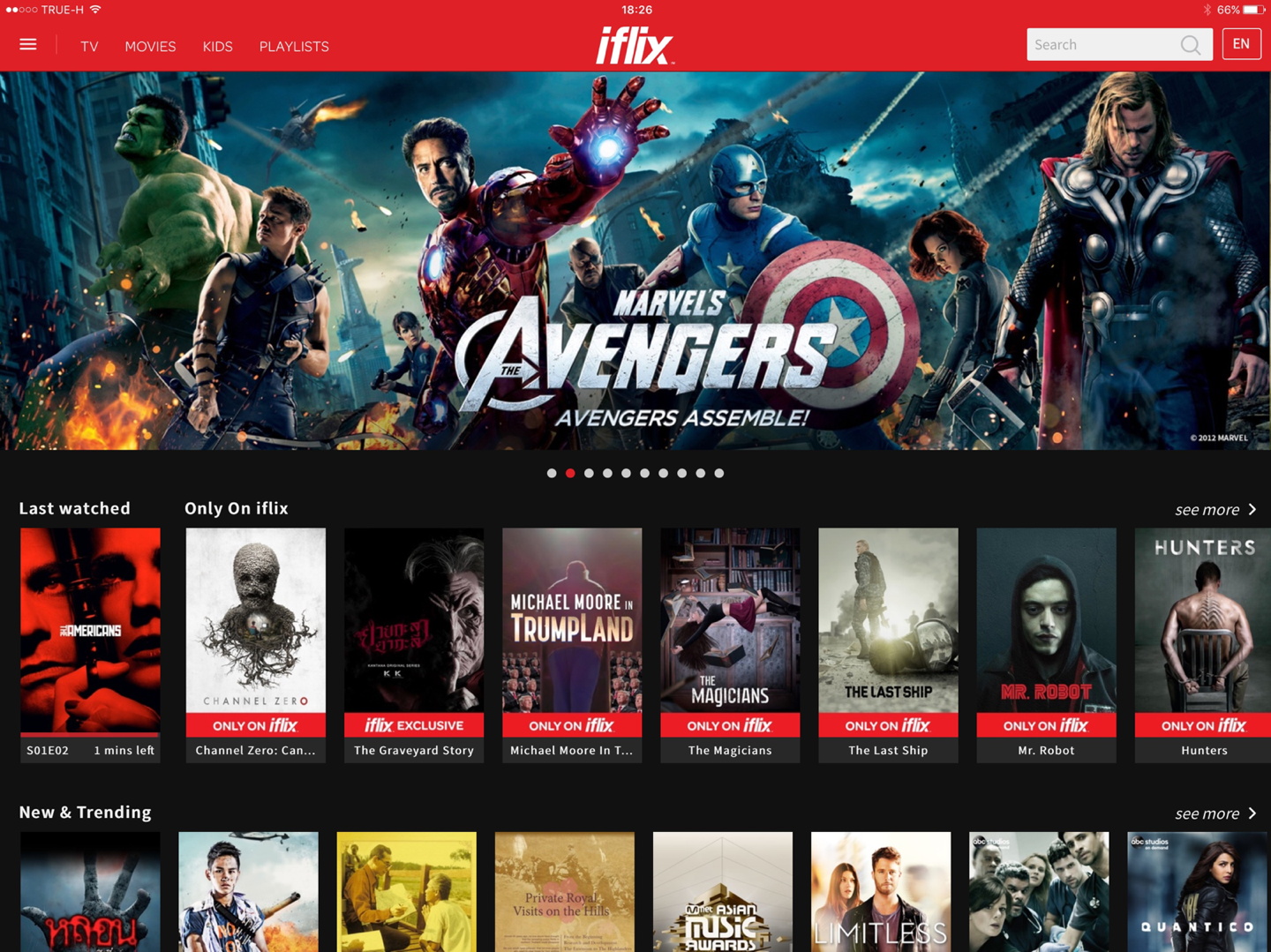 iFlix sample screen on iPad Pro

The same applies for iFlix as for Netflix: I watch what I want, when I want, with not a care for scheduling or commercial breaks. Using Apple TV, I can feed the content to the larger TV screen. The iFlix feed is not always as solid as for Netflix, but is satisfactory most days.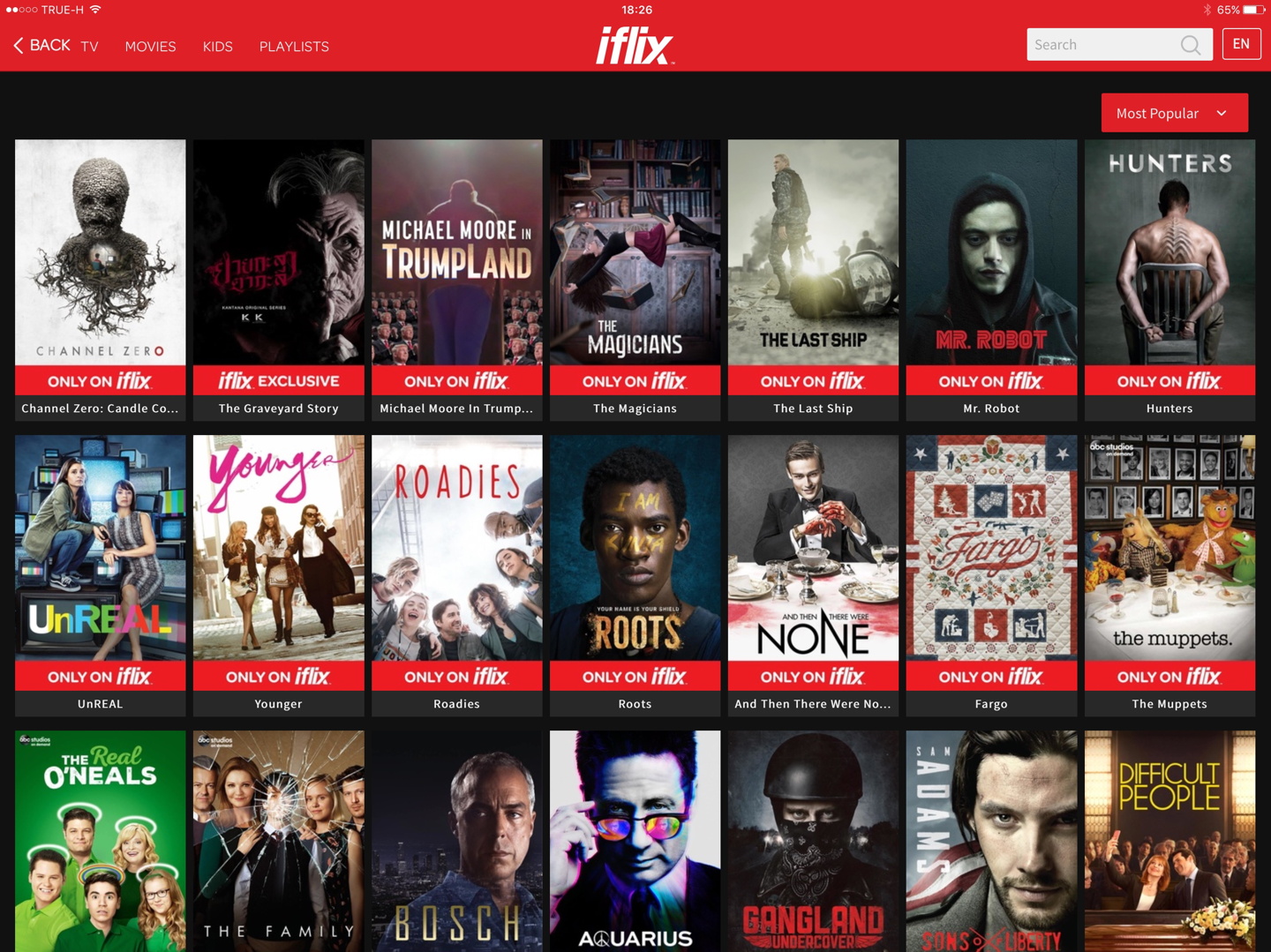 iFlix Most Popular screen on iPad Pro

Sports coverage is another matter. Fans prefer to watch events live. American users of Apple TV have access to some sports apps. There are none here. With one important exception in Thailand, all sport is covered by traditional TV delivery systems. That exception is MotoGP (motorcycle racing). The rights are owned by Dorna and, although it is on TV, I watch the racing on the iPad Pro (using a browser on a Mac still needs Flash), having subscribed about 3 years ago. Like iFlix, I feed this through WiFi and the AppleTV, so watch it on the larger screen.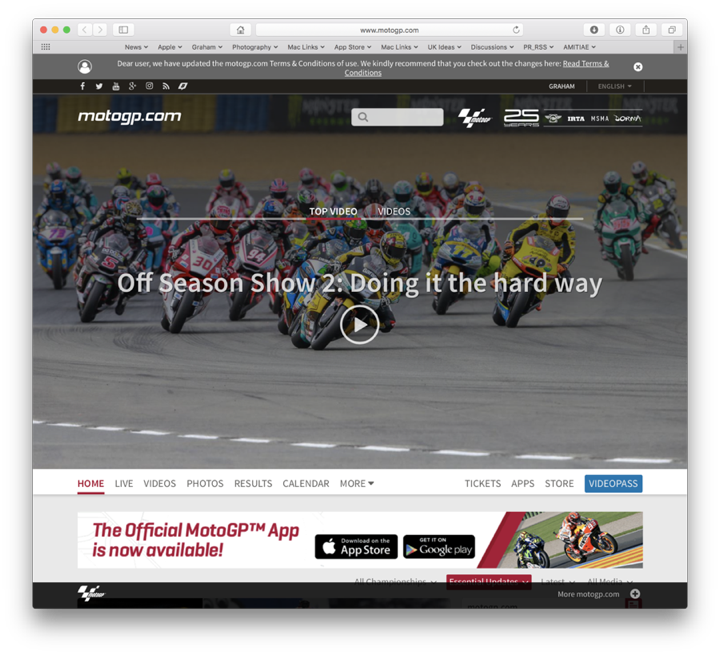 MotoGP Browser Display

I am not really a lover of other sports: for example, I always switch channels when soccer comes on, but I have been a lover of Grand Prix racing since I was a child and the engines were in the front. With MotoGP, iFlix and Netflix subscriptions, none of my viewing was through the standard television system, apart from Formula One: I was paying 1500 baht a month for a couple of races, or about 5 hours viewing.
In America and Europe, providers of traditional TV are reporting major losses in viewer numbers and they are not yet able to respond to this. Fewer viewers means an eventual reduction in advertising income, something that other traditional media forms are also suffering from. This is also likely to affect the rich sports franchises that also rely on TV income: no viewers, no money.
While some, like Dorna, responded to Internet possibilities quite early, Formula One management made its money in traditional TV and falling numbers means that the licence to print money may have less value. It is time to move to where the spending customers are now.
Graham K. Rogers teaches at the Faculty of Engineering, Mahidol University in Thailand. He wrote in the Bangkok Post, Database supplement on IT subjects. For the last seven years of Database he wrote a column on Apple and Macs. He is now continuing that in the Bangkok Post supplement, Life. He can be followed on Twitter (@extensions_th)