By Graham K. Rogers
---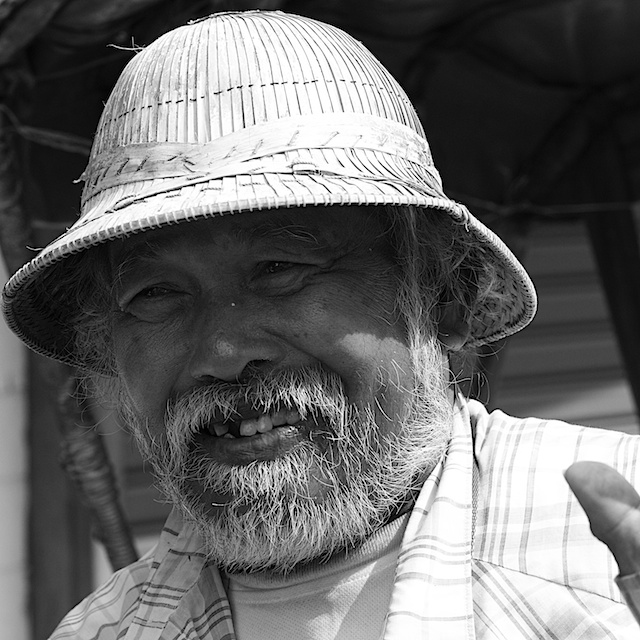 I have had visitors in the home all week and it has been something of a mini-Apple event. I bought iPads for the two friends who already had an iPad mini each. I gave them the latest iPad mini 3. With these we had over a dozen devices together and I could not resist a photograph that included a MacBook, MacBook Pro 13" (2012); MacBook Pro 13" (2010); 2 x iPad min 2; 2 x iPad mini 3; iPad Air 2; 2 x iPhone 6; iPhone 6 Plus; and an Airport Extreme router under the table. There was also an Apple TV behind me.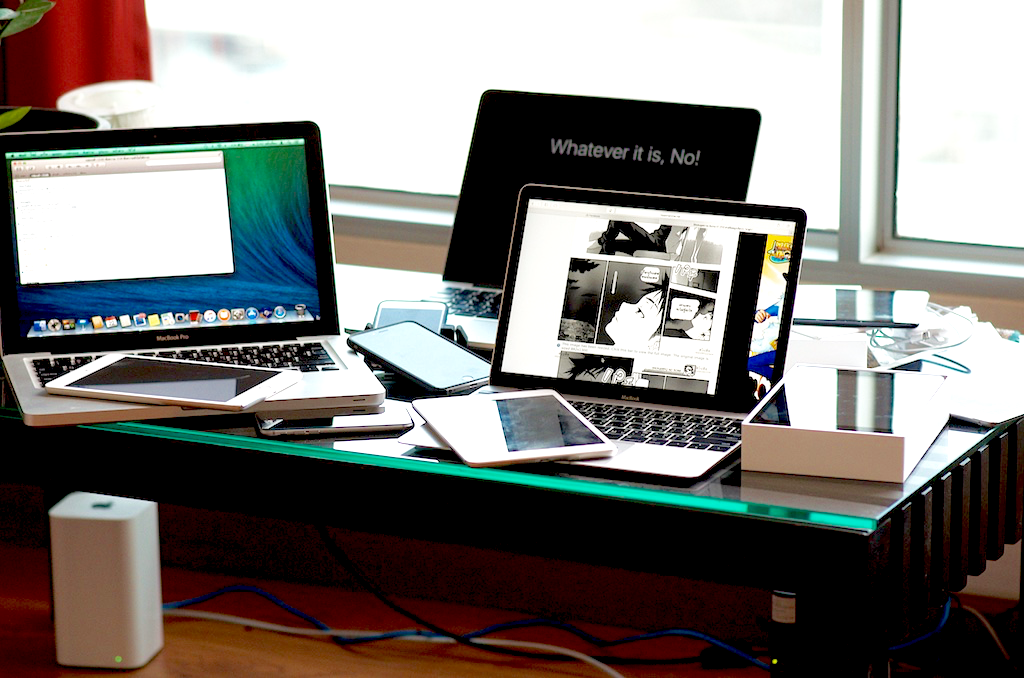 My friends were able to make direct comparisons with their old and new models, reporting that the iPad mini 3 scrolled quicker and had much better battery life. Reactions to WiFi speeds were also better and I saw this with a back to back comparison: 2 iPads, same web page. Both were also pleased with the higher quality images they were now taking with the camera in the iPad mini 3.
An interesting point with both of these friends is that they use their iPads for everything. One hardly ever touches a computer. The other has a MacBook Pro but uses that only when absolutely necessary. This matched with comments made to me elsewhere concerning some older users who claimed that using a PC made them dizzy and so use their iPads constantly.
I did wonder if they needed special glasses to compensate for the extra distance a computer screen is usually positioned, but this is academic and they are "addicted" (as I was told) to the hand-held devices. Tablet computers are now the new Personal Computers. Analysts may need to recognise that in the future some users will never touch what we think of as a PC (Macs included).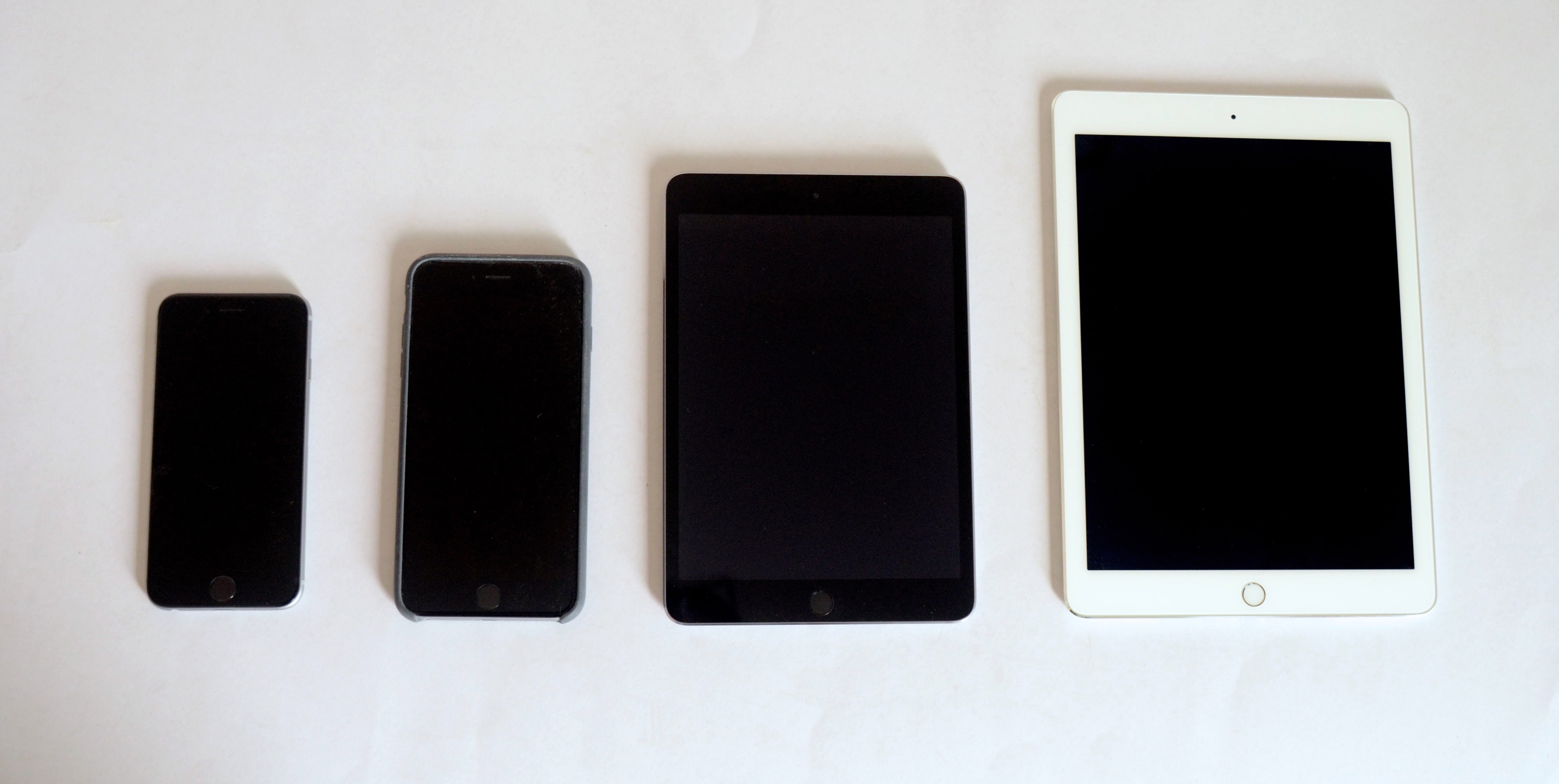 iPhone 6, iPhone 6 Plus, iPad mini 3, iPad Air 2

I was also asked during the week about how the iPhone 6 Plus would fare as a replacement for an iPhone and an iPad. That prompted me to take a side-by-side photograph of current iOS devices. I tend to leave my iPad at home and make-do with the smaller screens of the iPhones when out. I can work on the iPhone with most applications, including those I write with, although columns of figures in Apple's Numbers are not so easy to read on the iPhone 6. With news sites, I prefer to use landscape mode as the characters are larger.
On the iPhone 6 Plus, the text, including Numbers, is only slightly larger. Tentatively I would say it is possible to replace an iPhone and iPad with the iPhone 6 Plus. But it depends on the type of work being done and how good the user's eyes are. A smaller screen is bound to cause some strain if used to excess. I often connect my iOS devices to the television: there is an adapter available; or I link via Apple TV. Being able to display the contents of an iPhone on the large screen of a TV is a useful solution.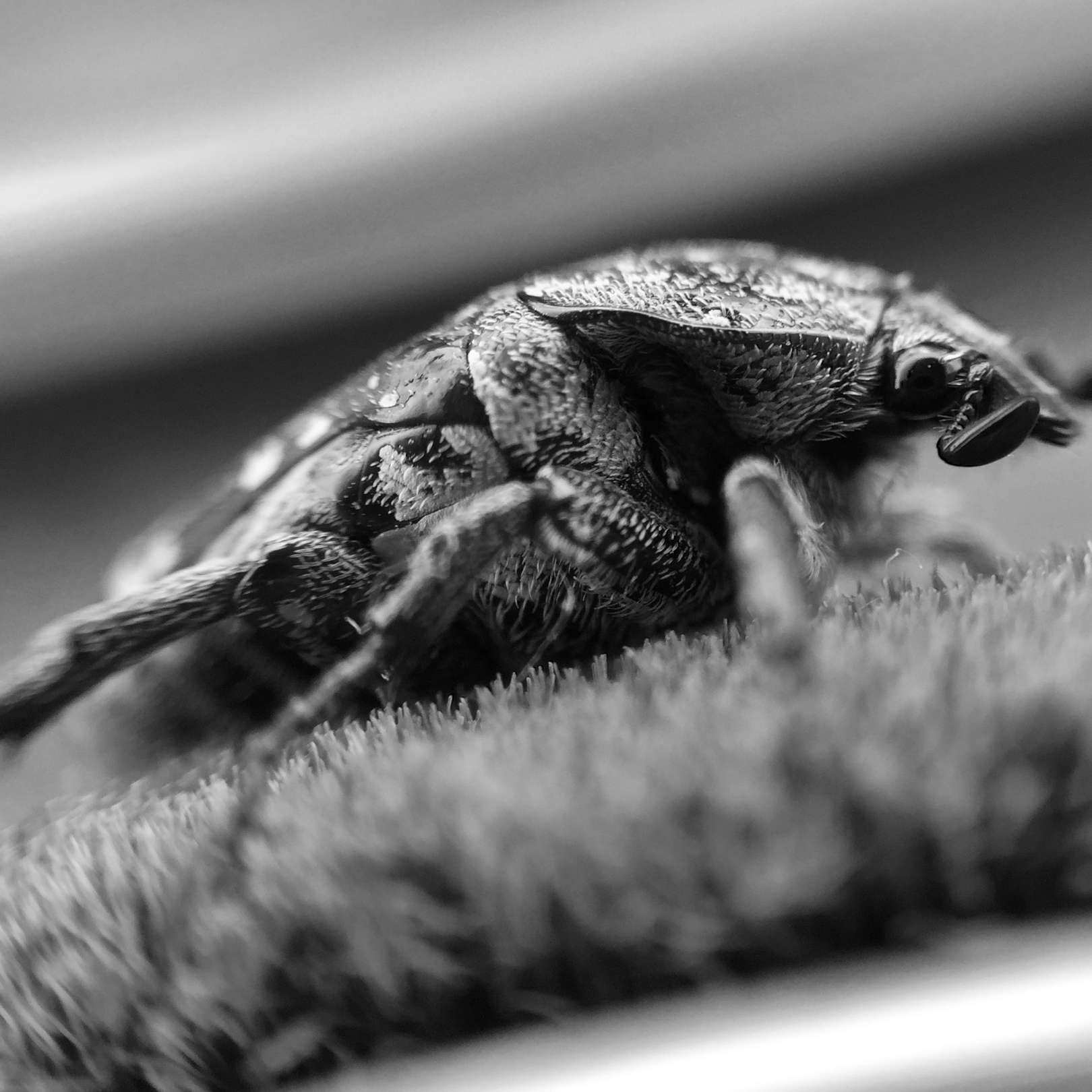 iPhone 6 Macro Shot

The screens of both current iPhones make reading text quite easy and the display of images is good. I am using the camera of both iPhone 6 and iPhone 6 Plus more often these days and often leave my DSLR camera at home. This week, I also tried some macro photography using the lenses from Mobi-Lens, a former Kickstarter project. While I tried the well-engineered olloclip lenses before (also a Kickstarter project), these have the advantage that their construction allows them to be used with iPads as well as the iPhones. I also tried them on a Samsung and a Sony phone.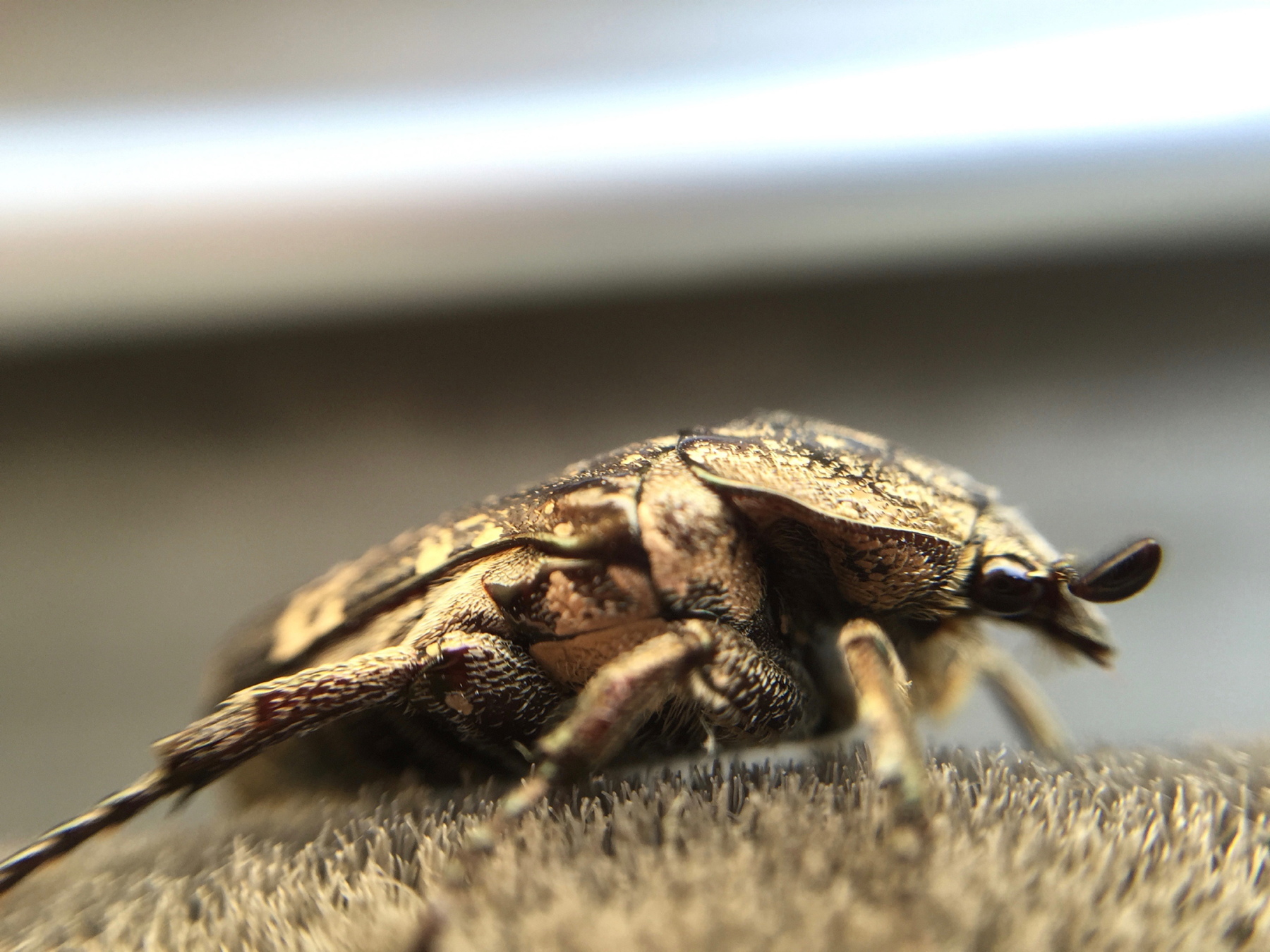 iPhone 6 Macro Shot
Last year I wrote that Microsoft had released a version of Office for the iPad (and later iPhone), but it was not available in the iTunes app store for Thailand. Official comments I managed to glean from Microsoft then told me it was "unlikely to be made available any time soon". Almost a year later, Office for the iPad is now in the iTunes App Store for Thailand. The components are hefty apps and may take some time to download.

Apple released a flash Storage Firmware Update for the mid 2015 15" MacBook Pro with Retina display last week. Apple said that the update addressed a storage firmware issue that, in rare cases, could cause data corruption.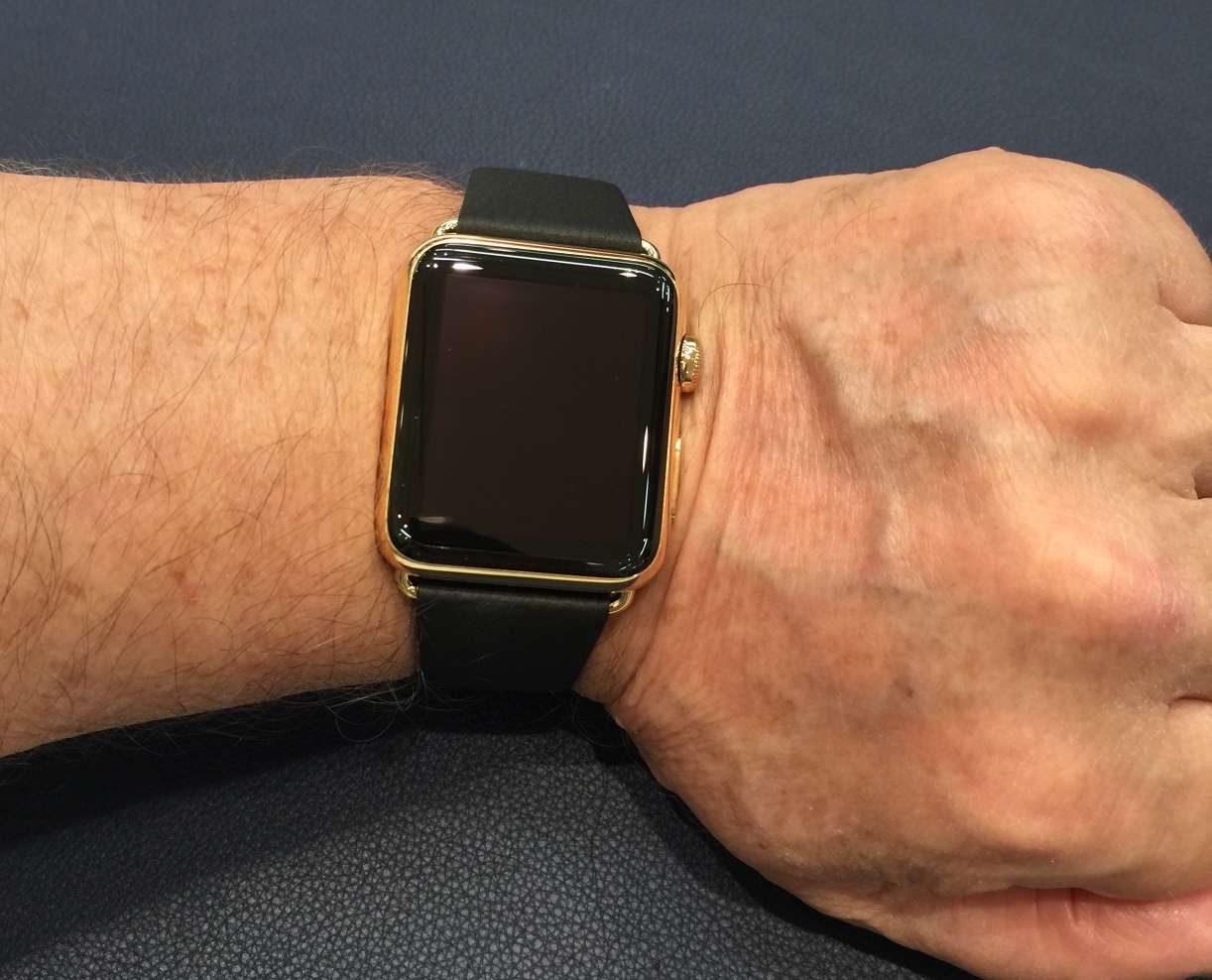 The Apple Watch caused much speculation before and since Apple's quarterly financial results partly because Apple decided beforehand to lump the figures in with the "Other" sales, that included iPods. With that section showing an increase of about $952 million over the previous report, analysts thought they had the answer, but Apple's CFO Luca Maestri said not: watch sales were offset by declining revenue from iPods and accessories; so the figures were still just guesses.
Perhaps Rene Ritchie of iMore had it right when he wrote that "the iWatch will be one of the dumbest media frenzies of 2015".
See Also:
Graham K. Rogers teaches at the Faculty of Engineering, Mahidol University in Thailand. He wrote in the Bangkok Post, Database supplement on IT subjects. For the last seven years of Database he wrote a column on Apple and Macs. He is now continuing that in the Bangkok Post supplement, Life.