By Graham K. Rogers
---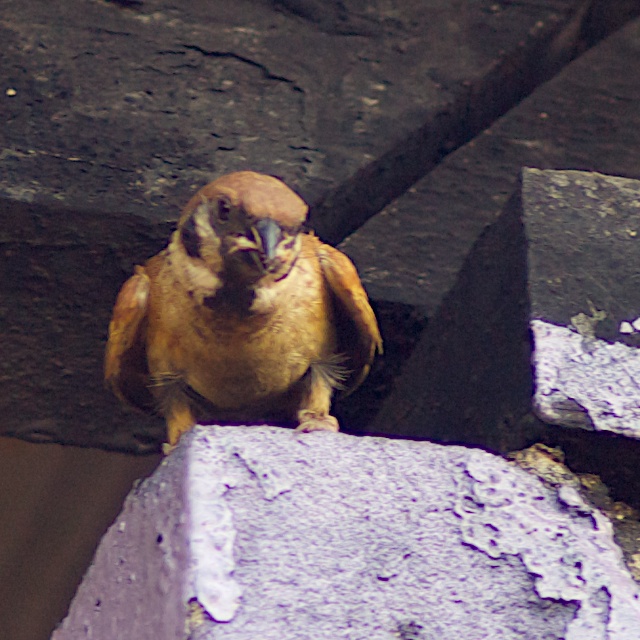 Next Tuesday (21 July) Apple announces its Third Quarter earnings: at 14:00 Cupertino time just after Wall Street closes. Apple's predictions suggest revenue between $46 billion and $48 billion. With iPhones maintaining levels and Mac sales still respectable, this will continue for a while. Apple experienced 16% growth in sales of Macs in the last quarter.
In two days time (17 July) the Apple Watch is released in Thailand. There is much information about this on the Internet: good, bad and some false. When commentators wrote about the first iPhone without even handling it (I had - the day after it was announced) there was also much that was false that still remains uncorrected.
I have yet to try the Apple Watch: there is little point writing about something I know nothing about. At the weekend, pages displaying the Apple Watch in the online store for Thailand had "Add to Cart" buttons still greyed out. I expect these will go live Friday morning.

I have been playing with Apple Music this week on the Mac and the iPhone (with Wi-Fi and G3/G4). Beats 1 radio does not appeal to me as an all-day station. I prefer listening to the Alternative and Classical stations. The "For You" section has me spending a lot of time scanning through (and listening to) some of the music I had in the 1960s. I gave my vinyl collection to my sister.
A search feature has found me much music I am enjoying too. For the monthly fee I have access to far more music than I could normally buy. The service still needs some rough edges taken off, but the 3-month trial (like a beta) will see some improvements.

MacBook: Image Courtesy of Apple

I have been enjoying my use of the latest MacBook. When this was announced there were several technical points that interested me. The Mac team have borrowed a number of technical tricks from the iOS side, starting with charging.
When I connect the power cable, instead of the silence of the MacBook Pro, there is a tone just like when I connect the iPad or iPhone. When the 17" MacBook Pro was announced in 2009, much was made of the battery technology: the cells were flat. Apple has continued to work on batteries, particularly for the handheld devices and this is another area in which improvements are made.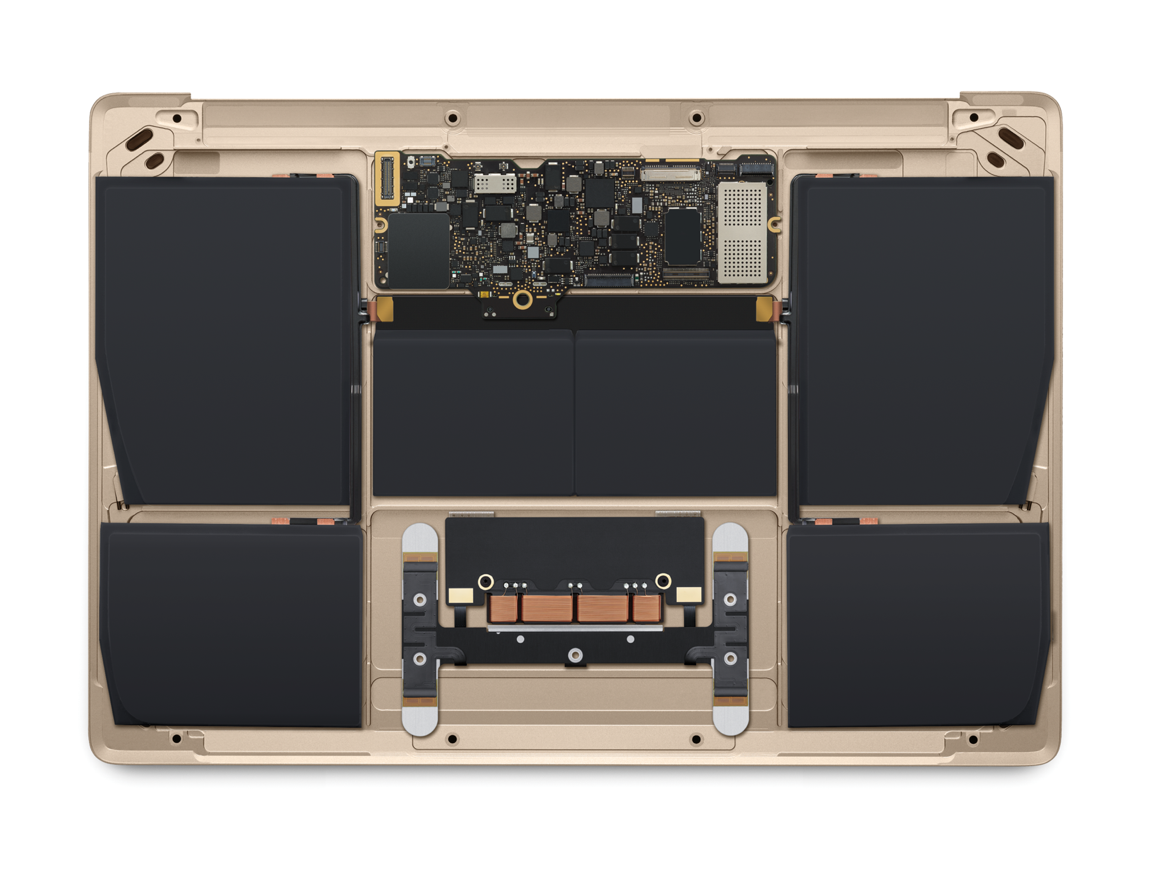 Interior of MacBook: Mainboard Top, Trackpad Mechanism Bottom - The Rest is Battery

In this case the batteries are terraced, so the layered cells allow more battery to be installed. As the main board is also smaller than that in any other Mac, this leaves more space for the battery. I am finding that in day to day use, this is giving me better battery life than I have ever experienced. I can use the MacBook all day at work and continue to work on it when I come home. By the end of the day there is usually between 20-30% remaining. This also means I do not need to carry the charger, so my backpack is even lighter.
I am also pleased with the performance, helped somewhat by the standard 8 GB RAM and solid state drive. As well as writing, I am working on photographs, mainly in Apple Photos, where editing of images is effected with no noticeable lag. I also installed the just-released Affinity Photo, a high-level graphics editor for Macs with a full toolset that allows me to edit images in realtime.
Despite the lack of a fan, the MacBook runs cooler than my MacBook Pro. To deal with heat dissipation, the inside is coated with a material that makes the whole case act like a heat-sink.
The trackpad has some new touch technology that is sure to find its way into iOS devices soon. The trackpad does not move, unlike the spring-loaded one of the MacBook Pro. When the computer is off, the MacBook trackpad has no movement. When power is on, there is haptic (touch) feedback. Haptic technology also has a use in the Apple Watch, giving feedback to users.
Similarly, when pressed (not touched - PC users take a while to grasp this) it feels as if the trackpad moves. In some cases there is a second click felt, for example to reveal the definition of a word in text. On the MacBook Pro this is done with a 3-finger touch gesture. There is more, but I am still learning the tricks on this device.
I have also had to make slight changes to the way I type. The keys are larger than those on my other computers, with less space between rows. The mechanism beneath the keys was redesigned so that the keystroke registers wherever it is pressed. Key movement is much less too, so it feels odd to someone like me who bashes away on a keyboard, but after a short while the gentler input feels better. I am also making far fewer typing errors.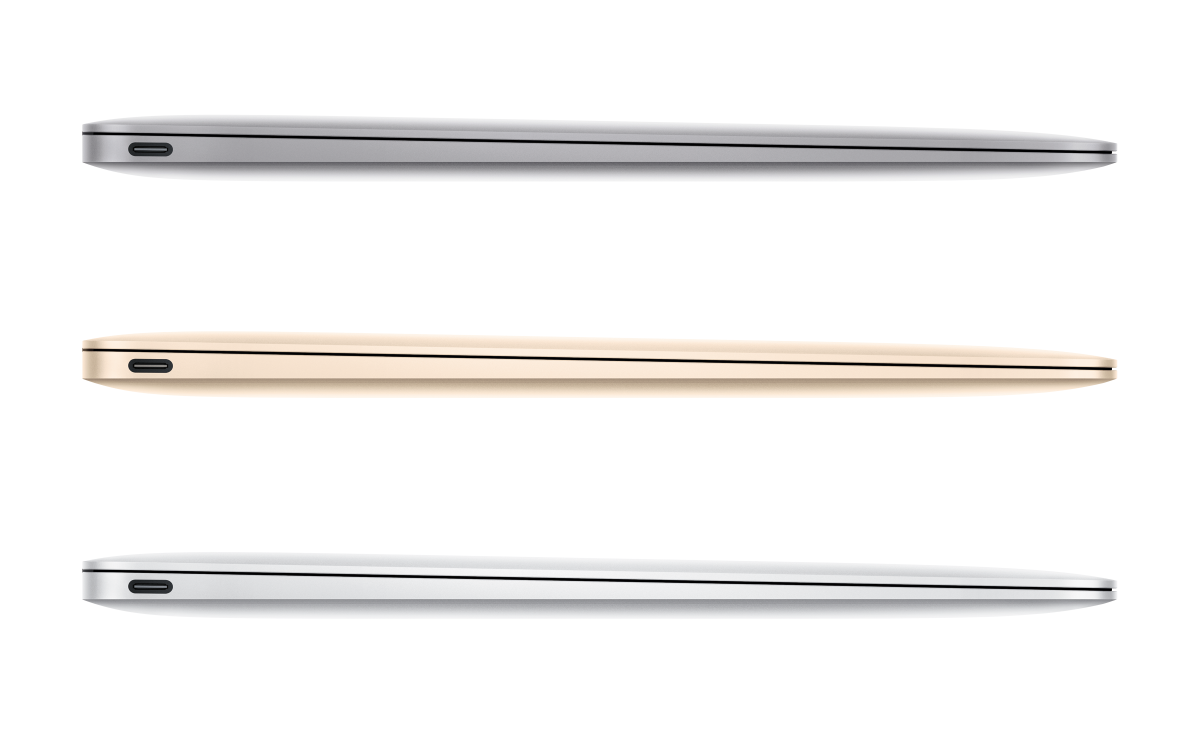 MacBooks in all Three Colors: Image Courtesy of Apple
Graham K. Rogers teaches at the Faculty of Engineering, Mahidol University in Thailand where he is also Assistant Dean. He wrote in the Bangkok Post, Database supplement on IT subjects. For the last seven years of Database he wrote a column on Apple and Macs. He is now continuing that in the Bangkok Post supplement, Life.