By Graham K. Rogers
---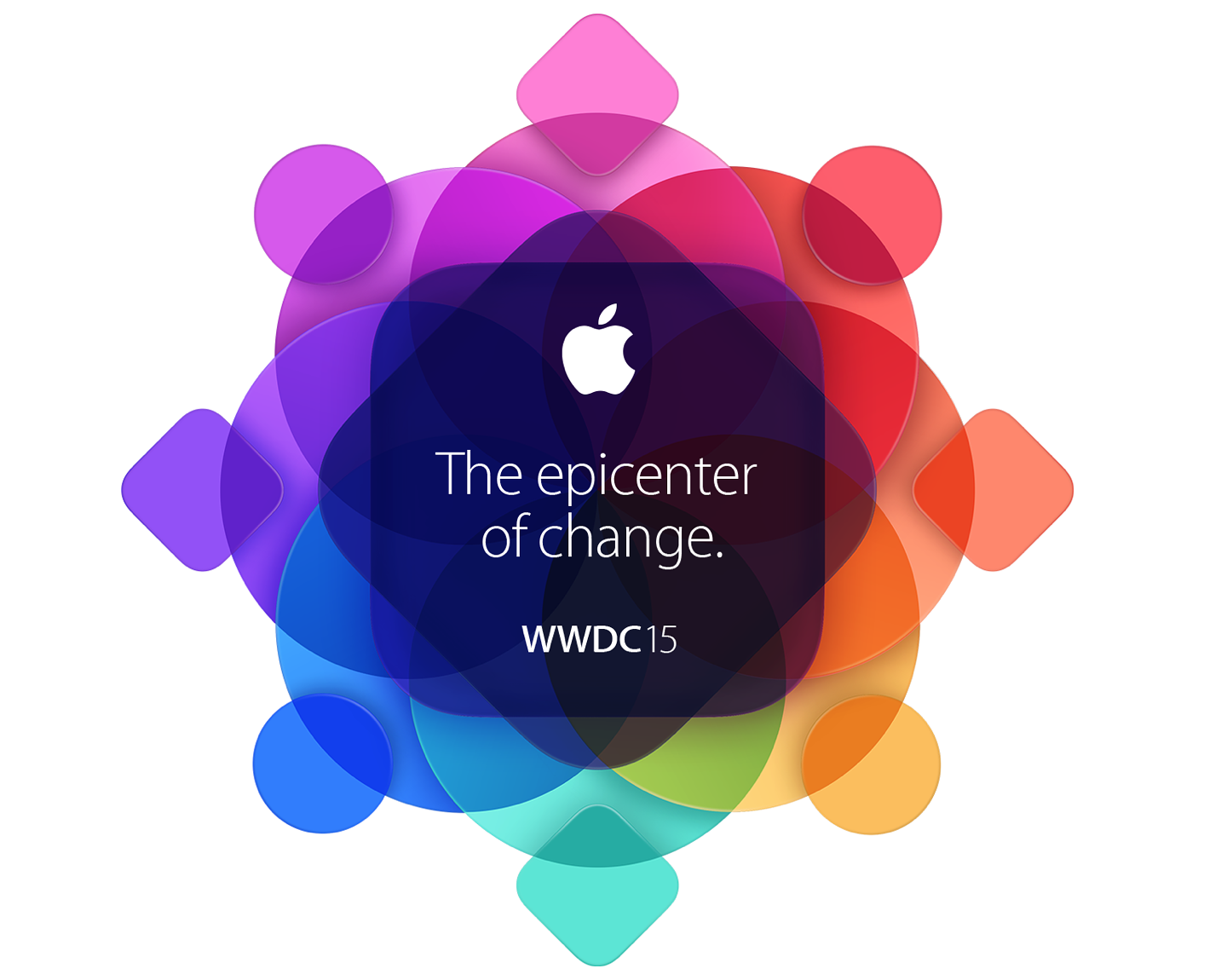 With the loss of MacWorld and its annual keynote speech, several of Apple's announcements are now made at the June WWDC. This year there were a number of spoilers from the rumours circulated beforehand. With CEO Tim Cook as ringmaster, there were more than the usual number of performers: with several coming from outside Apple. For the developers, this was an exciting event. For the popular press and consumers, less so, although the potential was there for those reading between the lines.

Now that I no longer go to the WWDC, I cover the event from my armchair via Apple TV. There is also no point in live blogging. I tried that a couple of times: the first left me drained; the second was spoiled by the poor transmission; something that affected many world-wide. So many online publications were live-blogging this time that I would be lost in the rush. Why reinvent the wheel?
I watch the Keynote presentation, absorb what I can, and sleep on it. By the time the morning comes round, ideas are better sorted, along with implications and I can draw on some online information. Example include the Apple site and PR information that appeared in my mailbox overnight.
When possible I also rerun the video to confirm comments in my notes. I am also aware that there is nearly always a surprise. Before the event, the Developer site was unavailable, but the Apple online Store did not have its,"We'll be back soon" stickers up. There was no hardware announcement which disappointed those expecting a new iPhone or Apple TV (that was reportedly pulled a few days before), but to listen to the reaction of developers it was clear they were more than content: the potential was the excitement for them.
Several times during the presentation there was mention of user privacy, picking up on that theme mentioned by Tim Cook last week. This is clearly aimed at Google and Facebook among others.
There had been a number of shots of the outside of the Moscone Center in the couple of days leading up to WWDC, but one taken inside was of great interest: Apple had a banner that read, "Sorry About discoveryd" - a rare mea culpa, although I am not convinced that this is all that is wrong with Wi-Fi connections. I also wondered if these photographs were spoof images. There was no direct mention of this in the Keynote presentations.

And as a sort of sideshow, Samsung announced the Galaxy S6 Active. I don't know whether this was an over-confident attempt to pre-empt any iPhone announcements at WWDC or a massive miscalculation: probably both.
The Keynote
The video feed I watched (on Apple TV) was up and running a few minutes before the scheduled time so we had a good look at some of those attending. As the time for the event was midnight, my times were conveniently also markers to indicate the length of the event. At 00:02 a video began and Tim Cook came onstage at 00:07 to much applause and looking totally confident.

As there was so much in the event, he avoided his usual background information, just saying, "Everything's going great". We were given a few statistics about WWDC itself: 26 years, 70 countries represented, 80% of delegates coming for the first time, over 100 sessions planned, with live streaming of 30 of the sessions. There was also a special mention for the young developers who had won scholarships, the youngest this year being 13.

Cook mentioned Brandon Moss whose team mates ransomed the ball that he hit his 100th career home run last wek. The list included many Apple devices, so they picked up the tab. Apple had the note (although the ransom demand for 50 gallon drum of lube was removed) and the ball which will now be given to Moss.

After this Cook outlined what was to come: OS X, iOS and mentioned native apps for the new version of watchOS (significant applause). He handed things over, as usual, to Craig Federighi for the outline of OS X.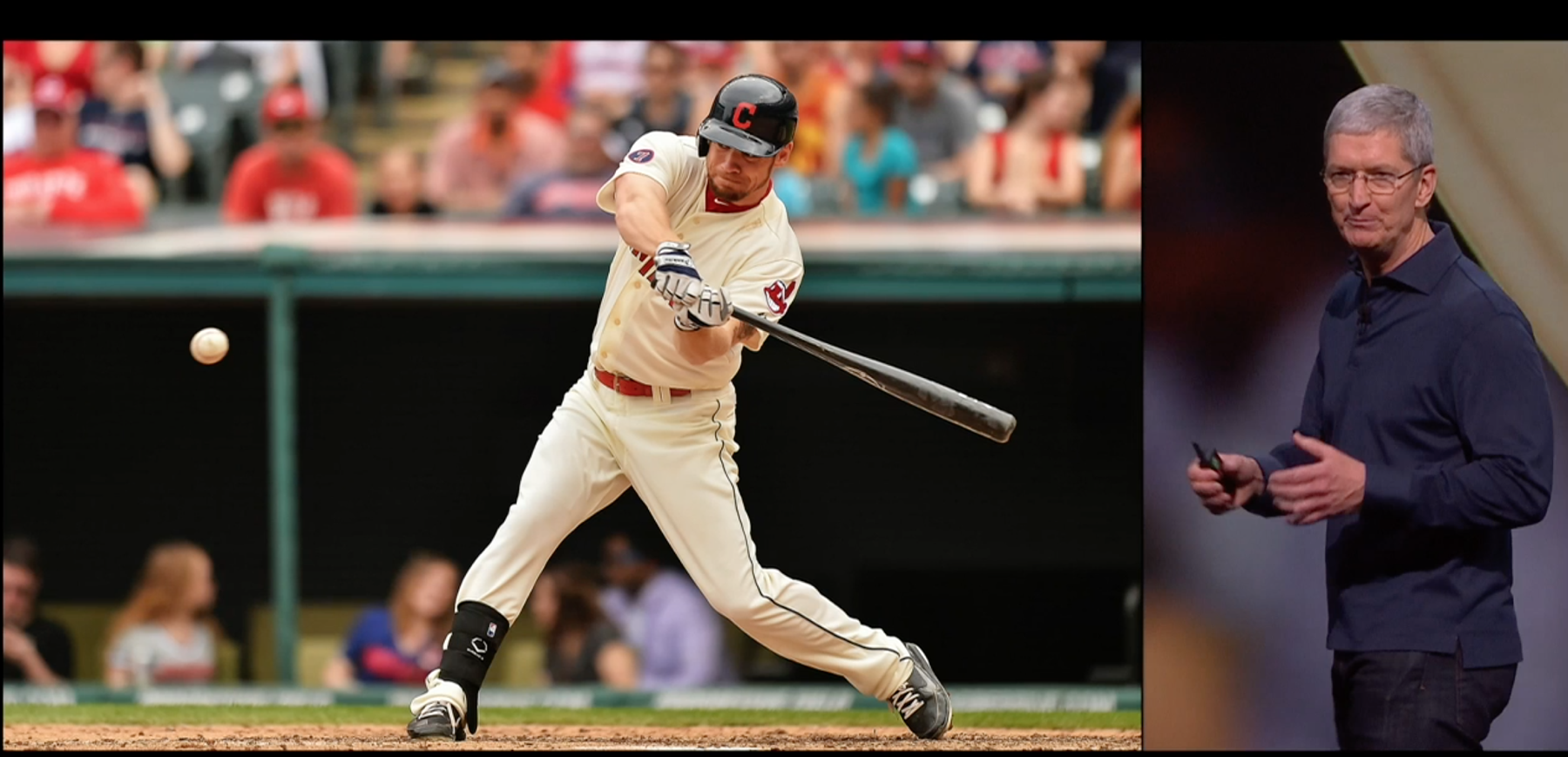 OS X
Starting at 00:10, Craig gave a rundown of Yosemite, the current version of OS X and produced a graph showing an adoption rate of 55%. There was also a line showing Windows 10 (7%) which produced a lot of laughs. When he did this with iOS, it was even more effective.

As with the outline of Yosemite last year, he gave a humorous account of how Apple chose the name for the new version: El Capitan. As this is a major feature of the Yosemite park, it was taken as an indication that this was likely to be building on current strengths and consolidating. None of those presenting on El Capitan mentioned the version number although this is shown right at the bottom of the Apple page on El Capitan. There are no surprises: this is 10.11; but Apple seems to be playing this down.

Despite the idea of evolution, there were a number of new features as well as focus on experience (Spotlight, built-in apps, window management) and performance. He went straight into a Demo which he does so well.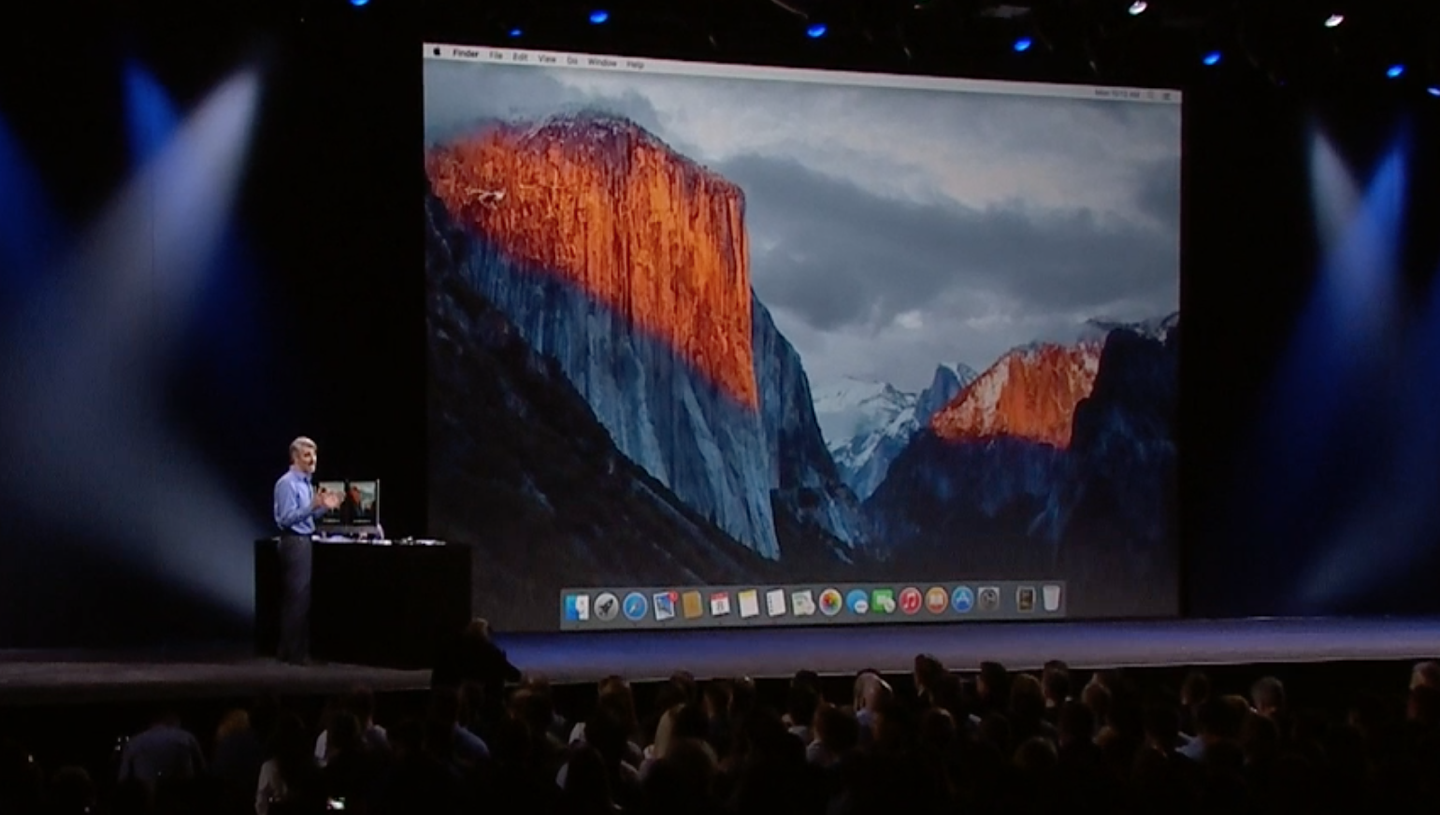 Immediately, the act of finding the cursor was shown to be easier as this now displays far larger on the screen, shrinking back to normal when used. There were a number of new gestures, and the ability to "pin" regularly accessed sites in Safari. Also in Safari it will be possible to find where the audio (or video) is coming from when several tabs are open: something I find really annoying. The response from the audience told me I am not alone here.
Spotlight has been improved and it is possible to search using normal language: the sort of simplified questions we tend to ask. Also improved is Mission Control and Exposé: it is possible to split the display, so an Exposé window or apps can be side by side.
A major feature is the arrival of Metal to OS X. This was a feature of iOS 8 and the way this works gives several major improvements to the way a Mac works with graphics. Craig cited a number of statistics:
50% faster rendering and lower CPU use
8x improvement in Adobe After Effects
10x improvement for games
A demo by EPIC games (Josh Adams and Billy Bramer) showed the potential of Metal when used in a game, although the game shown was a bit tedious: great graphics effects of course. EPIC claim a 70% reduction in CPU use. Craig listed several other developers using Metal.
El Capitan will be available as a public beta in July although a beta has already been seeded to developers at WWDC and elsewhere. This version of OS X will be available to the public in Fall.
A number of features were not mentioned but the list was displayed onscreen and an examination shows some useful changes. As a note, one report tells us that Photos will allow 3rd-party extensions, something I have been crying out for. This is at the top of Serenity Caldwell's list of 10 new OS X features on iMore. For the time being, however, Aperture will continue to work.
iOS
Craig switched to iOS and (like OS X) showed a graph with the adoption rate for iOS 8 of 83%. He outlined some of the benefits for developers, adding that this was a benefit that was really unique to iOS. As he said that, a line on the graph appeared for Android 5 (12%). He said nothing about this, but the implications were clear and the audience laughed.

Like OS X, the next iOS version is intended to elevate the foundation of the platform, with better battery life and enhanced security, as well as improved features on the iPad. Siri has been developed so that the feature is more proactive and intelligent with the phone learning the user's behaviour: suggestions for music when running; suggesting names for unknown phone numbers. There was a large list of features and support.

A lot of the features and improvements, especially with search and directions may not be available outside the USA but as yet, there is no information on this: last year for example major OS X Spotlight features were announced but only work in a select few countries. As part of the outline, Craig was clear on the levels of privacy that exist and that user information is not shared. All is done on the device and "we honestly don't want to know. . ."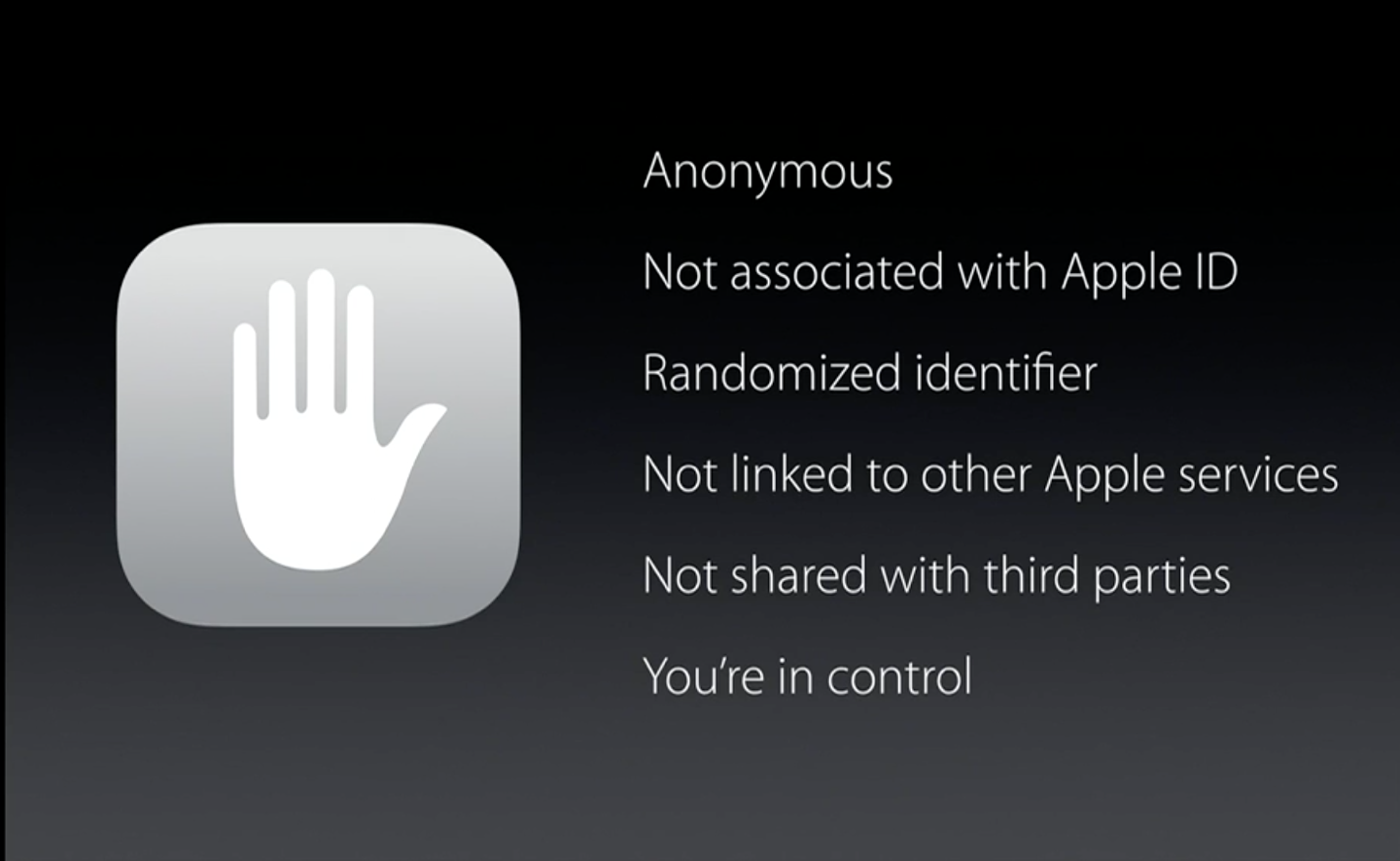 He continued on this theme with the idea of sharing information with third parties: "Why would you want to do that? . . ."
Apple Pay
The Apple Pay system has caused some ripples in the USA where it has been in use for a few months, but it will be interesting to see how it fares when launched in other countries. I do not anticipate it coming here for a while, if ever, as the Thai retail and banking industries are extremely reluctant to try anything new, especially if there is a hint of any risk or loss: some retailers are still rumoured to charge a 3% premium for use of a credit card, despite this being outlawed a while ago.

I was interested to see that some of the same (anticipated) excuses are used by retailers in the USA, as reported by John Martellaro on The MacObserver: "there seems to be a pattern of self-delusion, denial, foolish frugality, excuses about lack of customer demand and even downright ignorance."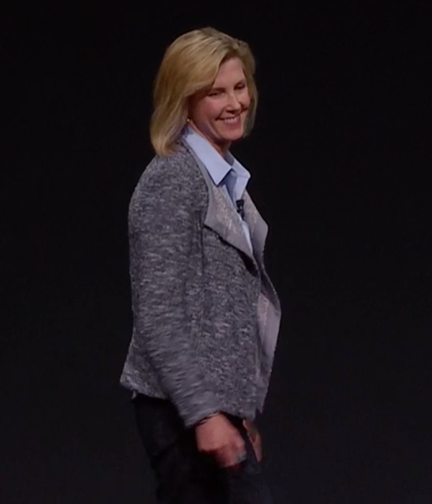 To make a presentation on Apple Pay, Craig called on Jennifer Bailey who outlined some facts on the current situation: 2,500 banks now support Apple Pay. A large number of merchants were listed on a slide; but she added that Apple is also working with Square to help roll out the service to small merchants: next month, it is anticipated that 1 million locations will be accepting Apple Pay. She also announced that new apps are being added that take advantage of Apple Pay, for example Pinterest.
As had been anticipated, she also announced that Apple Pay will be arriving in the UK next month. There are 8 major banks on board (not Barclays as yet) which covers 70% of the cards in circulation in the UK. There was a good list of merchants and (to great applause) London Transport: this is a significant addition.
iOS 9 can add store card information (e.g J. C. Penney) and also included are cards from Walgreens and Dunkin' Donuts. As part of the change seen here, Apple has renamed Passbook to Wallet.
iOS - 2
Craig reappeared and looked at apps on iOS, starting with Notes, which now has the ability to use formatted text, lists and images (camera and Photos), as well as drawing tools and the ability to share information from other apps. All the data is synced via iCloud to other devices including Macs.

Maps has 5 billion user requests a week and a new Transit map is being added, although this will only be available for a select few cities in the USA and elsewhere. I note that at long last the map of this part of Bangkok has been updated belatedly to show the BTS rail system. Apple's Transit maps are to be available for 19 named cities and 300 more.





As rumoured, a new app called News seems to have taken some of the features of 3rd party apps: personalised news content within an app. A demo of this was done by Susan Prescott, showing how to add news and sites, with Daring Fireball having a couple of mentions.

Craig concluded information on News by pointing out a number of publishers already on board, like Condé Nast and New York Times. News will roll out initially in the US, UK and Australia.


The current version of iOS has a different version of iOS 8 for the iPhone and the iPad, partly because of the Apple Watch, but the differences are to be increased with a number of features outlined such as the QuickType keyboard and shortcuts. It is possible to change the keyboard to a trackpad for faster editing. A demo by Craig Federighi showed how the iPad is being developed for multi-tasking with full screen previews of all apps and the ability to split the screen: displaying apps side by side.

Along with the task features, iOS has been enhanced for better battery life with up to an extra hour on the iPhone. There is also a low power mode that is claimed to extend the life for an extra 3 hours: "It pulls levers that you didn't even know existed."

Security is enhanced with 2-factor authentication; and while it was not mentioned in the presentation, there is now a longer passcode of 6 digits, Zack Whittaker reports. Remember stronger passwords are possible now but you have to turn this on in Settings (General > Touch ID & Passcode > Simple Passcode - OFF).

A well-received announcement was that the update was to be 1.3 GB rather than 4.6 GB for iOS 8.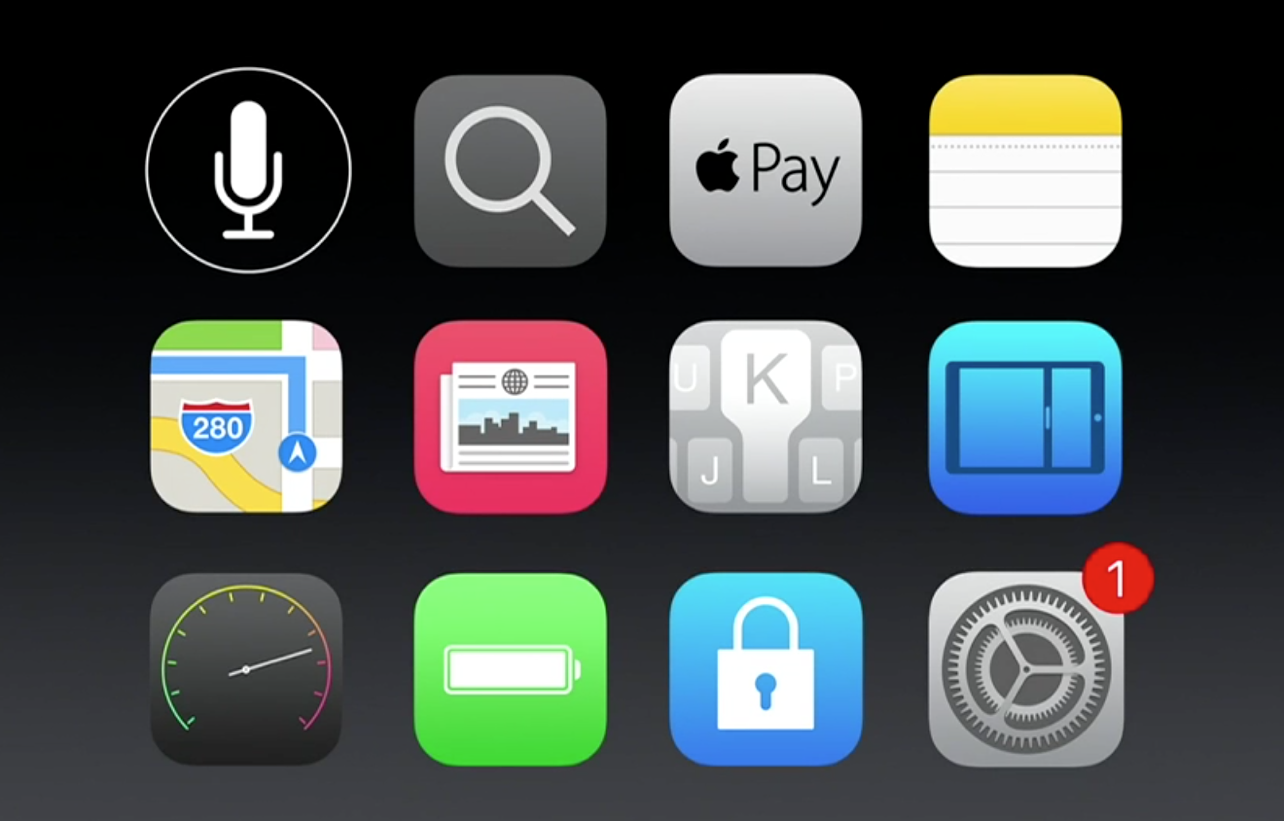 He also put up a slide showing some of the developer enhancements: note especially the VPN plug-in extension (top right of the slide). He was only able to touch on a few of these: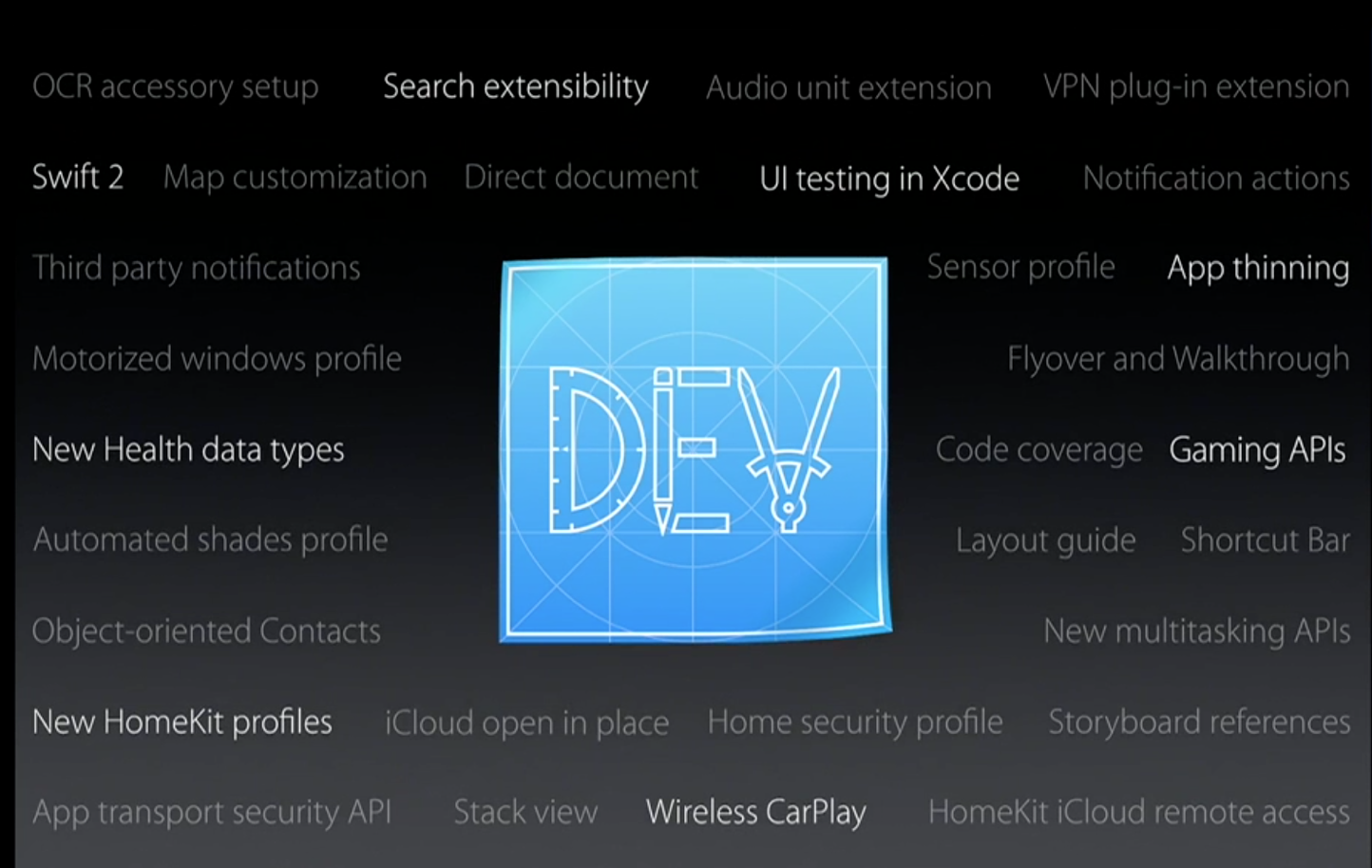 UI testing in Xcode
App thinning
Gaming APIs (SpriteKit, SceneKit, Metal; adding new frameworks - GameplayKit,Model I/O, ReplayKit [record video and share])
He then focussed on three core technologies in iOS: HealthKit; HomeKit (support for sensors; access via iCloud); and CarPlay which supports apps from carmakers and will no longer need a cord connection to operate.
Swift
Having discussed some of the technologies in iOS, he moved quite logically to Swift: Apple's new language for writing apps. The language is being updated to Swift 2. Whole module optimization (an Apple term) makes this much faster. Several features have been added to the language.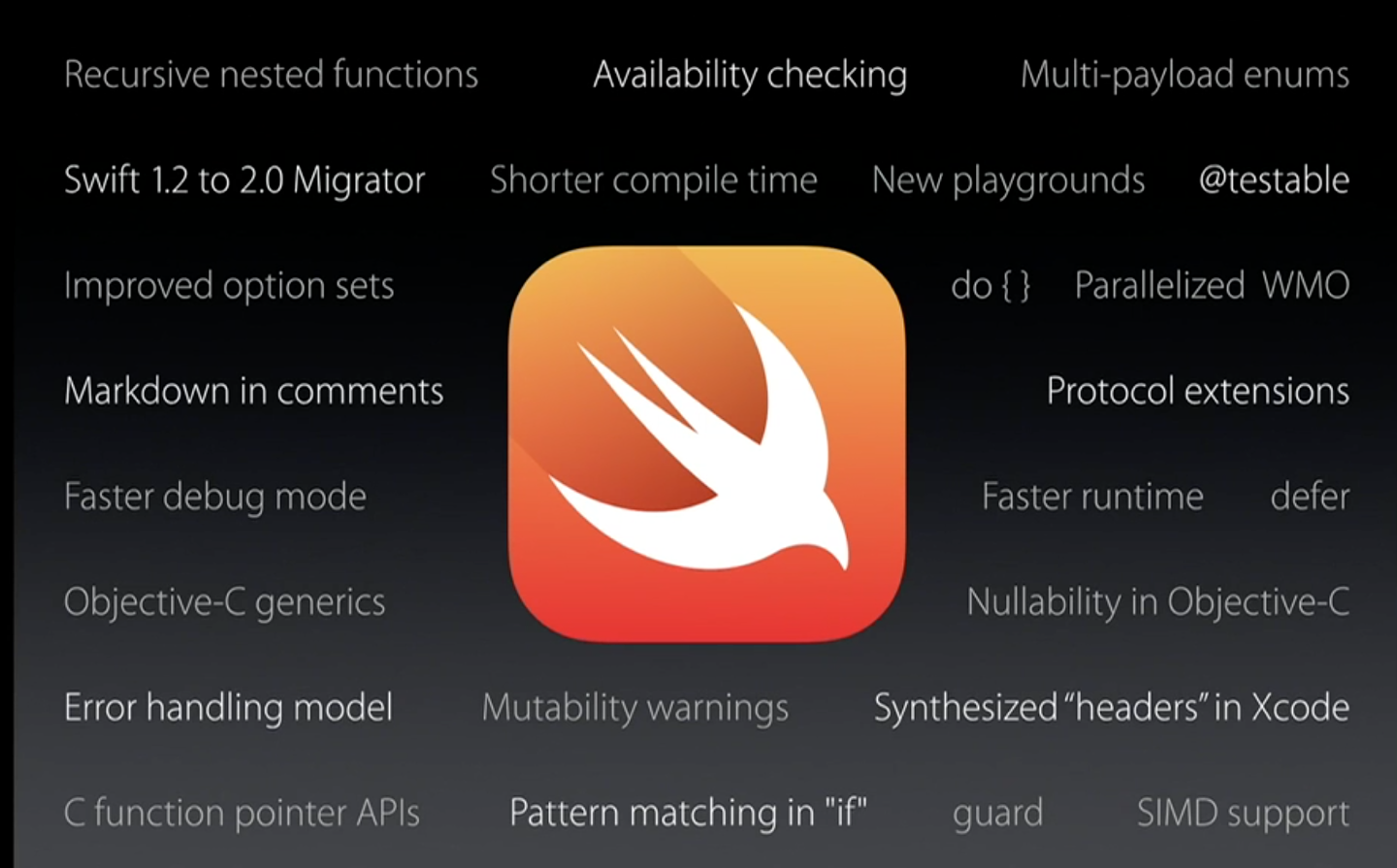 Having outlined a number of the new features, the greatest applause - a huge roar - was when Craig announced that Apple was making this Open Source. He had a hard time concealing that smile. Library and compiler will be available for iOS, OS X and Linux by the end of 2015.
The iOS 9 developer beta is available immediately, with a public beta in July and a public upgrade in Fall. iOS 9 will support all the devices that were supported by iOS 8.
HomeKit
A few hours before the start of the WWDC keynote presentation, as an indication of how significant the Internet of Things is becoming, it was revealed by Mike Magee on TechEye, that British Gas had decided to buy AlertMe. The company makes the Hive product which lets users control home heating using a smartphone. Magee writes, "British Gas had become so important as a customer that it decided to buy AlertMe.

There was also news on Philipps' Hue, a system that controls lighting via wifi from an iPhone, although this is not available in Thailand. I did ask, had some communication with the company who said they expected to be coming to Asia soon, but then heard no more. Daniel Cooper on Engadget reports that the company has confirmed, older Hue bulbs will be compatible with HomeKit, adding that "the solid facts will be laid out this September ahead of a launch in the Fall."



App Store
Tim Cook returned to the stage to reprise some of the main points of Craig's long presentation on OS X and iOS. Then switched to discussing the App Store which was only opened 7 years ago and which has just passed the milestone of 100 billion app downloads. So far Apple has paid out some $30 billion to developers (no wonder some of them like it).

He complemented the developers on their work and showed a short video in support. Particularly interesting in the video was the work of the Ludwig Foundation. There was also comment from Phil Schiller who admitted that the App Store was bigger than anyone at Apple had initially imagined; and from Neil deGrasse Tyson who put it up with the invention of the telescope and the microscope. Among facts displayed in the video was the point that 98% of all Fortune 500 companies have an iOS app.

The video ended with "Thank you" which was repeated by Tim Cook, who then brought on Kevin Lynch to outline watchOS and the ability to add native apps to the Apple Watch.



watchOS
One of the banners shown over the weekend had the three versions of Apple's operating systems, confirming that the one for the Apple Watch was "watchOS" with a lower-case "w".

Kevin Lynch outlined the Apple Watch last year. This time he looked deeper into its operating system, starting with TimePiece: the watch face. There are new watch faces and these include those that can be changed by the user by adding photos, including time-lapse images that Apple has included. Developers may add "complications" (one of those weird Apple words) so that specific data may be shown on the watch face.

A useful new feature is a type of time travel, allowing the use of the digital crown to go forward or backward: as this happens so the display and the data (e.g. weather) will change. A note on the slide told us, "flux capacitor sold separately" - a humorous nod to Back to the Future.

New modes of communication allow a user to add friends easily on more than one watch face (like multiple desktops on the Mac) and it is now possible to reply to email as well as read. Improvements to Health, Siri, Apple Pay and Transit maps are like those in iOS 9.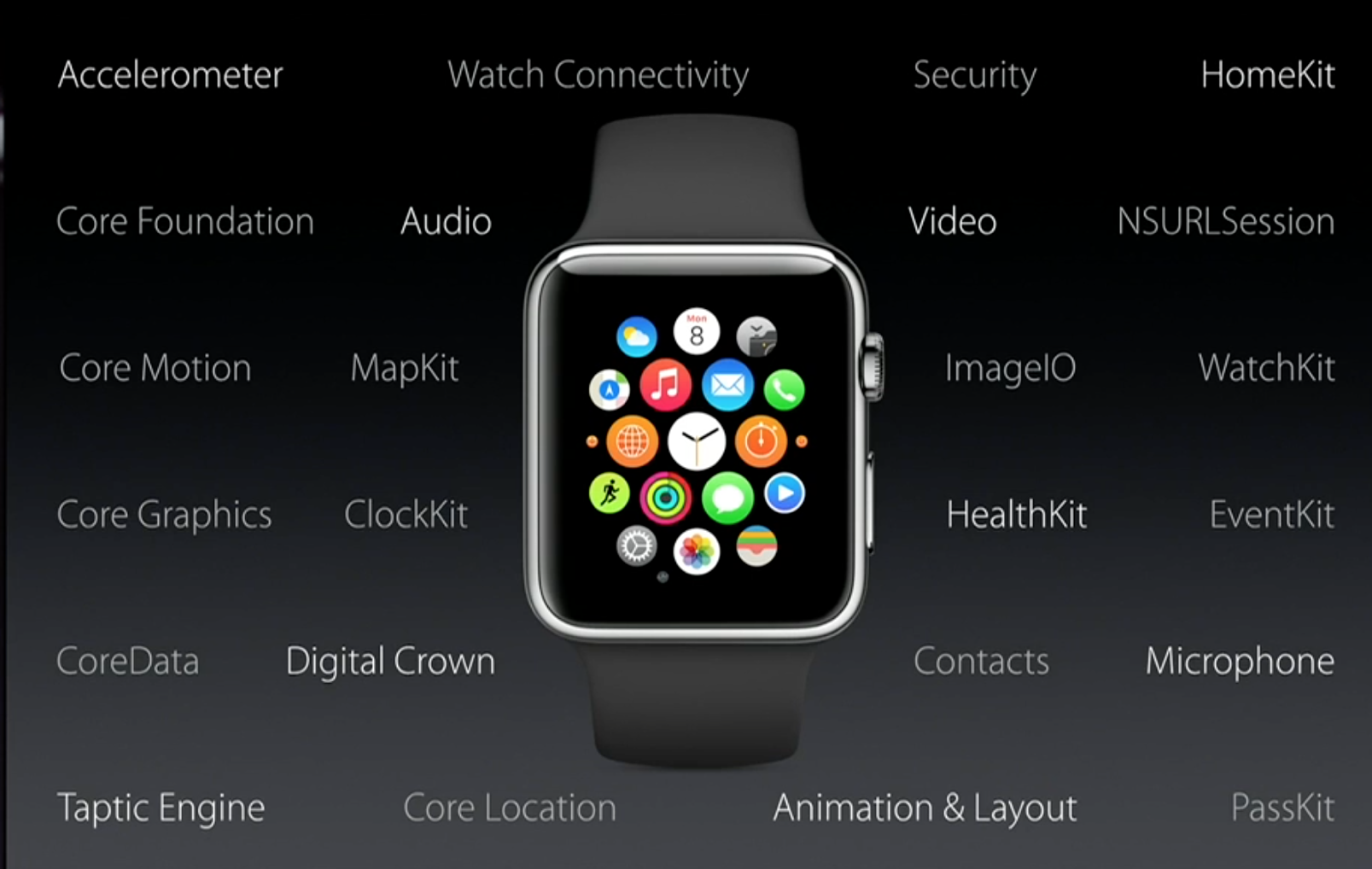 A number of features for developers have been added, including APIs to support native app on watchOS. He mentioned access to the microphone, audio, video, HealthKit, HomeKit, accelerometer, Taptic Engine and the Digital Crown specifically; but there were a number of other features now included. Lynch also demonstrated a number of the new features before outlining when watchOS would be released (same schedule as iOS and OS X), then handing back to Tim Cook.
Cook once again reprised the technologies introduced at WWDC, then said, "Before we close we do have one more thing. . ." and a slide appeared with those words.
Apple Music
The one more thing was the long-anticipated Apple music and Cook began this segment with a video on the history of music. He then introduced Jimmy Iovine to outline the service and the reasons for its creation. There was also input from Trent Reznar (on video), with an extended outline by Eddy Cue (who took time out to say Happy Birthday to Phil Schiller). Also onstage was Drake in a rambling comment on part of the service.

Eddy Cue was particularly long-winded in the desire to show off some of the micro-details of what Apple Music will offer. There are three major parts. One hopes they are being managed separately otherwise there might be some confusion:
Music - allowing streamed music direct to a user's devices - the whole Apple iTunes library is available (I expect tunes available may depend on the country)

Radio - a 24/7 service led by Zane Lowe but with a number of other good DJs.

Connect - a way for established, as well as up-and-coming artists to share music, video and photos with the fanbase.
I am particularly interested in the radio feature and especially the point that Apple has recruited Zane Lowe. I love music podcasts and Zane Lowe's was one of those always blocked by the BBC as we are much too foreign here to listen to this, while the verbose Huw Stevens and Vic Galloway are available, rich in excess adjectives and all.
Eddy Cue was on for 20 minutes - with small breaks - before we were told the pricing. This was far too long. The price, for the complete service which is to roll out in 100 countries is $9.99 a month (337 baht), with the first 3 months free. There is also a family plan of $14.99 (506 baht) which allows up to 6 people each to have a separate account.
Conclusions
Time Cook returned to wrap up the proceedings, running first another video to summarise Apple Music. He outlined the various products demonstrated and thanked the teams at Apple, closing with a song from The Weeknd".

A lot of people will be disappointed with what was (and what was not) announced, but forget that the main purpose of this week's events is to introduce new technology to developers. Apple does use this also as a marketing exercise from time to time, but is getting better mileage out of special events (like the Apple Watch last year).

With the Keynote event focussing on software - particularly the operating systems - it lacked some of the spark of other events. This was exacerbated by the over-long introductions to Apple Music. This is expected to be a massive development for Apple (and the music industry) and is another example of the types of invisible income by way of services and subscriptions, that will prove highly profitable for years to come. At something over 2 hours, the presentation overall was a little flaccid: the attention began to flag by the end.


But now it begins. . . .



Graham K. Rogers teaches at the Faculty of Engineering, Mahidol University in Thailand where he is also Assistant Dean. He wrote in the Bangkok Post, Database supplement on IT subjects. For the last seven years of Database he wrote a column on Apple and Macs. He is now continuing that in the Bangkok Post supplement, Life.