By Graham K. Rogers
---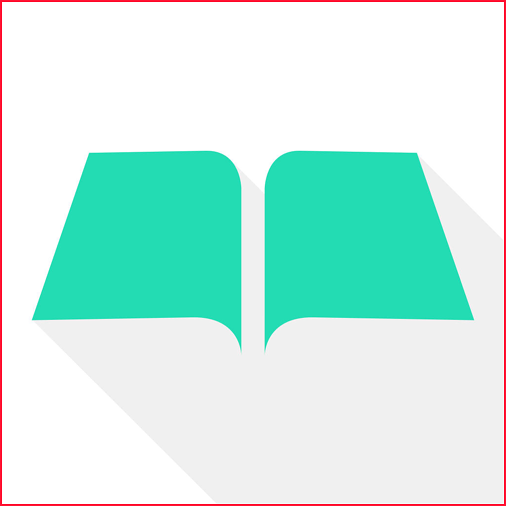 One of the drawbacks to living in a country like Thailand, is that users here are close to the bottom of Apple's must-do list. Many products arrive far later than the US or European releases; people like me no longer see review products while Apple Marketing fawns over a famous few; and services which Apple uses to sell its products never appear here.

When OS X Yosemite was being developed, the presentations made by Craig Federighi and others touted the search features of Spotlight which would access online resources, such as Wikipedia and others, to provide information for users. Fast forward to the release and this feature was only available in a number of select countries. Nothing new here.
For a number of years, iPhoto has had a Books feature which was only available to users in certain countries. There is a similar feature in Aperture. When I took this point up with Apple management here a while back (2006), I was told that book printing was available.
There was a catch however. I had to produce a PDF from the iPhoto output, take (or send) that to the company in Sukhumvit Road (behind the Emporium mall) and wait for a few days while it was processed. The glossy output was mailed to me at work. The book itself was fine. It just that this was not the slick automatic process from my home that Apple provides in other countries.
With Aperture soon to come to the end of its life, Photos is now available. This has several useful features, some of which were of great help when I set up a new Mac mini this week. However, the in-app Book purchase is still only set up for certain countries: 21 in all.
I was therefore interested to see recently a new app - released here in March - that allows a user to create a book from output on an iOS device: Printastic. As the Photos app on the iPhone or iPad may contain the same photographs as on a user's Mac, partticularly if iCloud Library is used, this has some value, especially as there are no restrictions concerning the country.
Opening Screen on iPad
Printastic
I usually start any review of an app that uses photography input by working on the iPhone. Despite its smaller screen size I am work with this on a day to day basis and am more comfortable with the device. This time, however, partly because of the intentions of the app, I reached for the iPad first. This was a mistake, but not wholly a problem with the app itself. Improvements do need to be made, however. I later switched to the iPhone and screen-shots are from that device.

The interface is clean and intuitive. As with many apps, there are some introductory screens: nicely designed. On the opening screen, the price is shown: a 24-page book is $29 (960 baht); it ships within 5 days. There are two buttons: Start and Tell me More. After a quick look at the additional information, I started the process.

A panel opens with a simple interface showing a blank front cover and following pages. The inside cover is always blank as is the rear cover. Each page has a small + sign in a green box. Pressing that reveals 5 control buttons: Add Photos, Edit Page, New Page, Clear Photos (initially greyed out) and Remove Page.





Pressing the Add Photos button opens a panel in the Photos Library. I worked through the pages one by one, but it is also possible to select several images and allow the software to place them. In this case each page has a single photo and the user may want to reorder the images or make other changes.





Working page by page, I also made use of the Edit Page button, which allowed me to select up to four image placeholders for a page (except the front). This is where I began to have some problems with the app on the iPad.

The iPhone has 128 GB of space, but the iPad is the 64 GB version, so when I set up the iCloud Library on the iPad I opted to store only basic images on the device to save space. I had plenty of space on the iPhone. As I began to choose certain images for the 3- and 4-photo pages in Printastic, the app slowed considerably and on a number of occasions crashed. Not once, however, was any data lost and I was able to pick up where I had left off.


Eventually, however, the long waits and the number of crashes were too obvious to ignore and I switched to the iPhone. Using the same process and as many of the same images as I could - my own memory was the problem here - I assembled a book in a short time. As part of the editing process, it is possible to resize a photo. If an image has low resolution (seen more on the iPad) a red icon appears. I had several options when the book was done: Add pages (the cost would increase of course); Reset Book; Preview; and Checkout.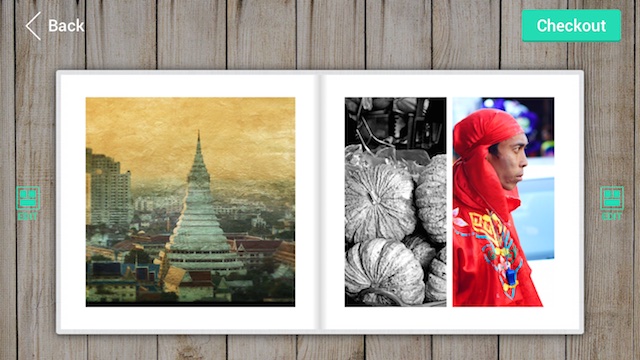 The Preview showed me in a landscape display what the book would look like. It was shown with a faux-wood background that was quite tasteful. I still had options to Edit, with icons either side of the display, to Go Back; and the Checkout.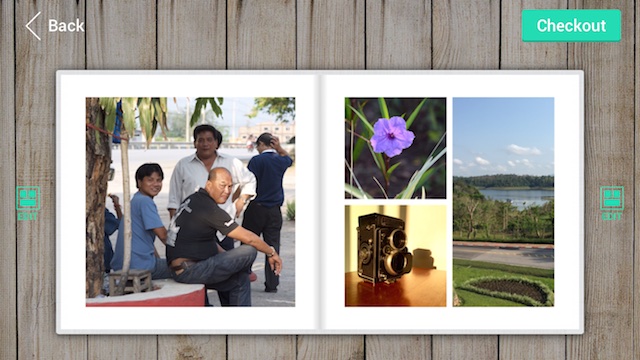 The total, including shipping was $37.06 (1227 baht). This was not an in-app purchase. I had to enter my details manually, including email, and address of recipient (there was a country selector). Below the personal information was a section for Quantity and shipping options. A button for Payment Details was also shown. I was required to enter details of the credit card below the displayed total price (book + mailing).

When I created a second test book, none of the information I had entered for the first book had been retained: not even my name. Although this would mean a user has to type everything in again, those concerned with security should be content.
Once all information was correctly entered, a panel appeared showing that the order was successful. In a matter of seconds I had confirmation from the credit card company and an email from Printastic.

Despite the problems using this app on the iPad, I am rather impressed with the way Printastic works: easy to use and enough display options, as well as good resizing options. The iPad uses iCloud Library, so those with photos stored on the device should not have the same problems with slowness or crashes that I experienced. The app worked faultlessly with the iPhone where space allows me to avoid such access problems.
As well as a personal record of photographs, this type of output would make an excellent gift. Some might also create a book like this as a form of portfolio. I am looking forward to the arrival of my book, although I am not optimistic that it will arrive in the 5 days shown in the app. The local post office does not have a reputation for lightning speeds.
When it does arrive, I will follow up with comments on the quality of the printing. In the meantime, this has a qualified recommendation.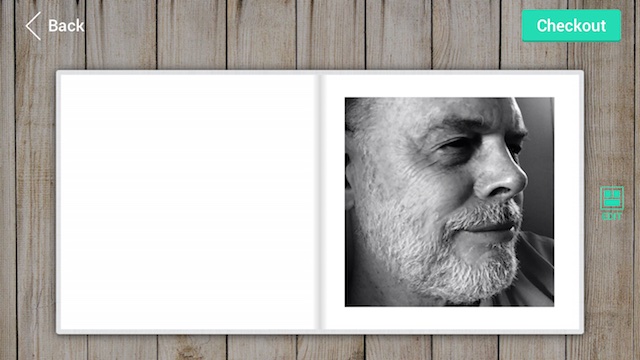 Graham K. Rogers teaches at the Faculty of Engineering, Mahidol University in Thailand where he is also Assistant Dean. He wrote in the Bangkok Post, Database supplement on IT subjects. For the last seven years of Database he wrote a column on Apple and Macs. He is now continuing that in the Bangkok Post supplement, Life.