By Graham K. Rogers
---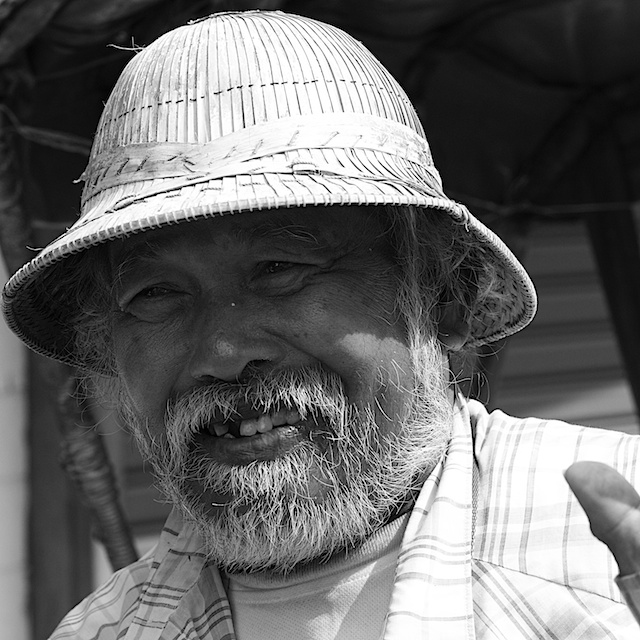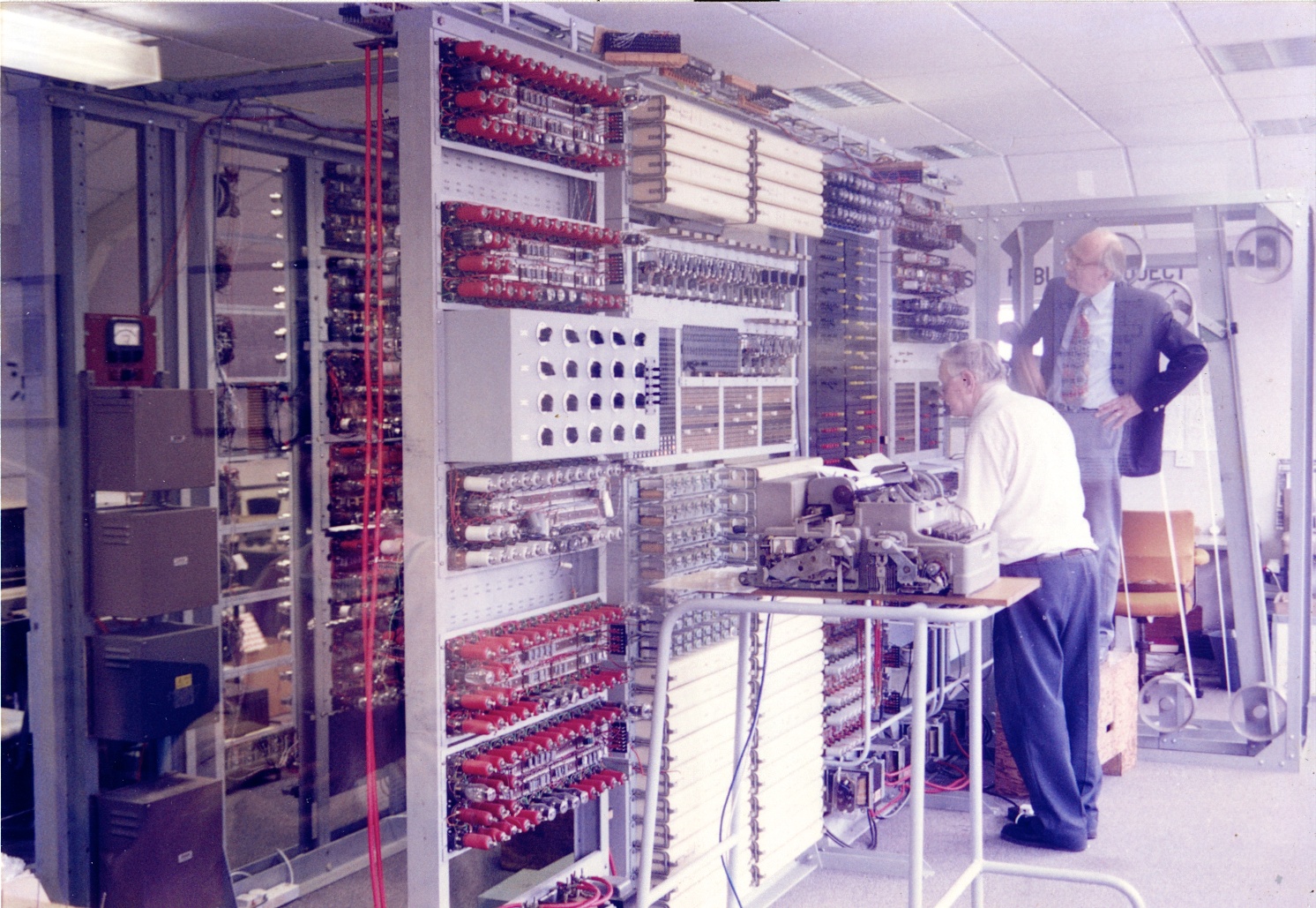 Colossus at Bletchley Park - Rebuild by the Late Tony Sale

In the late 1970s county forces in the UK were given access to the Police National Computer (PNC) when it came online. This allowed quicker checking for stolen cars; or for criminals who were wanted.
In the mid-1980s in the US, when I was at Illinois State University, searching for articles and books was easier because of the in-State library network, which may have been a forerunner of the Gopher system. In one class, a librarian demonstrated a device that used rubber cups over the mouth- and ear-pieces of a telephone to send signals from a connected computer to a similar device elsewhere: the receiving library was in California.
I immediately saw this system of modulating and demodulating (modem) digital-to-analog signals as a turning point: it meant that ordinary users would be able to link to computers anywhere in the world. By the time I arrived in Bangkok a couple of years later, this was beginning to happen.
In the 25 or so years since, there have been considerable advances in computers and in networking. I am now able to do tasks that I only dreamed of a few years ago with a selection of devices (and connection options), allowing me considerable latitude with how I work.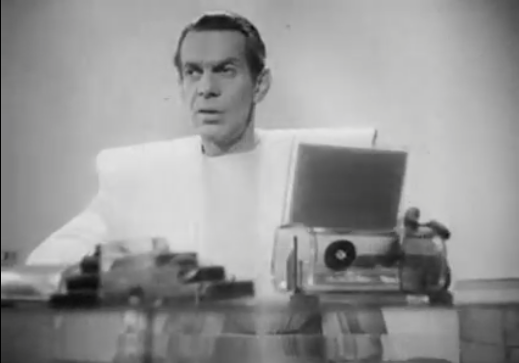 Things to Come - Raymond Massey as Cabal (1936) with a Tablet Device

My recent acquaintance with the iPad Pro has brought this into focus. It is a device that signifies a new way of working: loosening ties between specific operating systems or applications. Older people who are used to desktop restrictions may not grasp this. For younger people, there is nothing to think about. Just do.
On Christmas Day at a friend's home, his 7-year old tried the iPad Pro. There was no delay, no worry. He looked around, started a couple of games and did what suited him. Many young people I know use devices (whatever they have to hand) to do what they want: no fretting about desktop class apps or operating systems. Some older guys never know when to get out of the way of the Juggernaut that is bearing down on them.

Currently, the idea of desktop computers disappearing totally is hard to imagine. Storage, backup, certain features and programs unavailable for handheld devices make this improbable for the moment. Storage of data means many users will continue to need hard disk solutions. While I can take advantage of cloud solutions for data transfers and for some storage, the hundreds of GB of photographs I have, make the cloud too expensive for now.
There is no practical way to connect an iOS device to a USB hard disk. Wireless solutions such as Seagate's Wireless Plus may be possible of course, but I have yet to try these [Note: I bought a 2TB Seagate Wireless Plus disk on Tuesday].

When I commented on the iPad Pro earlier this month, I mentioned two points that restricted my use: the flatbed scanner I have for film negatives; and the DSLR camera. I did find an iOS version of the VueScan software I have on the Mac, but this only works with WiFi connected scanners, such as those all-in-one printer-scanner units. My Canon links to the Mac via USB.
Apple solved my DSLR problem the same week I wrote that and I bought the Lightning to SD Card adapter as soon as it was available. There were the usual ordering problems on the Thai-only site, but I managed; and the 1,200 baht device was in my hands a few days later.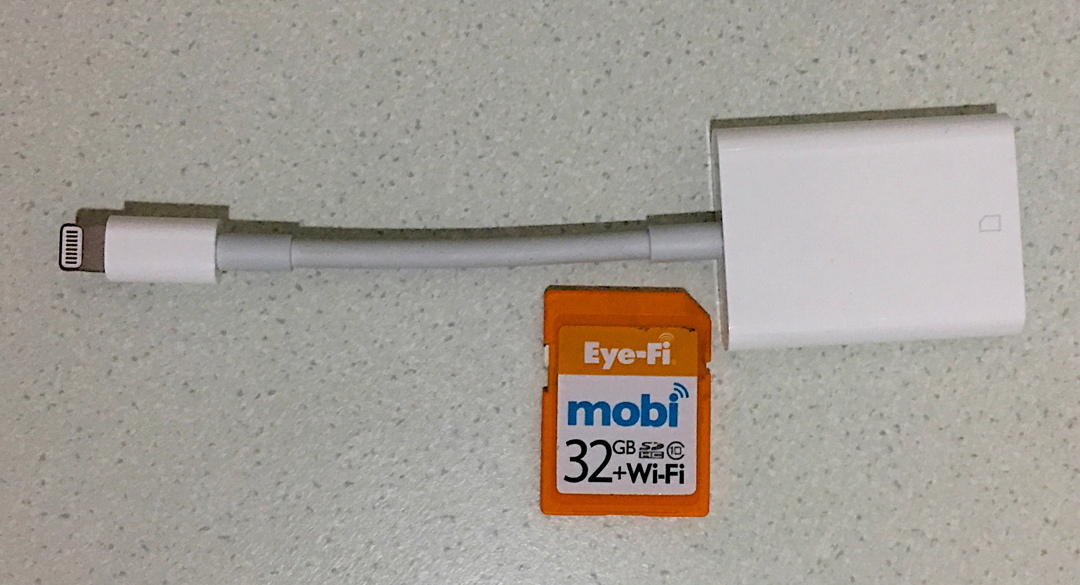 Lightning to SD Card Adapter and Eye-Fi SD Card

I had my Nikon camera set for JPG and RAW as the Eye-Fi SD card (it creates its own network for direct transfers to the iPhone) only works with JPG and I want RAW on my computer. That initially caused delays while the RAW files were downloaded via iCloud. When I switched to RAW only, the transfers were quicker, but more to the point I was able to work on the images as they were imported into the iOS devices.

With the iOS 9.2 update, it became possible to import images to the iPhone using the adapter. This will be convenient when I am out and about. The iPad Pro, however, goes one better as imports are at USB 3 speeds, making a major difference when bringing in a large selection of photographs. I tried 100 shots (around 2 GB).
The iPhone 6s Plus took 3 minutes to display all 100 on the screen ready for import and 3 minutes more for the import to be completed. The iPad Pro was noticeably faster with onscreen display taking about 2 minutes, with the whole process taking a total of 4 minutes 47 seconds. On the iPhone and iPad Pro, the images are in an optimised form (around 1-2 MB), but they are transferred to Photos on the Mac as RAW which can be exported in JPG, PNG, or TIFF file formats. The original unmodified (RAW) file may also be exported.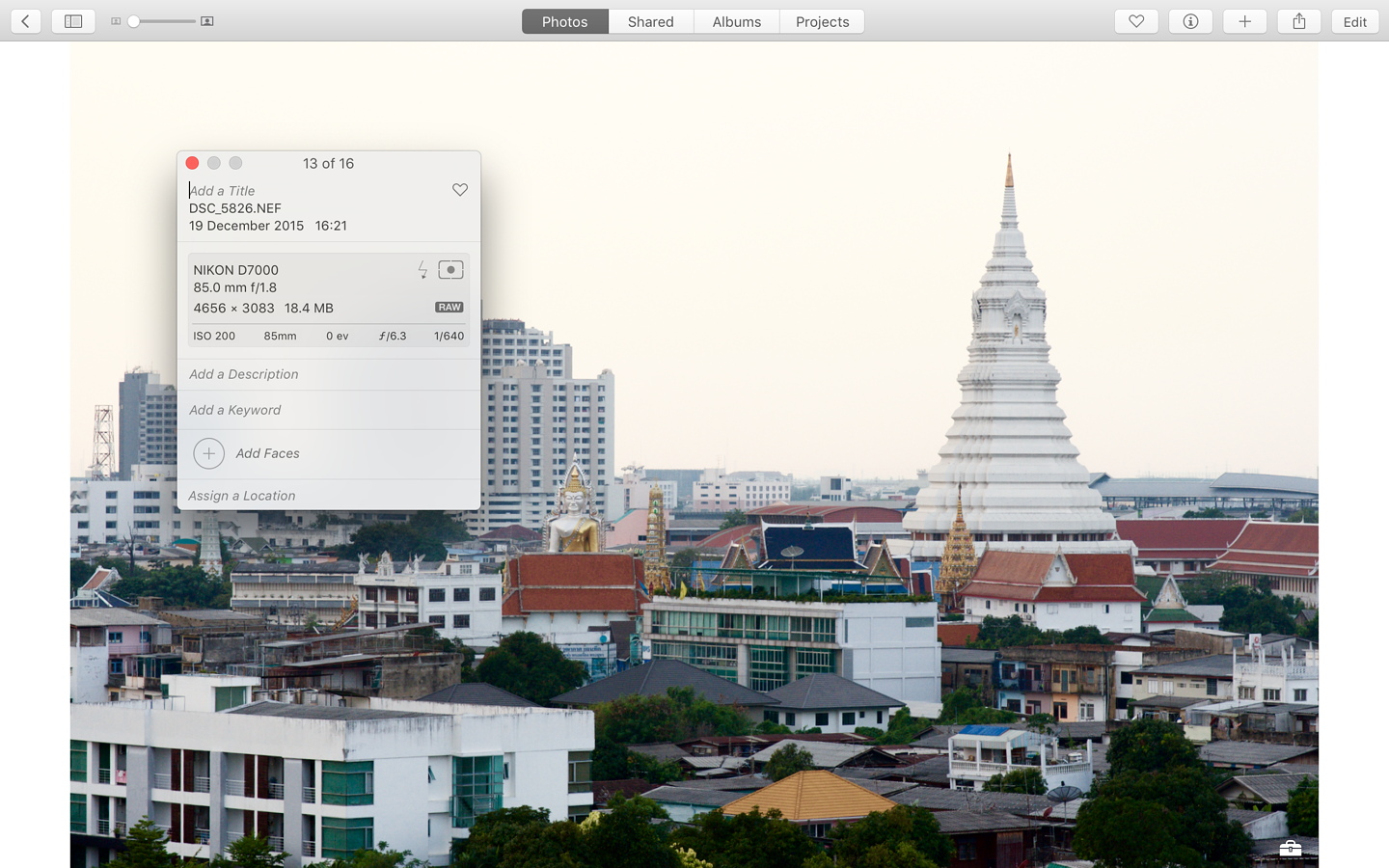 RAW Image Imported from iPad Pro in Photos on the Mac

A happy and prosperous new year to all. . .

A note on the image of Colossus which I took at Bletchley Park in the late-1990s: note the valves (vacuum tubes - no transistors then) and the point that it was all made from standard (1940s) telephone system parts. Also note the paper tape, used in lieu of memory.
H.G.Wells original work was titled, The Shape of Things to Come, while the Korda movie on which it was based was Things to Come.
Graham K. Rogers teaches at the Faculty of Engineering, Mahidol University in Thailand. He wrote in the Bangkok Post, Database supplement on IT subjects. For the last seven years of Database he wrote a column on Apple and Macs. He is now continuing that in the Bangkok Post supplement, Life.