By Graham K. Rogers
---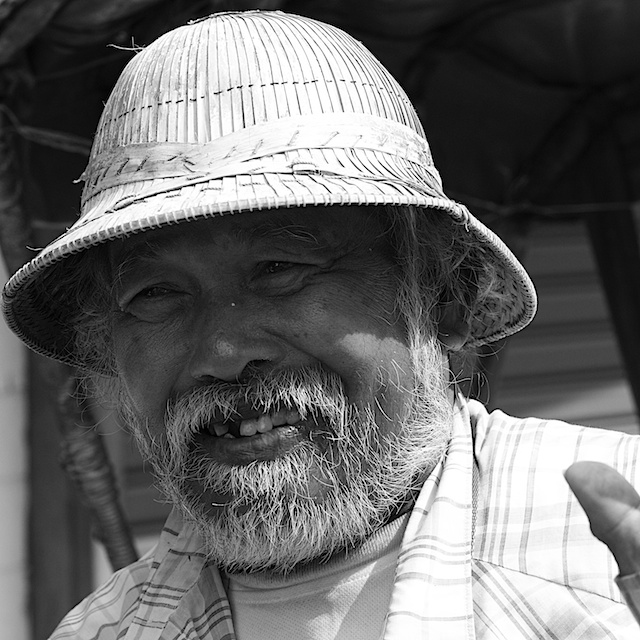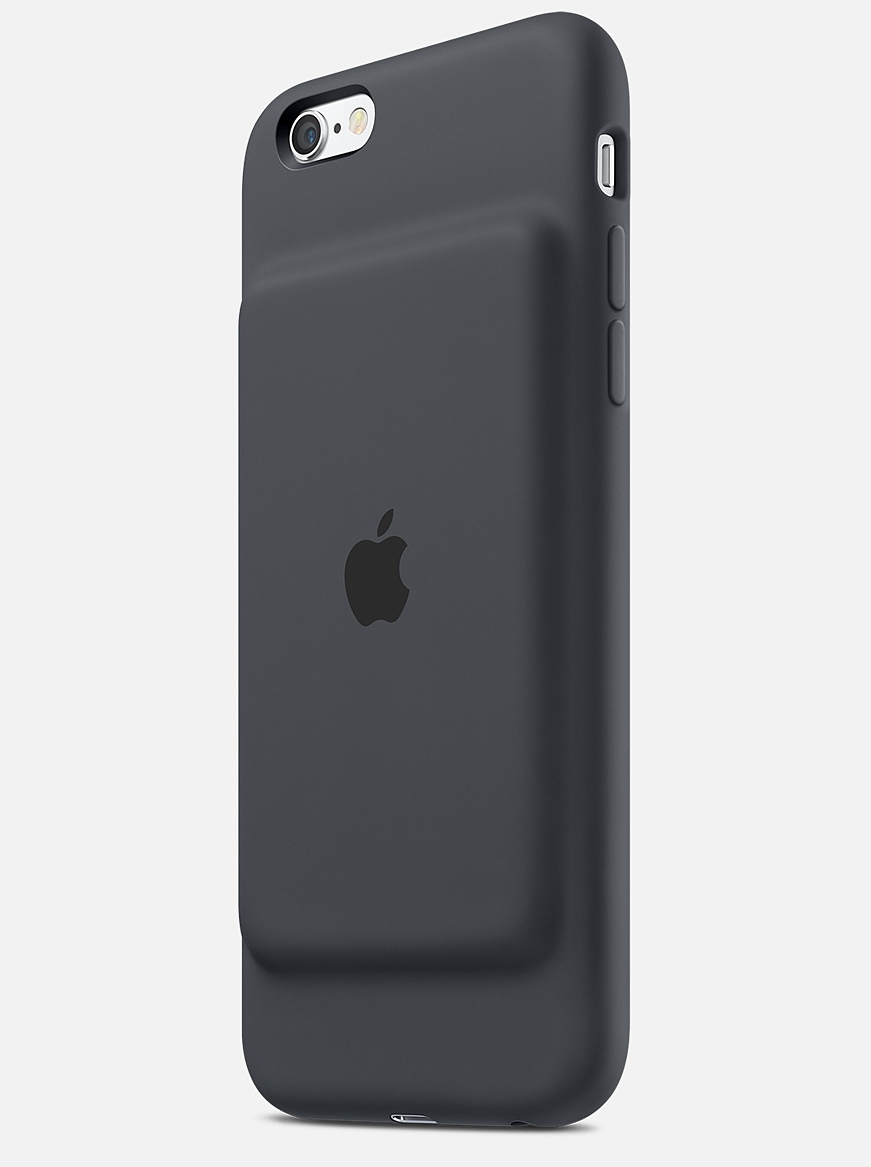 Apple caught many people on the hop yesterday by releasing a new Smart Battery Case for the iPhone 6s (and iPhone 6). The new device, which allows several more hours of use, comes in white or charcoal gray and costs $99 in the USA. The price in Thailand is 4,300 baht (around 500 baht more than the US price, once VAT is factored in).
Apple claims that the Smart Case will increase talk time up to 25 hours and Internet use up to 18 hours on LTE. Longer times should be possible for audio and video playback. As an interesting addition, the intelligent battery status is displayed on the iPhone Lock screen and in Notification Center, when the Case is being used. Wait for local critics to claim this is an Apple failure as this proves the battery is not big enough.
The device supports accessories like the Lightning-to-USB Cable and works with the iPhone Lightning Dock. Delivery times in the Thai online store are shown as 1-3 days.

Early Wednesday morning I found a number of updates including Watch OS 2.1, iOS 9.2 and the next update to OS X, El Capitan, version 10.11.2. Remember to backup your data. . . .
Now the Bangkok Post, eXtensions column for this week. . . .

Let me first correct an error I made last week: the iPad Pro 32 GB with WiFi is of course not the same price as the 128 GB version: 30,900 and 36,900 respectively. The 128 GB Pad Pro with WiFi and cellular access is 41,900 baht. It is this version that I have been using. The ease with which I am able to work is impressive.
For some users the iPad Pro presents an either/or situation: would I prefer the MacBook (49,900 baht), the MacBook Pro, or even a MacBook Air? The 1.6GHz version with 256 GB SSD is the same price as that iPad Pro I am running. It is a close call. The choice depends on familiarity with OS X or iOS; or more simply, the task that needs to be accomplished. Instead of entering a password, the iPad Pro is ready instantly when I use Touch ID: fingerprint access.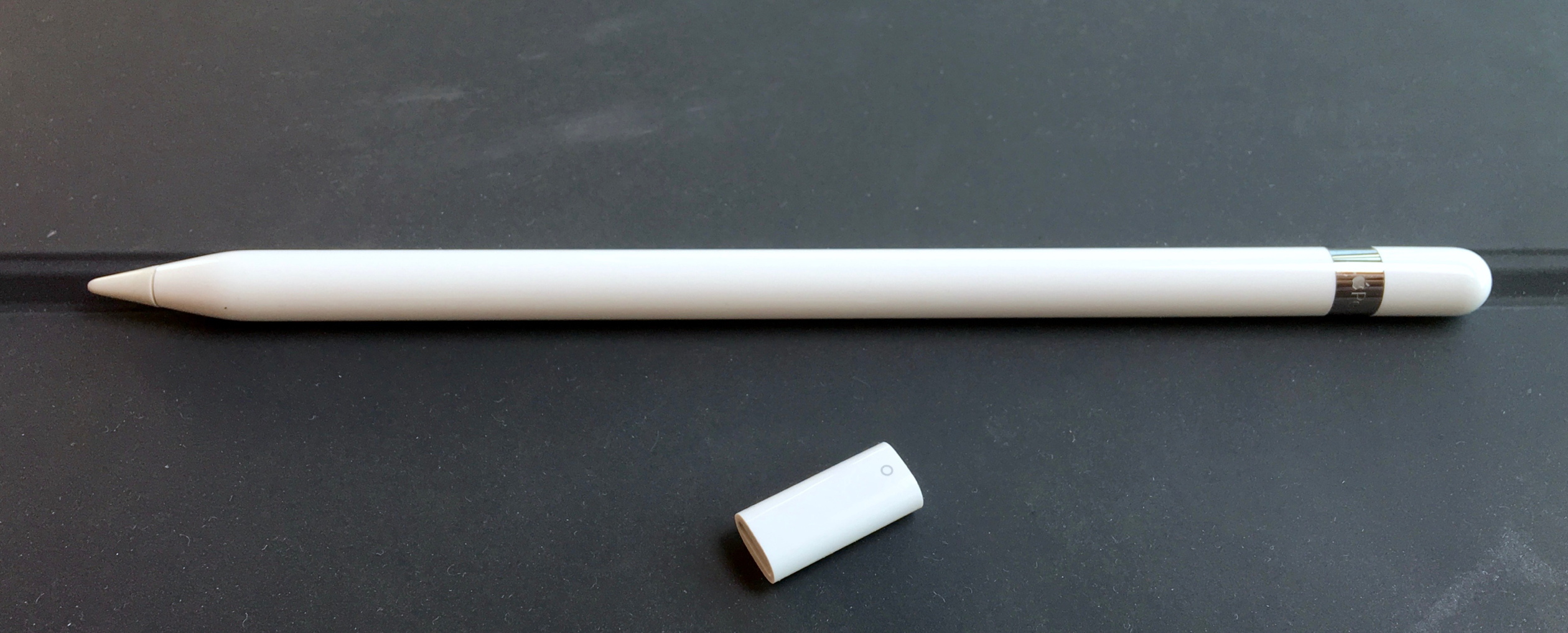 Several apps already available provide Apple Pencil support. During the last week more have been updated. The App Store has a section with iPad Pro-ready software. Examples include iWork from Apple (Keynote, Numbers, Pages); Microsoft's Excel, PowerPoint and Word; plus Adobe products, including Photoshop Sketch. A useful feature is the split-screen capability: two apps open alongside each other. This is done by dragging a finger from the right.
Split Screen on iPad Pro: Selection (left) and Use

Many apps I already have, scaled up nicely. With the graphics capabilities of the device, text is sharp and clear. This clarity makes a real difference for writing. There are 2732 x 2048 pixels at 264 pixels per inch (ppi): 5,595,136 pixels. Like with the Retina display iMac, Apple uses a custom-designed timing controller (TCON) for the iPad Pro.
iA writer has been a useful tool for a while: I can use iPhone, iPads (even iPod touch) and Macs: the files are synchronised, via iCloud or DropBox. Recently I found Notability and downloaded that for the Macs and iOS devices ($5.99 each platform). This has significant potential. It handles typing, drawing - it is optimised for the Apple Pencil - photographs and audio input.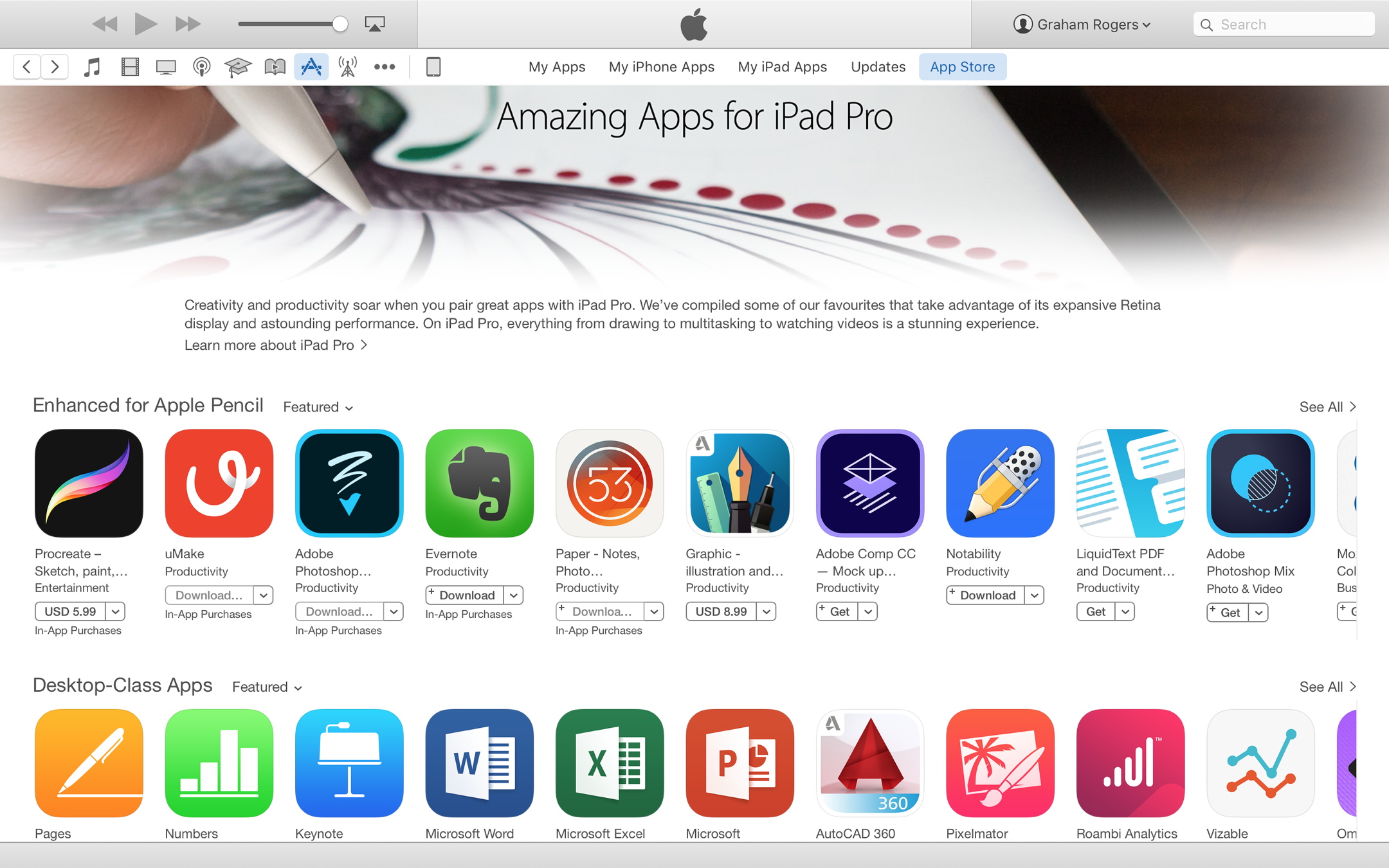 Most photos I use on the iPad Pro are from the Photos Library: images are synchronised via iCloud from other devices I use. There is a camera, but the sheer size of the iPad Pro makes taking photos a little odd. I did take a respectable selfie with the iPad supported by the Smart Keyboard when some students insisted; and later also used the iPad Pro to take some shots within classrooms; but photography is less practical because of the size.
There is a slight difference in lenses. The iPad Pro uses a 3.15mm lens. Other iOS devices have 4.15mm lenses. I take screenshots to illustrate articles, but was surprised to find these could be up to 9 MB, so culled those I did not need to save space in iCloud and on the other devices.
Late news: Apple has just announced a new Lightning to SD Card Camera Reader. It supports USB 3 speeds and will also allow imports to an iPhone as well as the iPads. Its price is $29, or 1,200 baht here. The product will ship in 3-5 days according to the Thai online pages.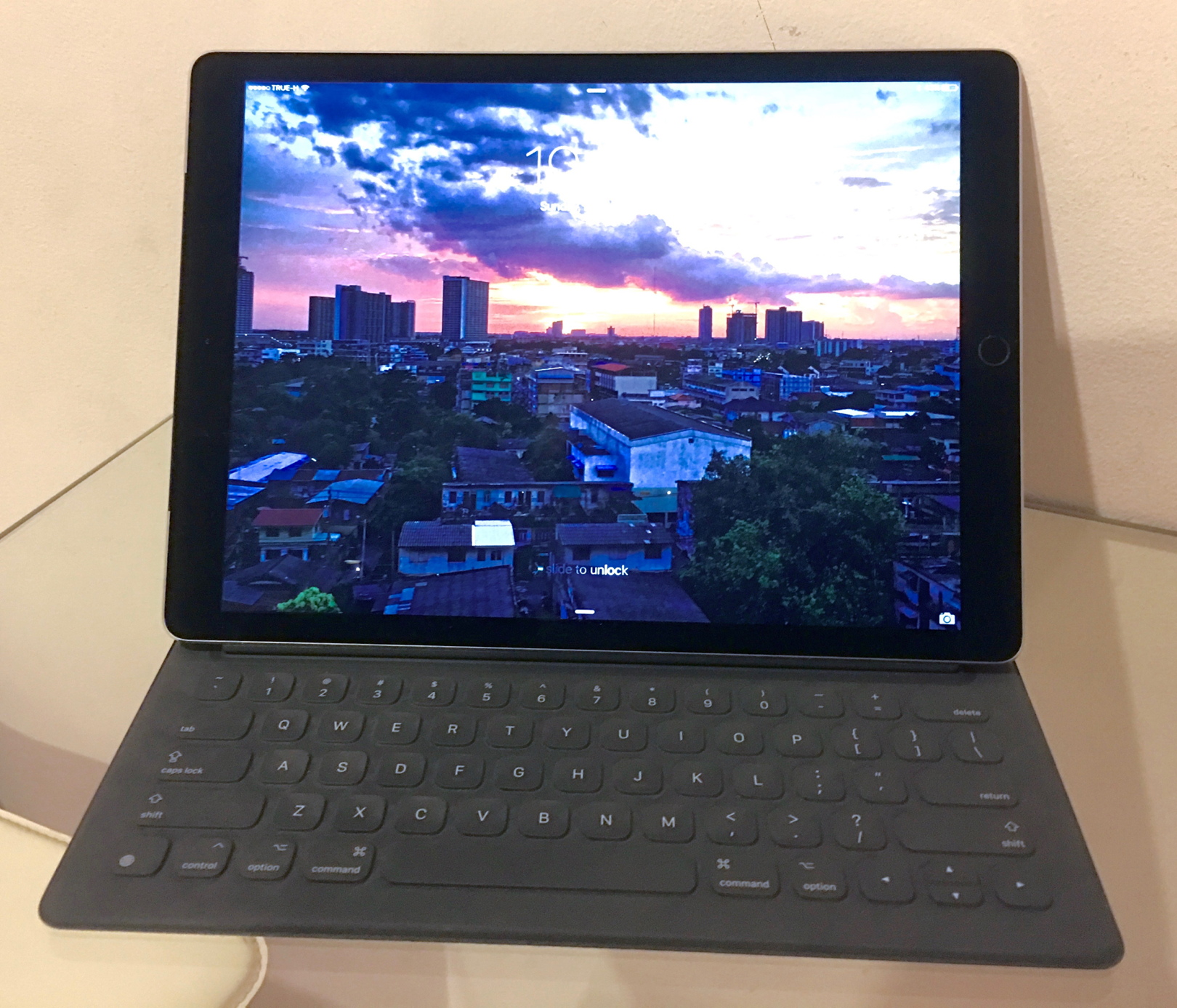 At 713 gms, the iPad Pro weighs less than the MacBook (920 gms) and is just a little more than the original 2010 iPad. This has been a surprise to many I have talked to. The four speakers take up space that some had expected to be allocated to batteries, but I was still able to run it for two days without charging, even with Apple Radio running all the time I was in the office.
At the end of day one it was at 70%. Next morning it was at 50%. At the end of the second working day there was still 18%. This was not light use: as well as the music, I was downloading apps and trying them out as they arrived. The following day, I watched videos for several hours on the iPad Pro and noticed that (as on the Mac) this did use more power.
Charging uses a 12 Watt connector. The 5 Watt charger of the iPhone can be used, although this takes far longer: overnight on one charge from around 10%, the level shown was just over 90% in the morning: better to use the right tool for the job.

Because the iPad Pro does not fit some critics' particular views of what computing devices should be, it is apparently wrong. Users should choose the device best suited for their tasks, rather than the device controlling the way the person works.
There are only a couple of tasks that I cannot run from the iPad Pro: downloading images from DSLR cameras; and running my website. Although that is not impossible, it would take some major reorganisation that I am not prepared for now. With everything else, it makes no difference to me if I take the iPad Pro or one of the Macs to work. It looks as if I am in good company as Om Malik is also enjoying his use of the iPad Pro.
Those who are used to traditional forms of computing will be less able to work with an iPad Pro, while those with a more modern outlook will be able to use these without hesitation.
Apple Pencil: Tip (left) and Lightning Connector
See also:
Graham K. Rogers teaches at the Faculty of Engineering, Mahidol University in Thailand. He wrote in the Bangkok Post, Database supplement on IT subjects. For the last seven years of Database he wrote a column on Apple and Macs. He is now continuing that in the Bangkok Post supplement, Life.