By Graham K. Rogers
---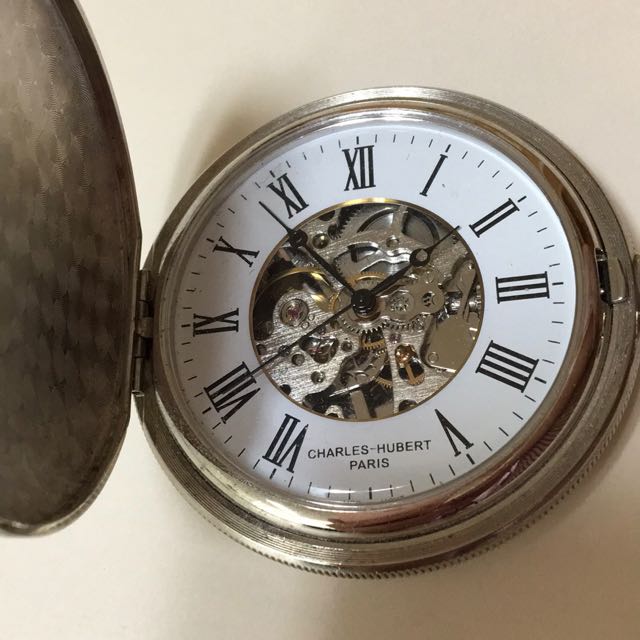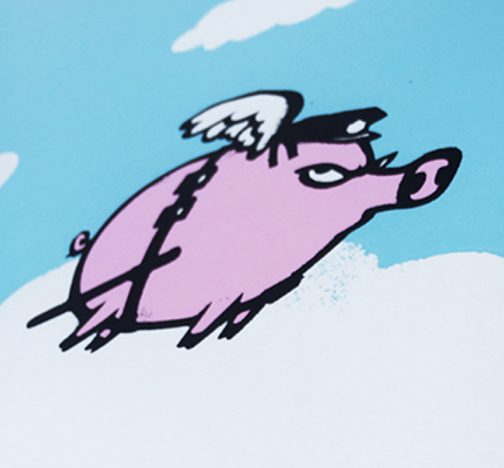 In the interests of supporting local artists, Souled Out Studios have just announced a limited edition, two format, hand printed screen print "Pigs Might Fly" by the artist Mau Mau. There are two versions: Portrait 45cms x 60cms (75 limit) for £55; and Landscape 60cms x 80cms (45 limit) for £75 (2,966 and 4,044 baht respectively).
Ordering begins at 4pm UK time (11pm here, 8am Cupertino) from the Souled Out Studios site.

On Thursday, a number of changes at Apple were announced with Jeff Williams, who was SVP of operations taking on the role of COO and Phil Schiller who is Senior Vice-President for Marketing, now also having responsibility for the App Store.
Johny Srouji, previously responsible for chip engineering, including the A-series, is now Senior Vice President Hardware Technologies. Apple also announced that Tor Myhren who is currently Worldwide Chief Creative Officer of Grey, and President of Grey New York. will join Apple in 2016 as Vice President of Marketing Communications. Myhren replaces Hiroki Asai who is retiring. He headed graphic design and communications roles.
The full details are in an Apple Press Release.
I wrote about this briefly on Thursday and wondered if there were more to it than meets the eye, but noted Eddy Cue was still in his management position. It seems there may well have been some more, and Daniel Eran Dilger puts forward the comment that issues with developers (long criticised) may have been behind some of the change. Dilger's article has a good amount of history concerning both Eddy Cue and Phil Schiller, especially on their respective roles before they joined Apple, and how they have influenced the company. The depth of his research and knowledge put many others in the shade.

Apple has been much more open in certain areas since Tim Cook took the helm with him appearing on TV and in public forums debating with other leaders. There has also been some relaxation with letting journalists inside the buildings at Infinity Loop. This week, at least on TV in the US, viewers will be able to see Charlie Rose look into Apple's design studio for 60 Minutes on CBS, Chance Miller reports (9to5 Mac). Jony Ive shows him round at least some parts of the labs; and then Angela Ahrendts shows him an Apple Store under development.

Beta versions of OS X and iOS operating systems were released this week with 10.11.3 (version 1) and iOS 9.2.1 being made available early on Wednesday. The usual stability, compatibility and security reasons were cited, but there was no mention of any particular new features or problems testers should focus on at that early stage.

I am sometimes critical of Apple's local involvement, although things have improved considerably in the last few months. An interesting development was the arrival on the iTunes Store here of a page dedicated to the Big Mountain Festival: a massive outdoors show (like a Thai version of Glastonbury, without the mud) this year held from 19-20 December. It is one of those events on my wish list. And so are Glastonbury and South by South-West of course.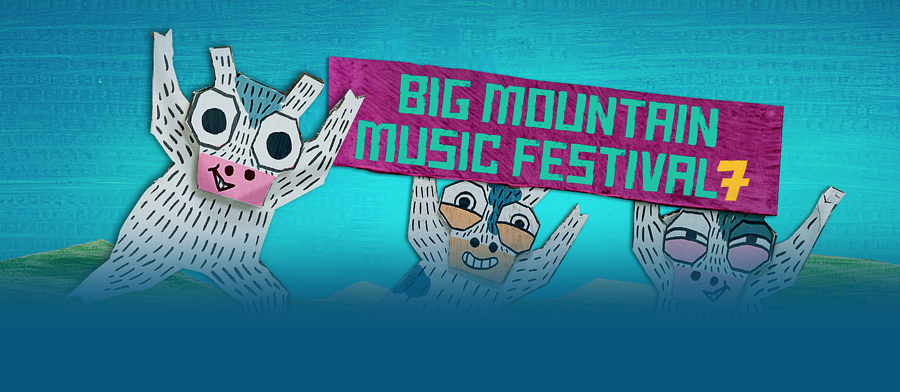 I subscribed to the Apple Music service as soon as it was available as it makes sense for me. I had this justified a couple of times in the last week. First when I saw a trailer for a program, reminding me of a group I had liked. I linked to a couple of albums and played them through. Then on Sunday, feeling like some opera while I was working, I browsed through the "For You" section until I saw something I thought would be suitable and was delighted with the version of Semiramide I was offered, eventually playing it two or three times over the next day or so.
Apple Music is expected to have 8 million subscribers by the end of the year, Mitchel Broussard reports on MacRumors, with an analyst predicting a growth to some 20 million subscribers a year later. The article has a number of other useful speculative comments on the potential of the service.

The relationship with IBM on Enterprise development raised a few eyebrows when it was first announced. In 1984, IBM was the enemy, although as Microsoft gained ground, the whole PC business changed considerably. IBM is still relevant although is not so up front as it had been, getting on with the job behind the scenes and adapting as necessary.
One of the fruits of the Apple-IBM collaboration has been a number of apps aimed at the enterprise market. Ben Lovejoy on 9to5Mac tells us that there are now more than 100 IBM MobileFirst for iOS apps, covering some 14 industries and 65 individual professions. He writes, "Among the companies using the apps are Air Canada, AXA, Bosch, Coca-Cola Amatil, Japan Post, Rimac, SAS Airlines and Vodafone," adding "Bosch equips field engineers with an app designed to enable them to more quickly diagnose issues with home appliances" and also includes examples of how SAS flight attendants have information about regular travellers.
IBM is currently working on an app for the iPad Pro that uses the Apple Pencil, "for tasks as diverse as room designs and annotating maintenance logs." Other examples of how this partnership is working are also shown on the page.
Related to this evolution in Enterprise involvement, is the news from Chance Miller, that Apple gave its Mac in Business website a major design overhaul,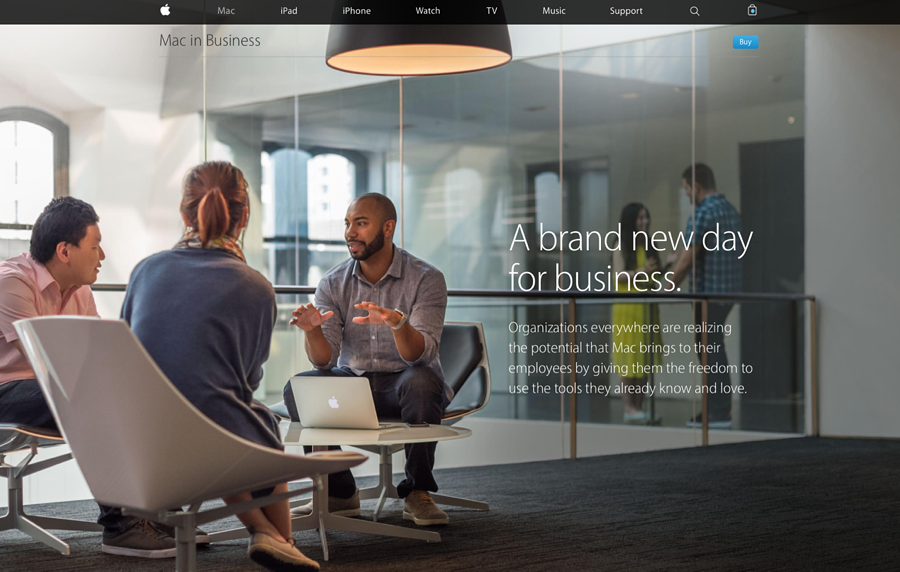 One of the killer services that is sure to make a big difference in the next few years is Apple Pay. I am not expecting this to be here in the near future, but it was reported this week by a number of sites, including MacNN, that Apple has come to an agreement with UnionPay in China and that means over 10,000 POS terminals across China, will be accessible when the service goes live. UnionPay is backed by more than 15 of the largest banks in China.
In a comment on this new service, Ben Bajarin (TechPinions) sees this as a pivotal moment in online commerce. His actual comment is that "an inflection point of mobile commerce is upon us" and that this is the time when there is to be a switch to mobile: commerce, banking, and financial services.
This behaviour adjustment is not only about finance. I have seen how the iPad Pro has focused my own behaviour with regard to working. I choose the device I need (or the one closest to hand) that does the job I want. Those who get this are approaching the time when we are task-driven and not program driven. I had problems trying to explain this evolution to colleagues at work who are set in their ways and use one machine for everything they do, despite having several devices available.
The slow uptake of this type of approach here, may be because some in Asia are reluctant to switch from what they know: tried and tested ways work best. Unfortunately, the same most certainly works for banking and witchcraft like Apple Pay may see considerable resistance here and in other countries, despite China's lead.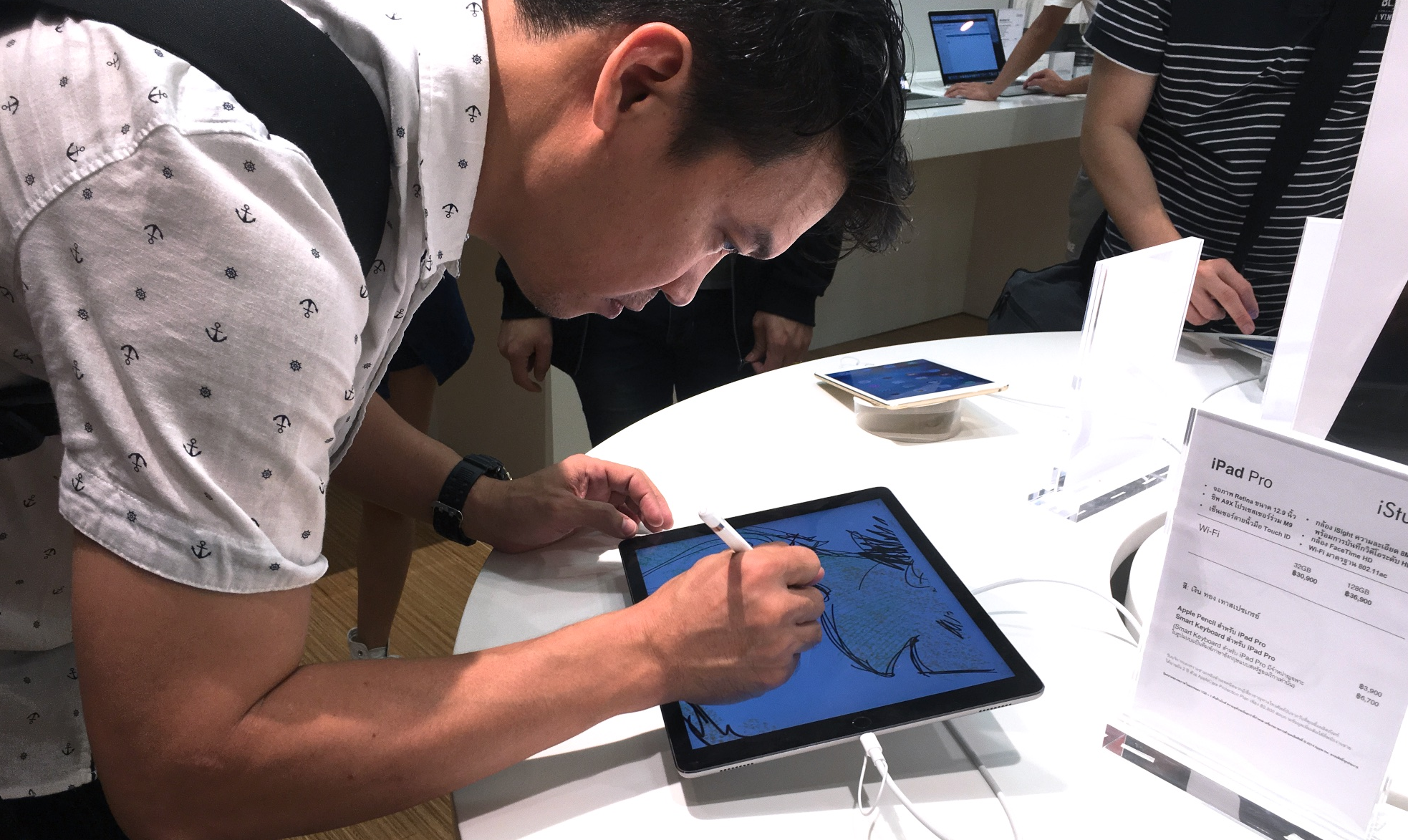 The Surface from Microsoft was praised highly by Michael Blair in his Seeking Alpha article, "The New Apple iPad Pro Appears Targeted At Amateurs," that suggested the iPad Pro was dead in the water, but we see no mention of the problems that are being found with the Surface. Some of these are mentioned in an item on Gene Steinberg's Night Owl in which he also compares Apple's ways of dealing with problems. He also compares the sales, which Blair sort of omitted (along with a number of other facts), suggesting that the Surface was beating iPads hands-down.
Steinberg writes about the Surface sales falling "from $908 million last year to $672 million in this year's September quarter. That is not too promising. Apple still sold $4.276 billion worth of iPads in the same quarter despite falling sales." No retraction from Blair, but a highly-entertaining Comments section. Find it yourself if you must. . . .

One of the products I like, at least in terms of its concept, is Philip's Hue, which allows control of colored home lighting from an iOS app. The app is available here, but not the wifi bridge nor the Philips lamps. I had not realised until last week that certain 3rd party lamps were available and only did with the news that Philips released a firmware update that blocked those products.
Needless to say, a lot of users were unhappy and they announced they would provide a new update, Cory Doctorow writes on BoingBoing. The problem for consumers is that the firmware was behind an access control system. Any attempt to reconfigure it is a potential felony under section 1201 of the DMCA.
The reason for the original update was because some lights are not wholly compatible and there are performance problems, but Doctorow is critical of how Philips went about this, comparing the actions to "the inkjet printer business model"; and comments on how they might proceed in the future.

Two themes often appear when those who think they are Apple experts are trying to make big headlines: Apple is doomed; or the next big thing. Look at the two and you might realise they are mutually exclusive. The most critical of the commentators on these ideas are Daniel Eran Dilger, John Gruber, and the Macalope (who will make you laugh too).
We recently had an example of the first, when Katy Huberty reported figures suggesting a reduction in orders from a supplier, which meant that iPhone orders would reduce, which meant that sales would fall, which obviously means Apple is doomed. Daniel Eran Dilger, referring to similar reports in 2012, tore that one to shreds earlier this week. As a nice surprise, one of the Wall Street analysts, Piper-Jaffray's Gene Munster pointed out the lesson learned in 2012 that it is "unwise to read into supplier data" Neil Hughes reports on Apple Insider. My link for that article was MacDaily News who have some sharp comments of their own and a link to Tim Cook's warning on just this point.
Now, Dilger has a look at that Big Thing question that disturbs so many would-be commentators and makes the point that I have also commented on before: analysts look at growth, sales, market share, and share price; Apple looks at profits. Digers comemnt is, "The core of Apple's commercial success is pretty simple: Apple is focused on profits, not sales volumes." The article uses the word "profit" or a derivation, 54 times.

One of the products that has signalled the doom of Apple, is the Apple Watch; although before it arrived, Apple was said to be doomed if it did not produce such a device. I have been using this for a while. I have two on loan and my main problem with this excess is that I need an iPhone for each one. That means if I decide to change the Watch, I have to swap SIM cards too.
The Apple Watch is an odd device in that it has no real function of its own, apart from telling the time and other related complications. Where it gains its advantages is in the way that information is communicated from the iPhone to the Watch thus simplifying some actions. For example, if a message arrives, I do not need to drag the phone from my pocket, look at it and put it back. At a pinch, I can take or make a phone call from the Apple Watch too.
As with many watches it is a luxury accessory although most are far less than the top range watches which may go for hundreds of thousands of dollars (or usually, Swiss Francs). With the number of watch-bands I have, I can mix and match with shirts, ties or even my socks on some days. I had an all red day this week.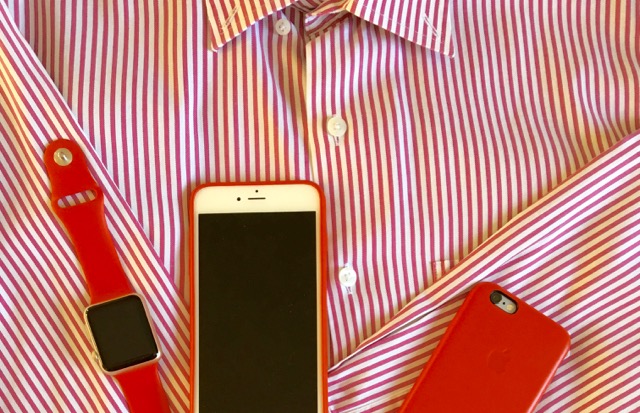 Citing research from Parks Associates, MacDaily News tells us that "smartwatch adoption has nearly doubled, from 4% of U.S. broadband households at the start of 2014 to 7% now, with 10% planning to buy a smart watch by midyear 2016." With Christmas coming in a week, we can expect a lot of these to find their way to new owners in the coming days.
Graham K. Rogers teaches at the Faculty of Engineering, Mahidol University in Thailand. He wrote in the Bangkok Post, Database supplement on IT subjects. For the last seven years of Database he wrote a column on Apple and Macs. He is now continuing that in the Bangkok Post supplement, Life.