By Graham K. Rogers
---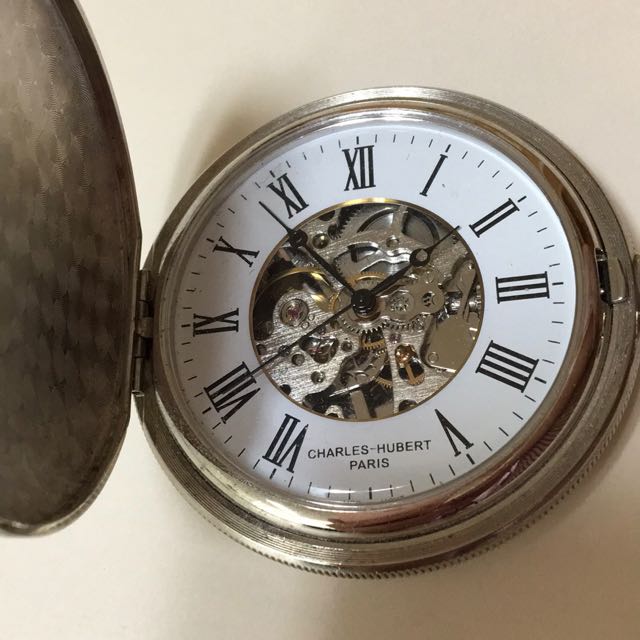 One of my colleagues has been responsible for the development of a Braille Notetaker - Jod Jum - for users in Thailand. He aims to distribute the device free and True Corporation has become interested in the project, but as it is still in the testing stages has a limited availability for now. The device uses the standard 6-key input for Braille which can be experienced in the basic ThaiBraille app, or the more sophisticated iBrailler Notes (which needs VoiceOver and a download of translation tables).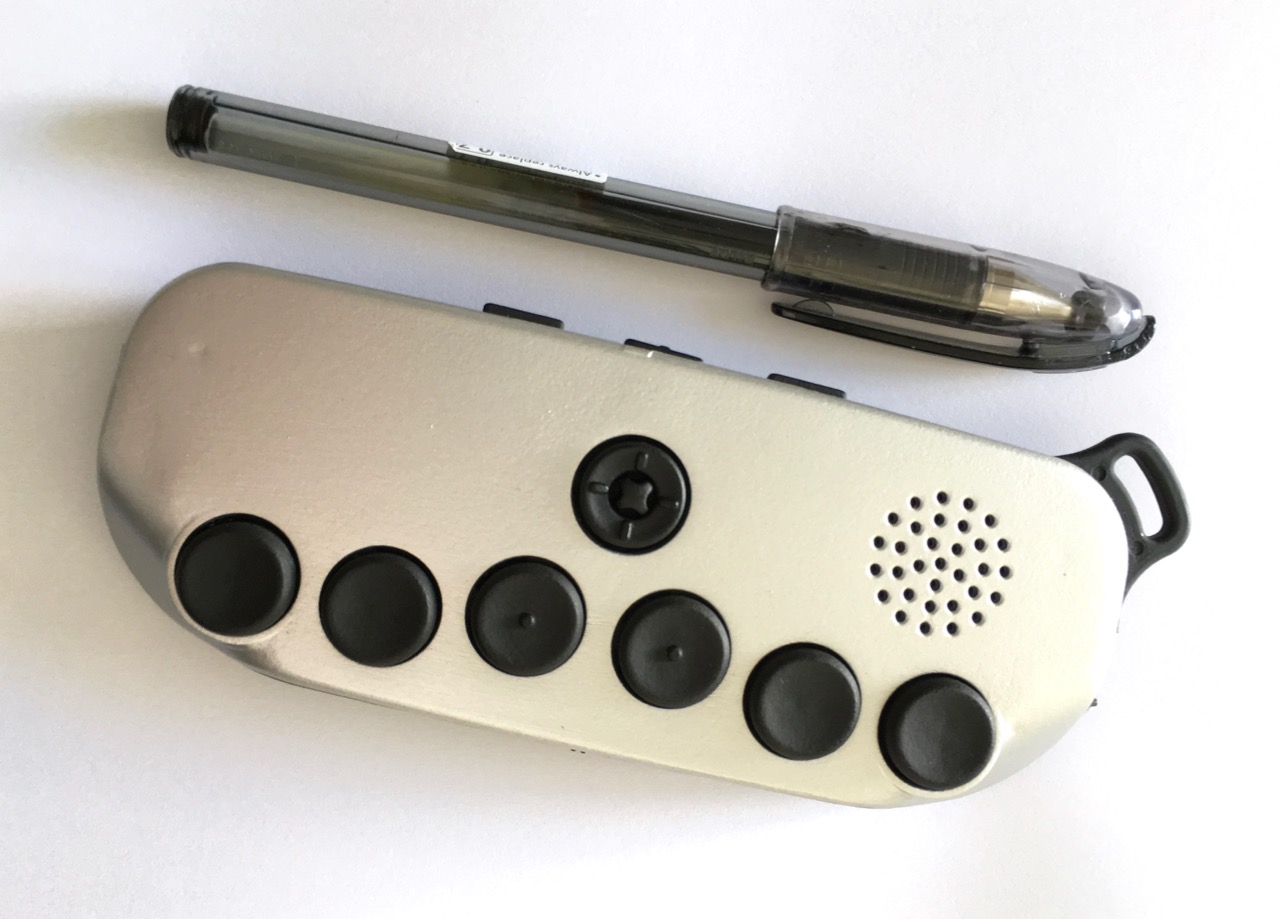 It normally connects via Bluetooth, but there is a micro-USB port for certain devices. It may also be used as a standalone device and will download content to a computer or smartphone when it is connected later.

My colleague contacted me last week and asked if I had a spare iPhone (I do). Some using Jod Jum with the iPhone had experienced problems with the input since the update to iOS 9: keys for language switching are different between iOS 9 and previous versions. I brought in my spare iPhone 6 and also let him have the Apple Wireless keyboard that I keep in my office as that works with iOS devices too.
After we had set up the iPhone (I had deleted all data, so he had to use it as a new phone), we set to work. I also brought in the iPad Pro and its Smart Case so that he could look at language and keyboard switching: the Smart Case uses a Globe icon, the Wireless Keyboard does this switching with the Fn key.
VoiceOver is in the General > Accessibility section (on Macs, a similar section is in System Preferences > Accessibility). When this was turned on and the keyboard paired with the iPhone, a number or additional functions were available. I had tried VoiceOver before and found the incessant spoken output to be distracting. However, if that is all you have, this is not the case. My colleague pointed out that blind users are able to use this really quickly. That in itself was humbling.

One of the most useful (visual) additions was a rotor which allows a host of functions and improves the input speed for those who use it. With the iPhone this is accessed using two fingers then twisting, but with the Wireless keyboard this was controlled by the Up and Right, or Up and Left arrow keys.

Over the next couple of days, he was able to sort out which keys with iOS would provide the commands that users expected. With the Braille Note taker however, this would need some changes to the firmware before it would be working fully.
Currently this is not a disaster as the device is still in the testing stages, with only a few distributed to establishments like the Ratchasuda Foundation and the Dhamikkayawittaya School for the Blind in Khao Yoi, Phetchaburi.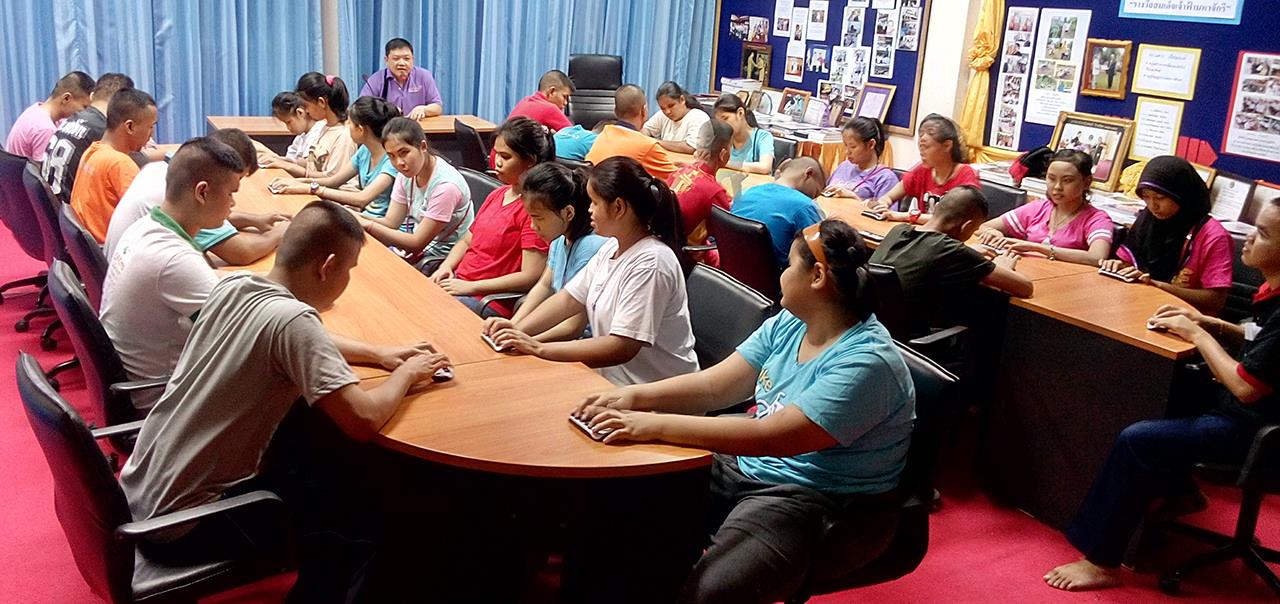 Dhamikkayawittaya School for the Blind - Using the Note-taker

The Note-taker currently works with Thai and English, but could be made available for other languages with suitable updates to the firmware. As it is, Jod Jum complements other forms of input that are available, such as dictation or the use of a wireless keyboard (itself limiting because of its size). This is an ongoing project that is intended not to turn a profit, but to provide some additional assistance to those who might benefit from it.
Graham K. Rogers teaches at the Faculty of Engineering, Mahidol University in Thailand. He wrote in the Bangkok Post, Database supplement on IT subjects. For the last seven years of Database he wrote a column on Apple and Macs. He is now continuing that in the Bangkok Post supplement, Life.