By Graham K. Rogers
---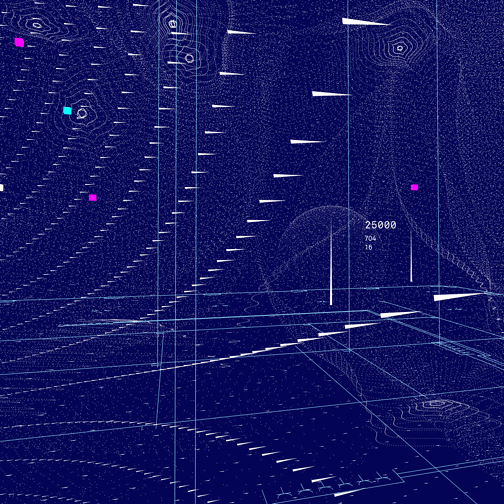 A few weeks ago there was some interest in an Android app based on the work of James Cole and his work using the Helmhurts equation that uses variables. Cole had been using this to optimise locations for wifi reception at his home and ended up creating the Android app. There is also a browser version and (he wrote) plans for an iOS app as well.
The idea of mapping signals is not new. A colleague at work has written a number of papers on signal strength for telephone systems here. He drags spectrum analysers about on a cart and examines variations in signals in areas with trees, inside buildings and in car parks with or without lots of cars. One of the key words is attenuation: signals drop in certain places (try your bathroom). The mathematics is rather complex, but in the end users like me may find that our mobile phone signals are better.
There are similar apps for iOS and one app that has been in development for a while was released this week. I have been trying The Architecture of Radio ($2.99) on a couple of iPhones and my iPad. It provides a display of some of the signals that surround us, from Wi-Fi, cellular towers and satellites. The results are as surprising as they are interesting. This early release is shown as version 0.4.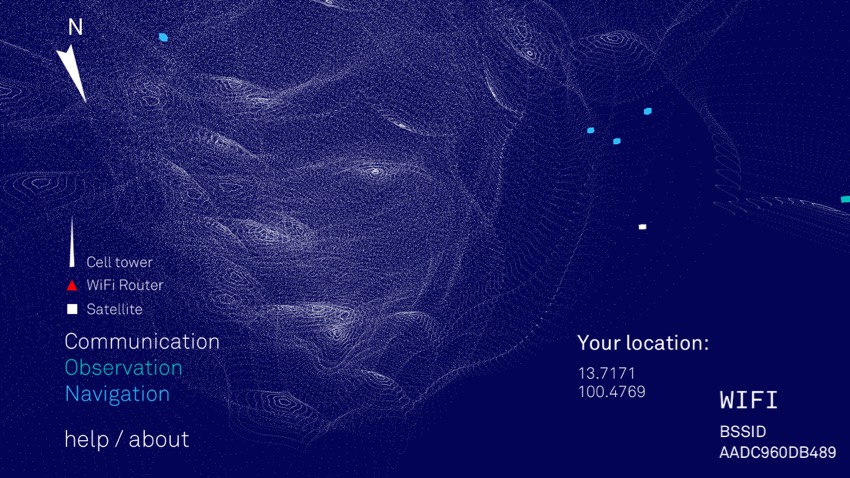 I tried this first on the iPhone 6s Plus. After a brief opening screen the dark blue display shows a 3D matrix of signal strength: lower or higher depending on the signals received.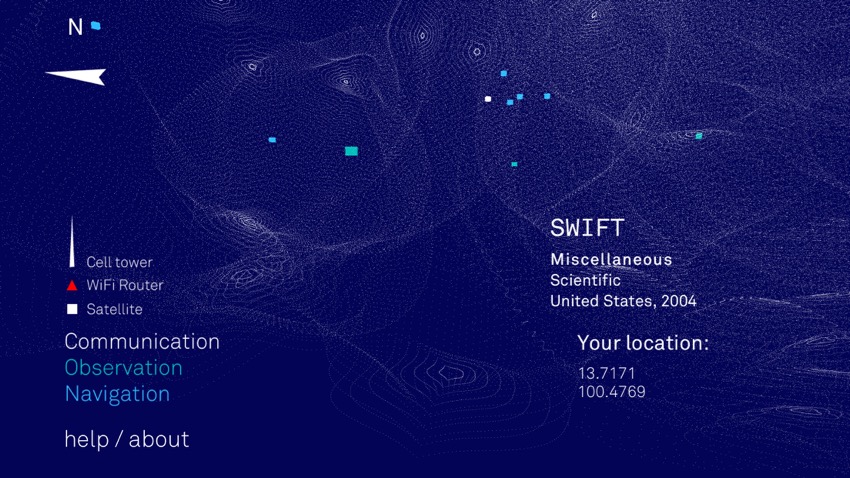 Within the display are symbols to indicate the sources and other data. My location was shown with a coordinate display and an indication of North. The white cell towers, like tall needles, show the operator and the distance from me. Carriers indicated were Hutch CAT/CDMA, DTAC, TrueMove/Orange, ACT and AIS.
As well as the WiFi I have, a number of WiFi units were indicated when I moved to a window. None of these was named by the app, although the height of the triangle would seem to indicate signal strength.
Due to our location in Thailand, close to the Clarke belt, there were satellites shown whichever direction I pointed the rear of the iPhone in. With these, the country or region operating the satellite was given (Russia, France, USA, Japan and Europe). The purpose (e.g. GPS) was given in some cases along with the satellite name (Intelsat, Prometheus, Iridium, CXO, Ariane, Cosmos). The satellite icons were colour-coded: white for communication; green for observation; and blue for navigation.
While the app was in use there was a constant background noise which sounded similar to a Geiger counter. I could find no way to turn this off apart from using the iPhone volume controls.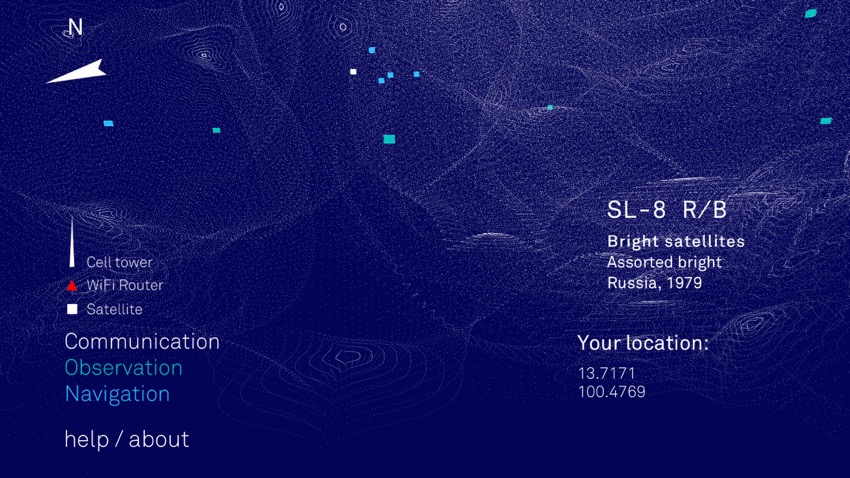 I used this most on the iPhone 6s Plus and note that after a few minutes there is a rise in temperature towards the top of the device. This was also slightly noticeable on the iPhone 6s, while the iPad Air 2 became only slightly warm near the bottom right. This may be due to different antenna locations. The displays on all three devices were quite clear. The iPhones had slightly different aspect ratios, so gave a relatively wider display (albeit shorter).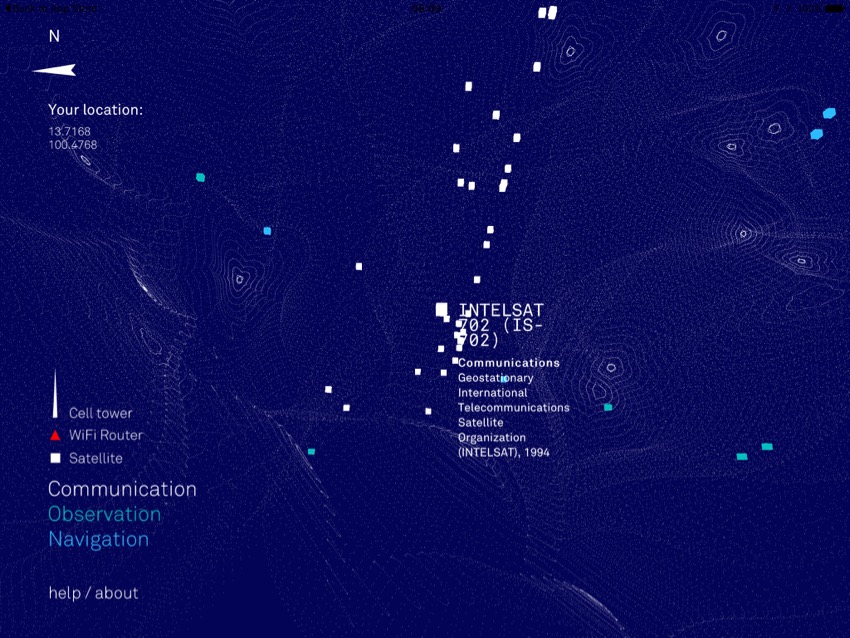 This an app that may have a limited use for most, although those interested in signals - or in education - will find obvious values here. I look forward to developments of the app, including some additional features that would enhance displays or include/exclude specific types of transmissions. It might also be useful if the sound were an option.
A single gesture is available: by placing one finger on the screen at or near its center, an option becomes available for taking a screen shot. I found it just as easy to use the built-in iOS method of Home and Off buttons.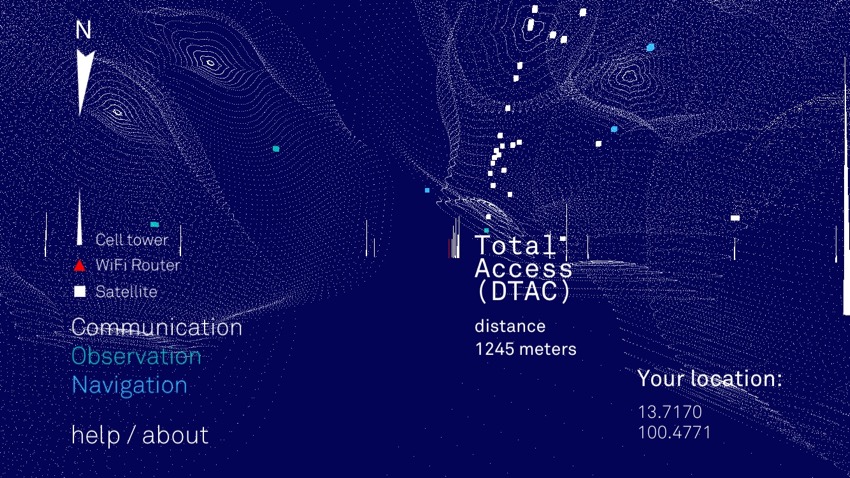 Users of Windows computers may also be interested in the Ekahu site where there is heat-mapping software that also indicates where signals might be better (or worse).
Graham K. Rogers teaches at the Faculty of Engineering, Mahidol University in Thailand. He wrote in the Bangkok Post, Database supplement on IT subjects. For the last seven years of Database he wrote a column on Apple and Macs. He is now continuing that in the Bangkok Post supplement, Life.