By Graham K. Rogers
---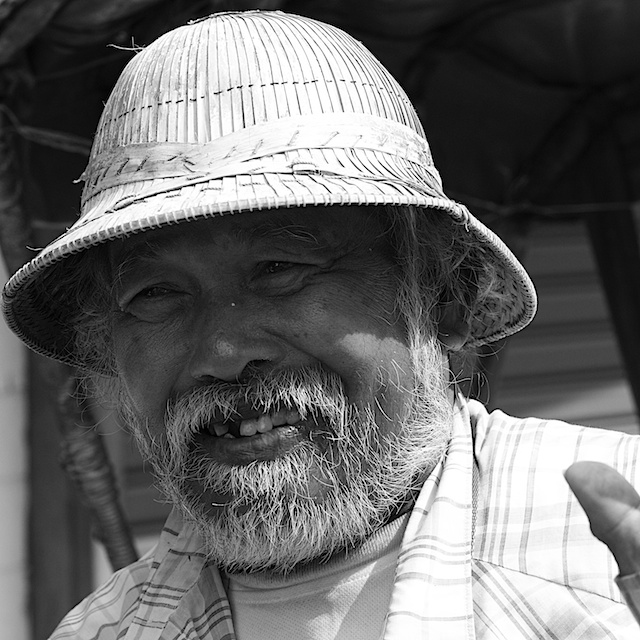 Now that OS X has been updated to El Capitan (version 10.11) I have been indulging myself with the new extensions for Photos that I mentioned last week. This means of expanding the functions of the operating system or applications was used on Mac OS: before OS X. I already have a number of extensions: most are from Apple, but a few have arrived from 3rd party sources. These are all shown in System Preferences > Extensions in the panels available: All, Actions, Finder, Photos, Share Menu and Today.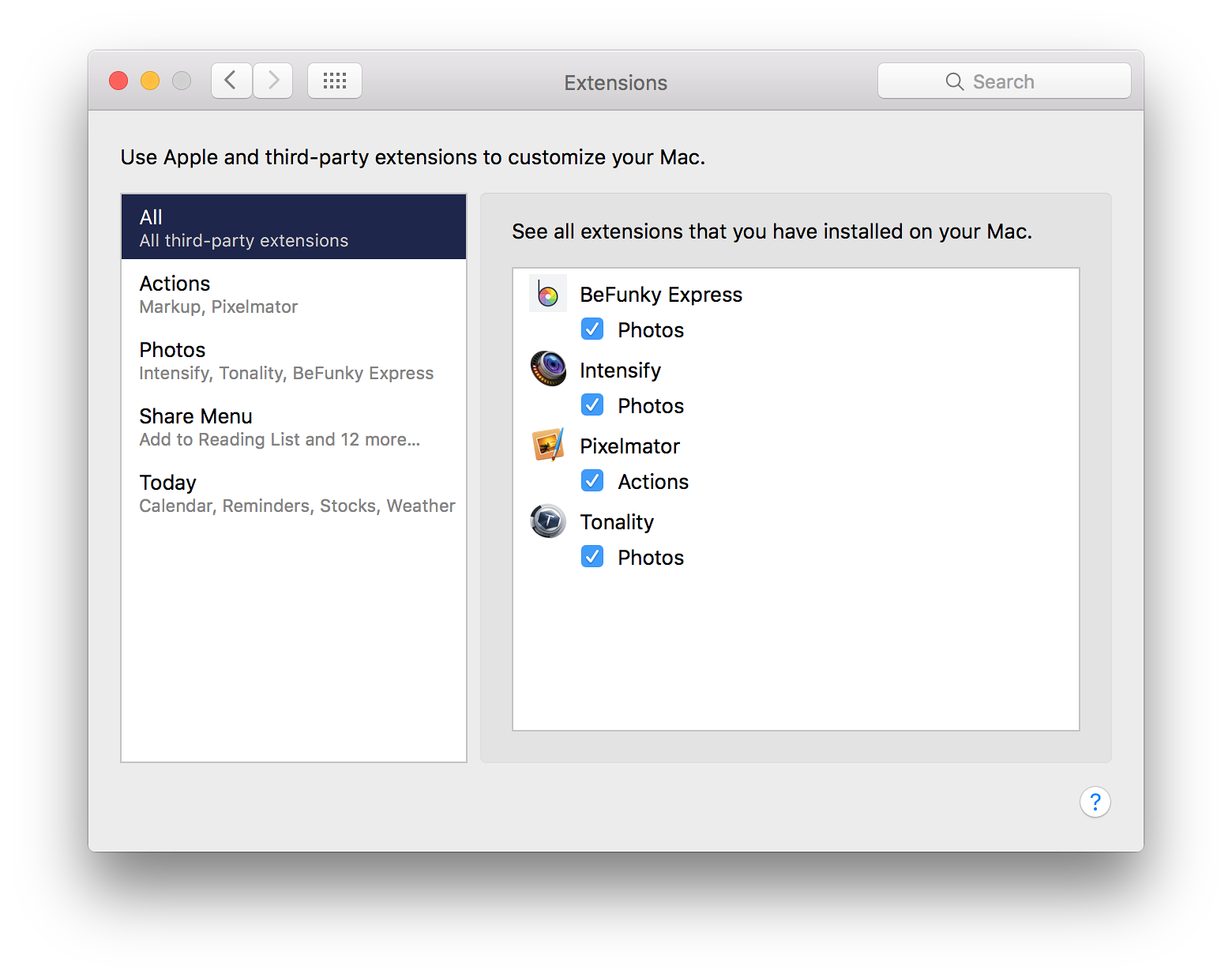 Currently "All", which shows any 3rd party extensions, has 5 items listed. Three of these are also shown in Photos. Pixelmator currently only works as a repair tool (along with Markup), for example in Mail. Reliable sources last week reported that this is to be updated soon and will then be available as an extension in Photos. It is already available in a similar way as an editor in the version of Photos on iOS devices.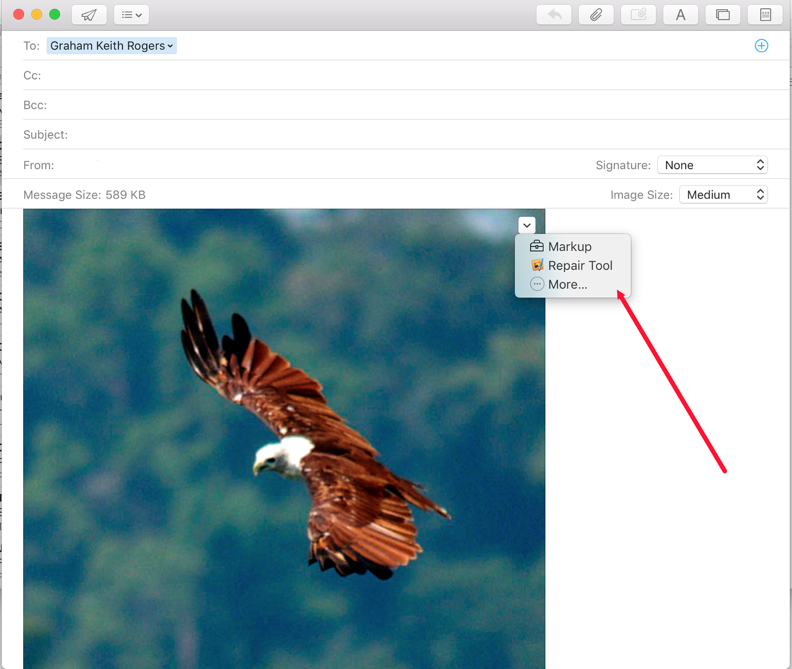 In the last week, I have been experimenting with the two extensions I had for Photos: Tonality and Intensify; both from the developer MacPhun. I am really happy with the results. Macphun has also released Noiseless and Snapheal ($14.99 - 533 baht) with extensions.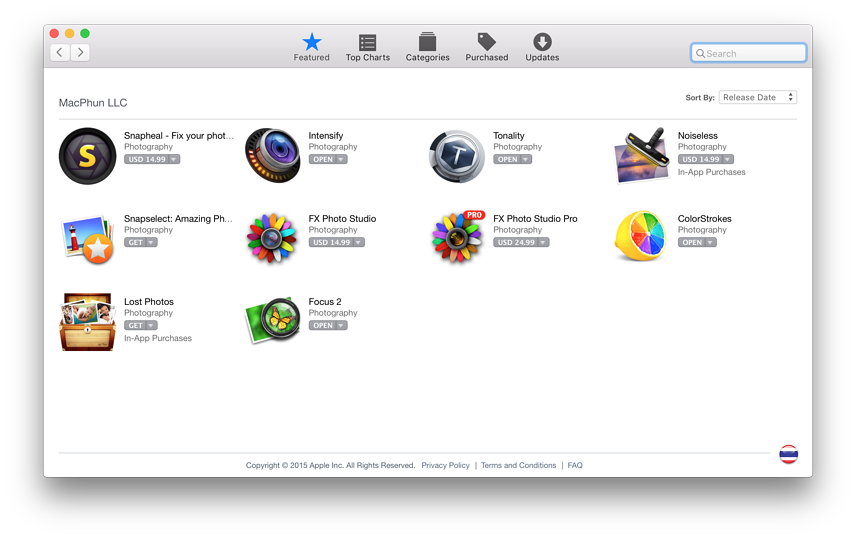 I have used Tonality since it was released, also downloading the Pro version which has a plug-in for Aperture. A series of adjustable presets, which are mainly monochrome, enables the user to produce some stunning images: this can now be done from within Photos on the Mac.
Likewise, Intensify provides a wide selection of presets that transform images in several ways. In both Tonality and Intensify, sliders allow the effect to be tempered. Both also have a wide range of editing tools so that sophisticated editing is possible. This used to require the image to be available in the standalone application, but now these applications can be used from within Photos.
Several more of the apps from this developer, such as Color Strokes and Focus 2 would work well were they to be updated in the same way and I am keeping my fingers crossed. As a note, tomorrow (15 October), six of MacPhun's Pro apps are available in a Creative Kit bundle for $89.99: Focus, FX Photo Studio, Intensify, Noiseless, Snapheal, and Tonality.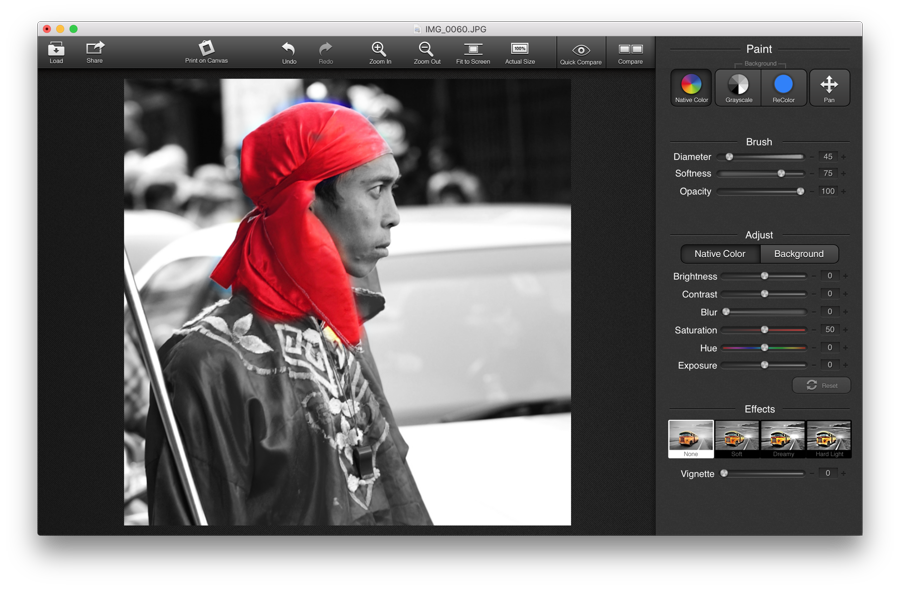 Color Strokes - Current Standalone Version

I particularly like Color Strokes which I have been using for a while now. I first used it on the iPhone, but Color Strokes was later developed for the Mac as well. It creates a monochrome image from a photograph then allows the user to add color back to the image in specific areas. The same features are available in a Mac version of the software although the range of tools is larger and the screen size makes the application easier to work with.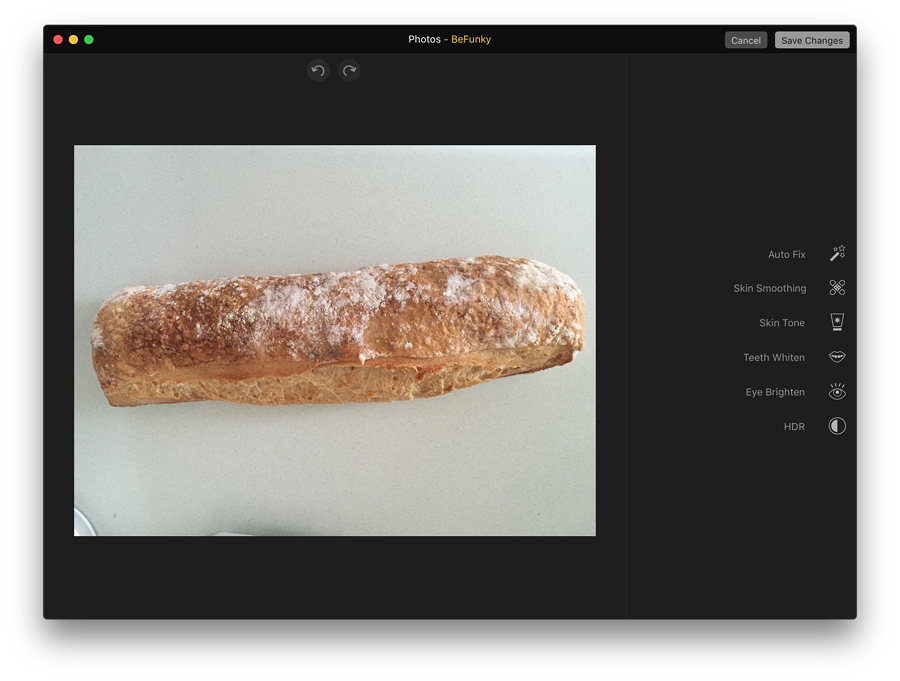 BeFunky Express

With Tonality and Intensify showing me how well extensions work in Photos, I went looking in the Mac App Store and found BeFunky Express: an app newly created specifically to take advantage of extensions. Tools include Auto Fix, Skin Smoothing, Skin Tone, Teeth Whiten, Eye Brighten and HDR (Shadow and Highlight adjustments). BeFunky Express is mainly intended for editing images of faces, although these tools work with other images. for example, I had particular success with white flour on bread and with white road signs.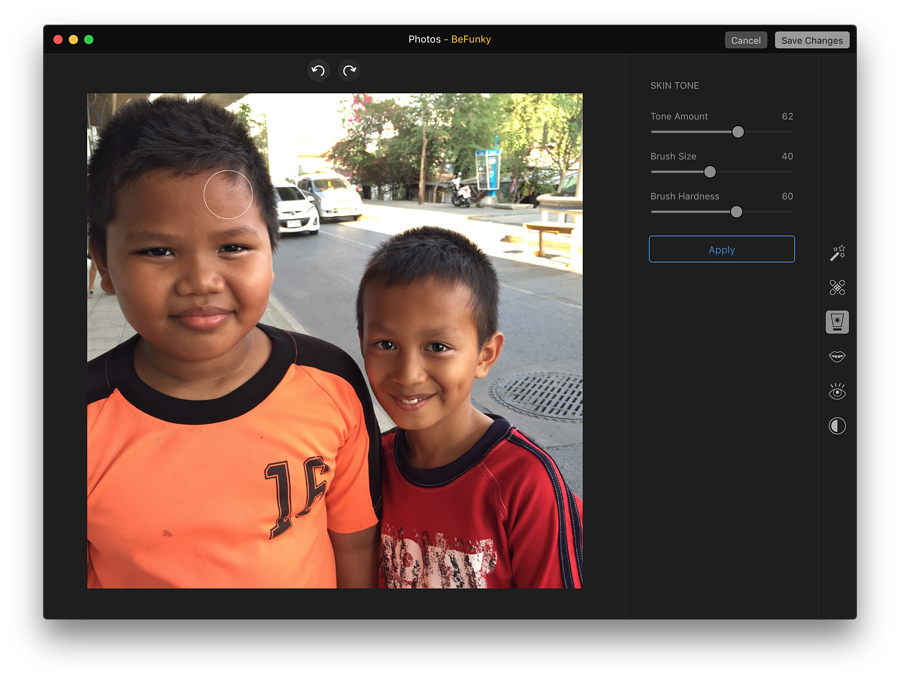 BeFunky Express - Skin Tone

It can be run as a standalone application, but there is little point. Like the other new applications taking advantage of this new feature of OS X, it works well within Photos.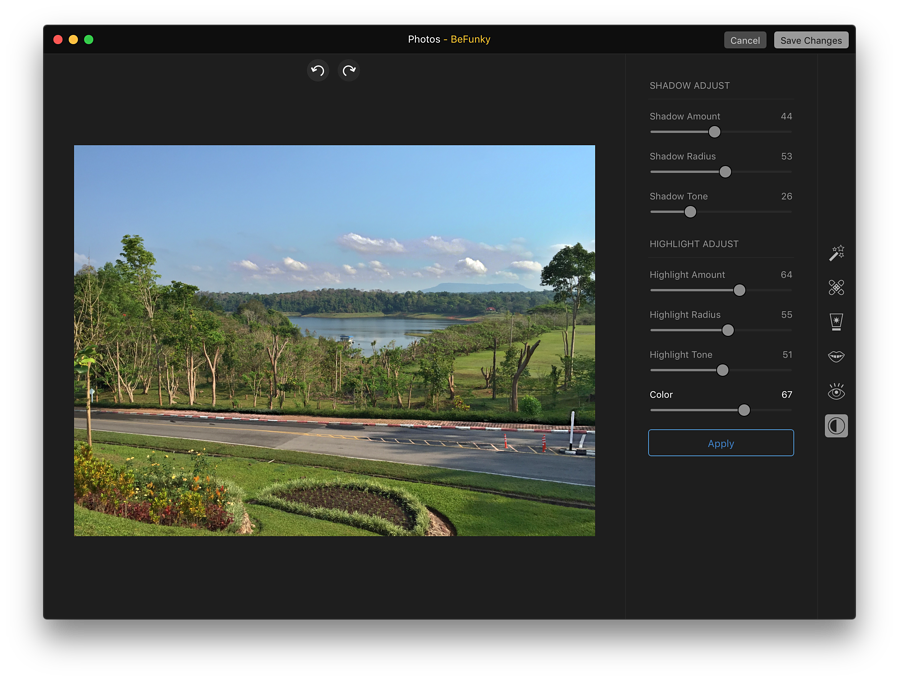 BeFunky Express - HDR

When Pixelmator is updated with extension, there should be full-scale editing capabilities available within Photos: no need to export first before making adjustments. The current (and expected) applications that work in this way show the huge potential for users that Photos has as updated apps begin to work with it and Apple introduces more features.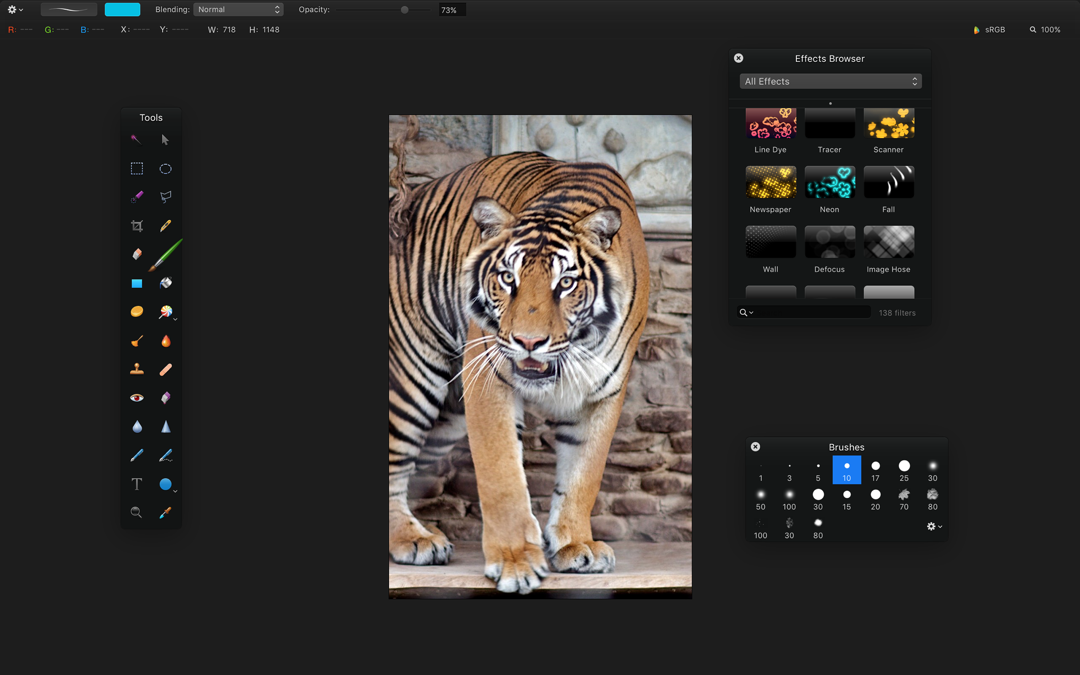 Pixelmator - Current Standalone Version


Last weekend the iPhone went on sale in another 40 countries (Juli Clover, MacRumors). On 16 and 23 October, the new iPhones will be available in 14 more countries, including Malaysia. As yet, there is no date for any release in Thailand.
Sales were good in the US and China, with reports from Australia also saying that sales jumped 31 per cent in the quarter, with the iPhone 6 top-seller there and the iPhone 6s Plus in number 4 spot (Paul Smith, AFR Weekend).
Oddly, Apple has sourced the A9 processor this time from two manufacturers: Samsung, who use an ultra-thin (14nm FinFET) processor; and TSMC or Taiwan Semiconductor Manufacturing Company who developed the more advanced process but whose A9 chip is slightly larger at 104.5 square mm compared with 96 square mm for the Samsung processor.
MacNN suggests that there is some evidence there is a slight performance difference. Some users have been reporting different battery life. Apple released a statement during the week suggesting that in real use terms the differences should not vary more than 2-3%.
Late News
On Tuesday evening (Thai time) Apple announced updates to its entire iMac range, with the 27" iMacs now all coming with the 5k displays. Also updated was iMovie (version 10.1) with improvements to allow users to create 4K movies. Users may also import movies create on iOS devices as well as take advantage of several new features. The update is a 332.5 MB download (the full version is 2.02 GB).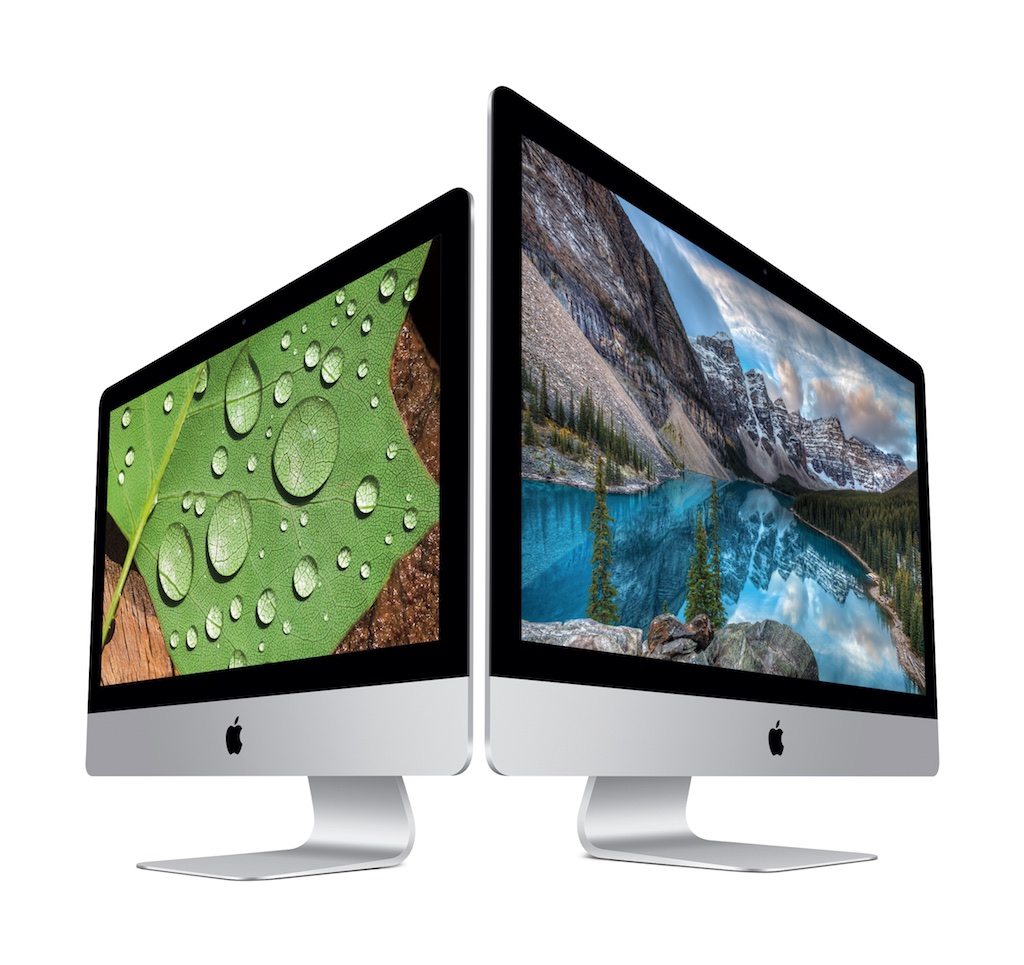 On the Apple Thai site (still with no English), no prices for iMacs were shown initially although VAT was. The pages were amended by late evening. According to information I received, the iMacs are available immediately here, although there does not appear to be any link for purchasing. Pricing is indicated below:

The new 21.5" models are:
1.6 GHz Intel i5 processor, 8 GB RAM, Intel HD Graphics 6000, 1920 x 1080 display and 1 TB hard drive. $1099 (41,900 baht)

2.8 GHz Intel i5 processor, 8 GB RAM, Intel Iris Pro Graphics 6200, 1920 x 1080 display and 1 TB hard drive. $1299 (49,900 baht)

3.1 GHz Intel i5 processor, 8 GB RAM, Intel Iris Pro Graphics 6200, Retina 4096 x 2304 display and 1 TB hard drive. $1499 (56,900 baht)
The 21.5" iMacs are configurable up to 16 GB RAM and there are other options, including hard disks.

The new 27" models are:
3.2 GHz Intel quad-core i5 processor, 8 GB RAM (4 GB x 2), AMD Radeon R9 M380 Graphics with 2 GB video memory, Retina 5K 5120 x 2880 P3 display and 1 TB hard drive. $1799 (67,900 baht)

3.2 GHz Intel quad-core i5 processor, 8 GB RAM (4 GB x 2), AMD Radeon R9 M390 Graphics with 2 GB video memory, Retina 5K 5120 x 2880 P3 display and 1 TB Fusion drive. $1999 (74,900 baht)

3.3 GHz Intel quad-core i5 processor, 8 GB RAM (4 GB x 2), AMD Radeon R9 M395 Graphics with 2 GB video memory, Retina 5K 5120 x 2880 P3 display and 2 TB Fusion drive. $1999 (85,900 baht)
The 27" iMacs are configurable up to 32 GB RAM and there are other options, including hard disks.

A press release from Apple contained the following information:
Apple today updated the entire iMac family, bringing a stunning new Retina 4K display to the 21.5-inch iMac for the first time and the Retina 5K display to every 27-inch iMac. The new Retina displays make photos and videos more immersive and true-to-life thanks to a wider color gamut and spectacular image quality. The updated iMacs also feature more powerful processors and graphics, two Thunderbolt 2 ports and new storage options that make the high-performance Fusion Drive even more affordable.

At the same time, a new range of wireless accessories was announced: Magic Keyboard is available starting today for 3,700 baht. Magic Mouse 2 is available starting today for 2,900 baht. The Magic Trackpad 2 is available starting today for 4,900 baht.
Apple today also introduced a new lineup of wireless accessories including the all-new Magic Keyboard, Magic Mouse 2 and Magic Trackpad 2. The Magic devices have been redesigned to feel more comfortable than ever, and feature rechargeable batteries that completely eliminate the need for disposable batteries. The new Magic Trackpad 2 also brings Apple's revolutionary Force Touch interface to the desktop, adding a new dimension to the iMac experience.

Several sites in the US have had their iMacs (and accessories) since last week and reports are online from:
The Loop (Jim Dalrymple)
Engadget (Dana Wollman)
Six Colors (Jason Snell)
Mashable (Christina Warren)
iMore (Rene Ritchie)
9to5 Mac (Benjamin Mayo)
Graham K. Rogers teaches at the Faculty of Engineering, Mahidol University in Thailand. He wrote in the Bangkok Post, Database supplement on IT subjects. For the last seven years of Database he wrote a column on Apple and Macs. He is now continuing that in the Bangkok Post supplement, Life.