By Graham K. Rogers
---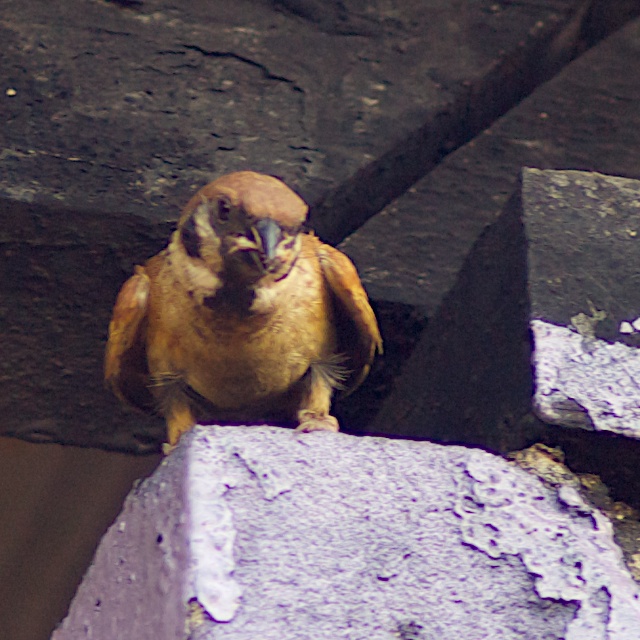 Over the last few years, along with a lot of users around the world, I have used social networking as a way to communicate with family, friends and (most important) my students. Increasingly, we post comments, ideas and photographs online which in a pre-digital world might have been ours to profit from. The wider benefits of online communication mean that copyright of online content has become a murky issue and the ordinary user is likely to lose in any battle with companies intent on milking the internet.

Using Facebook as a way to link with my students has clear advantages. I had tried email, RSS, Twitter, LINE and other means of communication, but the only way I can be sure that the message will be received by those whom I teach, is via Facebook. As our online presence grows, as well as privacy issues that have been aired, particularly as part of the fallout from Edward Snowden's revelations, it has become clear that when we post online, some users - and some companies - think it is all free for anyone to use.
For some, the lines have blurred to such an extent that it is becoming less desirable to use certain social networking sites, particularly when copyright of images is concerned.

While I use other messaging systems, I use Twitter most: not just for sending ideas out, but for the wide range of news and opinions that can be viewed in those short texts, although credibility filters need to be set at a high level for some of those incoming texts.
Over the past year (or more), there have been several concerns raised about privacy and the way these social networks - especially Facebook - keep moving the goalposts. I despair of waking up some mornings only to find that the pages and links are set up in a different way; or that one week images are linked to the postings I make, while the next, I have no choice; or advertisements - advertisements I pay Facebook for - may or may not be allowed because of the content of screenshots I use.
That last problem came to a head when I was writing my series on System Preferences in OS X: the panels used in System Preferences all have text on them, so I was not able to advertise. Now I do not purchase Facebook advertising - small as it was - at all.

I was recently made aware that with standard settings it might soon be possible for Twitter to see which apps I use on my iOS devices. The article by Mikey Campbell on AppleInsider is worth a careful read. I am fairly open about what I have: after all, most of them I have reviewed online; but the idea of gathering data and "tailoring" services for me, smacks of something unhealthy. But this is something that many users just accept without a thought: and the likelihood is that if Twitter is doing this, others may have access to the information. This is despite the soothing words that accompany the move.

On my iPhone, I do have the Limit Ad Tracking option ON (on Android this would be "opt out of interest-based ads"), so this is not going to affect me (for now) and Twitter will send users notifications when the app graph implementation starts.
However, Twitter itself has some let-outs in the user agreements that we all click on to be allowed to use the service. The content is Twitter's but the notes in the Terms of Service, "5. Your Rights" include the words, "you own your Content (and your photos are part of that Content). However, this is followed by part of the agreement (as opposed to an included tip): Such additional uses . . . may be made with no compensation paid to you with respect to the Content. . . ."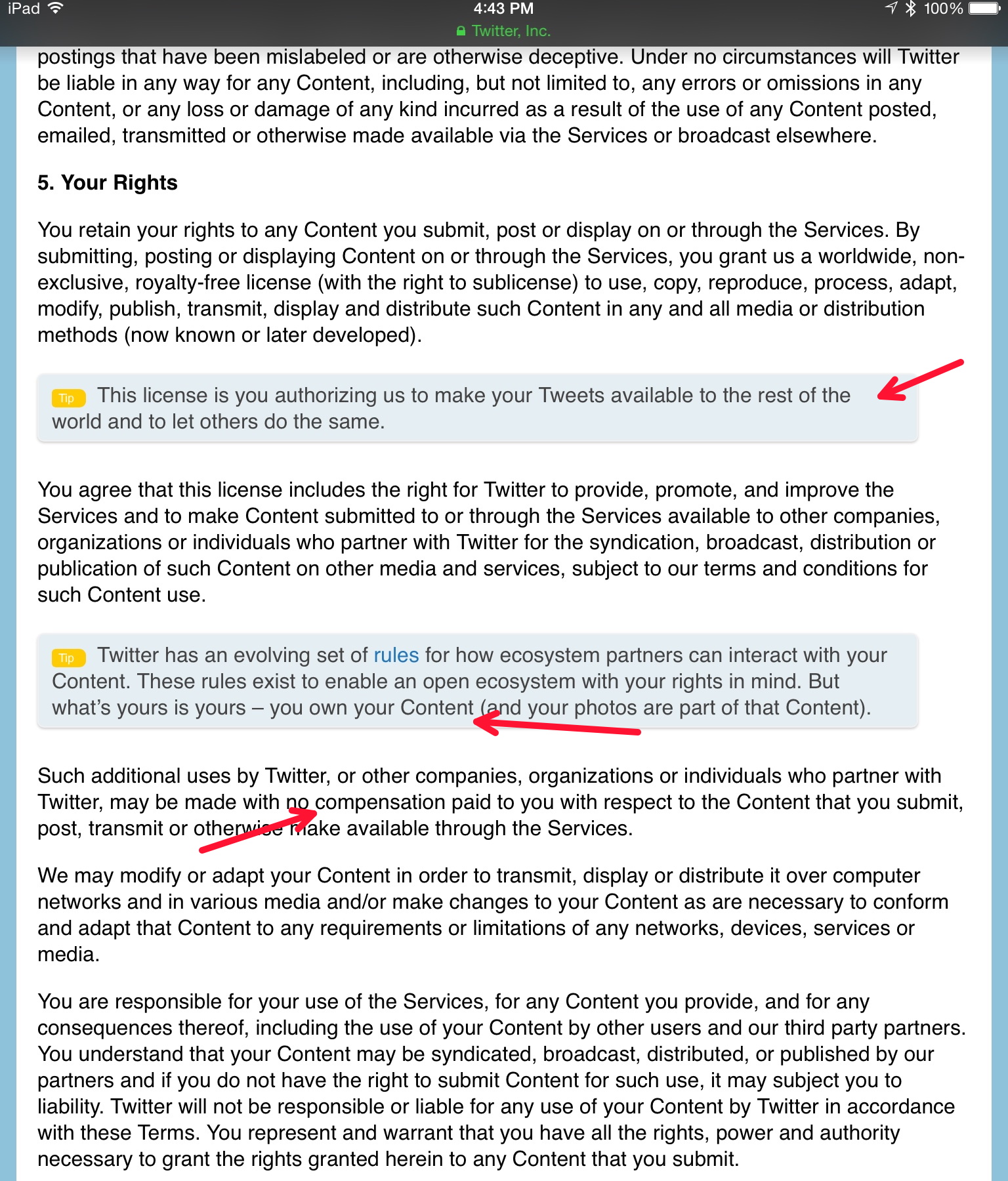 My personal interpretation of this (I am not a legal expert), is that Twitter-owned or -linked services have total access to user content, but not those outside Twitter, for example, certain news organisations.
I have debated with my students (and others online) about the agreements we are required to click on, and the consensus is that most click without reading. I do read these occasionally: Apple has several license agreements when signing up with an iPhone or iPad; and some here are not in a language I can read, so I am forced to agree with something I cannot understand (the English agreements are online somewhere: if I had the inclination and time to track them down).
Almost every online service has terms and conditions that simply require the user to click on a button to accept. As with the iPhone and iPad, this is part of the setup process and we click for the convenience of the moment: with little regard for what we might have let ourselves in for.

Every so often, users are sent messages by Facebook (or other services) concerning privacy settings and like the other policy changes, users have to actively opt out: do nothing and you are passively giving Facebook permission to track you, sell your data, and perhaps use your pictures.
Specifically, in the Facebook user agreement (2. Sharing Your Content and Information), item 1 states, "
For content that is covered by intellectual property rights, like photos and videos (IP content), you specifically give us the following permission, subject to your privacy and application settings: you grant us a non-exclusive, transferable, sub-licensable, royalty-free, worldwide license to use any IP content that you post on or in connection with Facebook (IP License). This IP License ends when you delete your IP content or your account unless your content has been shared with others, and they have not deleted it.
As a note, there are also specific provisions for those of us outside the USA and we agree to the point: "You consent to having your personal data transferred to and processed in the United States."

Over the last few years, there have been a number of rumours that images were to be sold by Facebook. This almost boiled over when Instagram was brought into the fold: Facebook quickly had to back down when it changed its terms of service to allow images on Instagram to be sold.
This has also reared its head again with regard to Facebook content, but we are told (Jonathan Atteberry, How Stuff Works) that Mark Zuckerberg "insists that Facebook has no intention of selling users' pictures for any reason, though he admits that Facebook needs to work on clarifying the language to that effect." (my italics). History is full of fine words, signifying nothing (especially when money is involved).
This rumour was quite enough for a photographer who lives locally. This Pulitzer Prize winner, who has retired but still sells his work, sent email to his friends recently, explaining that before the risk of having Facebook sell his content (they do own it, according to the licence agreement), he will be closing down his activities on the social network.
I also spoke to a photographer in the south of Thailand who dumped his Facebook accounts a while back for similar reasons: of course, he may not realise that the content already posted still belongs to Facebook. It is retained, even though accounts are deleted.

There was also some disquiet among photographers who use the Flickr site, owned by Yahoo!, when it was revealed that some images would be sold as "Wall Art". It was suggested that the owners of the image would not be given any of the proceeds. It walks over the rights of the owners of the images: perhaps they might not want their work sold, especially as a cheesy canvas-style print.
A fair outline of the Flickr situation is available in an article on Forbes, by Paul Monckton. As is made clear in an item by Richard Nieva on CNET, this scheme applies to those images that photographers using the site had intended to be free: "Creative Commons - a collection of photos and writing that creators have deemed free to use, with various restrictions". The article adds that for "prints of other photos not on Creative Commons, photographers will get a 51 percent cut." That 51% presumes there is to be no creative accounting.
I intend to keep my Facebook and Twitter accounts because they are so useful for communication, I plan to reduce quality of any images that I upload (I would sell them if there were any takers). As for Flickr, I am beginning to re-assess my need to be associated with such an account

While the UK has legislation to allow newspapers the right to use what they call "orphan images" if they cannot find the owner of a picture that appears online, it is not clear how hard they have to try. And there are already examples of large organisations, like the BBC stealing users photographs, because they erroneously believed that, if the photo appeared (in the specific case) in Twitter, it is public domain: "Twitter is a social network platform which is available to most people who have a computer and therefore any content on it is not subject to the same copyright laws as it is already in the public domain" (Andy Mabbett, Pigs on the Wing). For a corporation that guards its own data so carefully, this is a weak defence (at best).
The BBC did later issue an apology in setting the record straight, but in the text there was the comment that "where there is a strong public interest and often time constraints, such as a major news story like the recent Norway attacks or rioting in England, we may use a photo before we've cleared it." (Chris Hamilton, BBC).
In other words, if we want it, we will take it anyway.
Graham K. Rogers teaches at the Faculty of Engineering, Mahidol University in Thailand where he is also Assistant Dean. He wrote in the Bangkok Post, Database supplement on IT subjects. For the last seven years of Database he wrote a column on Apple and Macs. He is now continuing that in the Bangkok Post supplement, Life.