By Graham K. Rogers
---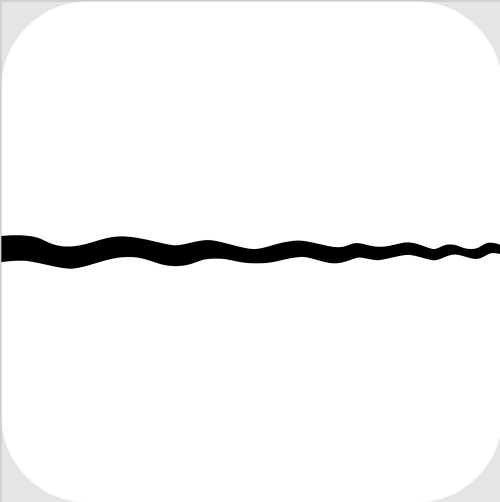 I often admit to being a bit of a fan of photography apps for the iPhone, but I have also tried out several apps for drawing. These are perhaps best on the iPad with the size of the screen with one of the best known being Brushes. This was used by the British artist David Hockney to make a number of works that were shown although he apparently just sent them to friends originally.

Several drawing apps like Tayasui Sketches, ArtRage and Paper by Fifty-Three are also available for drawing, as well as some smaller sketching apps like SketchTime and the charcoal-like ASKetch. There are scores more.
Although I can take a reasonable photograph, my drawing skills are not good and with fingers like Esaan sausages, my ideas are never properly realised, on paper or on the iOS screen.
A recently released app, Tremor - Jittery Line Drawing, has a slightly different approach, as instead of those straight lines we desire, the lines this app produces are deliberately wavy and in this way the output may look more realistic. A major advantage of this $1.99 app is its simplicity. The app was developed by Hansol Huh, who have several other drawing apps available.

The opening screen has a bare grey panel with the name at the top and a + sign at the bottom. As works are created, that bare panel stores the images. Pressing + opens a small panel with three options: Portrait, Landscape, or Square. Selecting the mode, opens a white screen with some basic controls at the top.
At top left is a "back" arrow, to return the user to that opening screen. A line selector dominates the top and pressing this reveals 5 selections: each giving a different quality of waviness. Adjacent is a black spot. This gives 5 sizes for the line width as well as five eraser, each of a different width, allowing some fine adjustments to be made to the drawing.
Beside the line width icon is a colour icon. The default is black, but pressing this icon opens a panel with 30 colour options, arranged in a 5 x 6 grid. An undo arrow is available, but once this is pressed a "redo" arrow appears. On the far right is an icon with three lines giving the user the option to Clear Canvas (or cancel).

As a picture is being drawn it is automatically saved to that main panel. Opening that (or going back) shows all the drawings as thumbnails. Touching on one of these opens the picture in a separate panel. There are three control icons at the bottom: a back arrow to return to the library panel; an "up" arrow that shows export options (email, Share, Other apps, and Save) and X which allows the user to Delete.
When the picture is displayed in this second panel, touching a holding causes the image to vibrate and it then opens in the drawing page, so can be edited.

The attraction of Tremor is in particular its simplicity. It strips away all but the essential controls, leaving the canvas for the user to work on the drawing with minimal distractions.
I tried it first on the iPhone and found it straightforward. I later downloaded the app to the iPad where, the interface was identical. As Tremor - Jittery Line Drawing (its full name) is a universal app, I was abel to use it full-screen and the larger area made it easier to draw as is usual.
This is a nice app and worth downloading for anyone in search of a simple sketching tool. It is well-made and not expensive.
Graham K. Rogers teaches at the Faculty of Engineering, Mahidol University in Thailand where he is also Assistant Dean. He wrote in the Bangkok Post, Database supplement on IT subjects. For the last seven years of Database he wrote a column on Apple and Macs. He is now continuing that in the Bangkok Post supplement, Life.