By Graham K. Rogers
---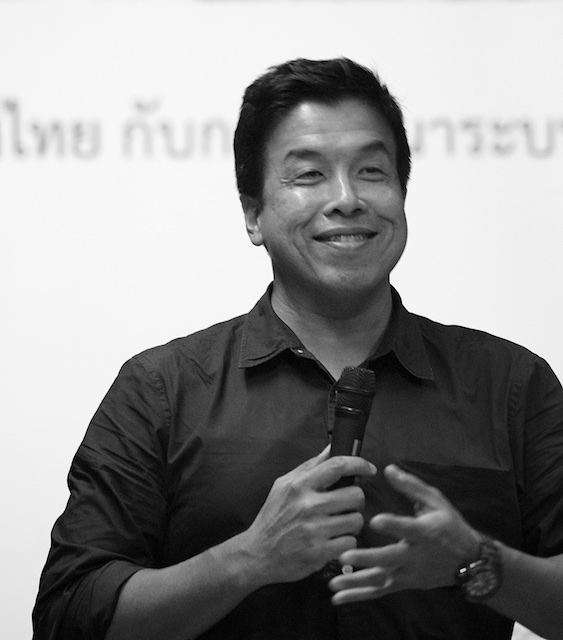 Earlier this afternoon, Chatchart Sittiphan gave a lengthy and wide-ranging presentation on railways in Thailand in front of an audience of faculty members and students of Mahidol University's Faculty of Engineering along with a number of others invited for the occasion.

The former minister, relaxed in jeans and a dark blue shirt, was accompanied by a colleague who took charge of the slide delivery, leaving Chatchart free to speak. There were over 200 slides in the presentation although he skipped a number of these. It was clear from the start that he was in control of the information he was imparting to those attending and also that he had a handle on a wider range of ideas than just the railways.
Early on in the presentation, I sat up when he mentioned Steve Jobs and his calligraphy studies, using this as one of a number of examples for students of the need to "think outside the box."

Also interesting for me - I try and teach students this - was the way that he and the colleague hardly ever communicated, but the right slide was always on the screen as he spoke. With a small break in the middle of the session, he spoke for about 2 hours without once referring to any notes: clearly at one with the subject.
He had a good handle on the numbers - financial as well as the statistics - but did not bother to read out the detail displayed in the tales and charts displayed: the audience could read these. He used those slide displays to make significant and strategic points.
Chatchart took questions from the floor a couple of times: about halfway through and near the end. He was able to provide a fluid, and often amusing response to the query. Over the couple of hours he made a good case for the use of railways, both as a form of passenger transport and for the carriage of goods, particularly containerised transport.

The questions were surprisingly good. Perhaps his popularity gave the students and some of the academics a confidence to push forward. The former minister responded well, but his approach had none of the rigid formality I had been expecting: he was fluid and firm, but good-natured and often amusing in his responses.
The loose, unscripted couple of hours ended with a slide of Steve Jobs and his 2005 recommendation to graduating Stamford students: "Stay young. Stay foolish."
Graham K. Rogers teaches at the Faculty of Engineering, Mahidol University in Thailand where he is also Assistant Dean. He wrote in the Bangkok Post, Database supplement on IT subjects. For the last seven years of Database he wrote a column on Apple and Macs. He is now continuing that in the Bangkok Post supplement, Life.