By Graham K. Rogers
---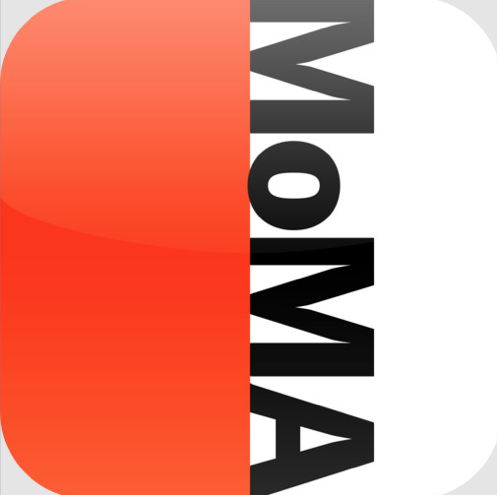 Just over a week ago I looked at an interesting iPad app from the New York Metropolitan Museum of Art: 82nd & Fifth. Also recently appearing in the iTunes App Store here (Thailand) is a related app, from the famed MoMA, the Museum of Modern Art.
That iPad app from the Metropolitan Museum of Art took a fairly conservative approach in restricting the number of items displayed to 100. The app from MoMA, which works on the iPhone as well as the iPad, has considerably more items available for study and (perhaps because of this) appears less organised. That is not, however, to imply that it is poorly created.

The MoMA app opens with a panel asking users to sign up for email news. I note that, like the app for the Met, this also receives sponsorship from Bloomberg. After the initial screens the user is faced with a panel that contains much information about current exhibitions, while below (scrolling off the screen) are a number of other links - each with thumbnail images that disappear to the right. As these selections are touched, they expand with each linking to a related multimedia presentation.

To show the wealth of information here, that one screen links to four sections, each of which itself displays a number of illustrated links with sound:
Collection (more than 50)
Robert Heinecken: Object Matter (12)
Lygia Clark: The Abandonment of Art, 1948-88 (18)
Sites of Reason: A Selection of recent Acquisitions (8)
Kids (18)
These links also provided a transcript of the sound file, so they could be read at the same time the narrator was speaking.
At the bottom of the screen are several icons, beginning with a main menu which offers other ways to look at the collections, or link to additional information (e.g. Tour, Browse, Directory & Map, Calendar, Shop). The items marked Calendar and Visit also expand to several more subsections.

Other icons include
A camera icon. This links to the iPhone camera, but there is a warning that some galleries do not allow photography (clearly, some do).

A locator icon which shows facilities and what may be found on each of the floors

A star to save favourite items for easier access to information via the main menu

A search facility that allows either alphabetical or numerical data to be added, or sound. I was unable to find how to enter audio, however.

With such a wealth of information, including pictures, text, sound files and cross-links, MoMA, the Museum of Modern Art, must have been difficult to organise. The opening screen may be a bit cluttered, but there is just so much to see. MoMA, the Museum of Modern Art is an app that will stay on my iPhone, even though I am not planning a trip to New York, at least for the time being. If I were, this would be a must-have so that I could carefully choose what items to view in the time available.
Graham K. Rogers teaches at the Faculty of Engineering, Mahidol University in Thailand where he is also Assistant Dean. He wrote in the Bangkok Post, Database supplement on IT subjects. For the last seven years of Database he wrote a column on Apple and Macs. He is now continuing that in the Bangkok Post supplement, Life.