By Graham K. Rogers
---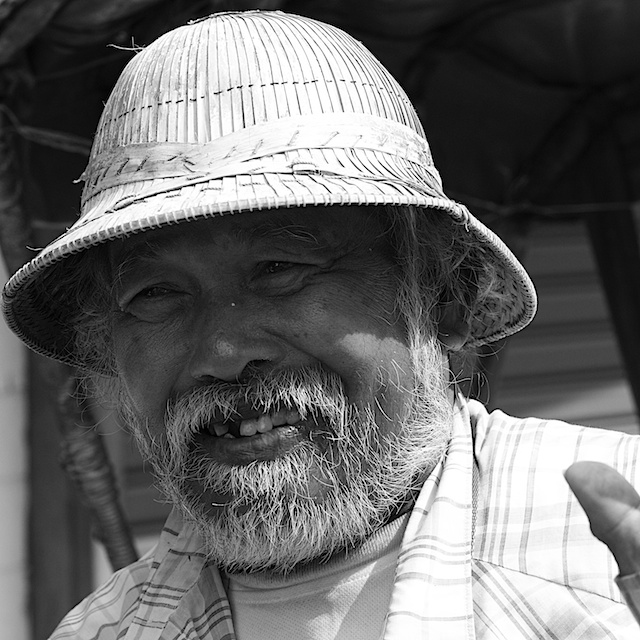 At a recent camp for students I ran at Mahidol University's Faculty of Engineering, one day was for photography. After some theory, the students walked round the Salaya campus taking pictures. After lunch, they were to import the images to MacBook Air computers lent by SPVi and create slideshows using iPhoto.

The main difficulty came with the transfers. There were a number of different phone brands being used and not all students had cables. In the end the images arrived on the Macs.
When I use my iPhone, images are automatically sent to the Mac via PhotoStream, but not everyone uses this. There are a few iOS apps that allow transfers of images using a WiFi network and a link to a browser. Both solutions need the devices to be connected to a network; sometimes there is no WiF,i and some providers only allow one device online at a time. There is, of course, the Personal Hotspot that a number of photo-transfer solutions make use of.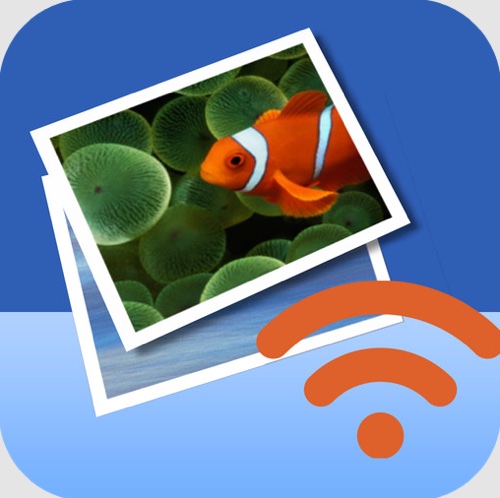 I downloaded the $2.99 Wireless Transfer app. There is a version for Android phones too. Information in the displays refers separately to Mac and PC. The user has options to send or receive.
At the bottom of the start page a browser link is shown which uses port 6688. Users should enter the exact URL, including http. Just entering the IP number adds WWW to the address which does not work.
I tested Send first and chose the Computer option. iPad, iPhone and Android are also available. A screen indicates two options: with iTunes, the name of the phone plus port number; without iTunes, an IP number. The number changed depending on whether I used WiFi or the Personal Hotspot.
The browser gave me a display of library contents. Entering one folder, I was able to select one or more images using checkboxes. Images were downloaded in a ZIP file when I pressed a button at the top of the page.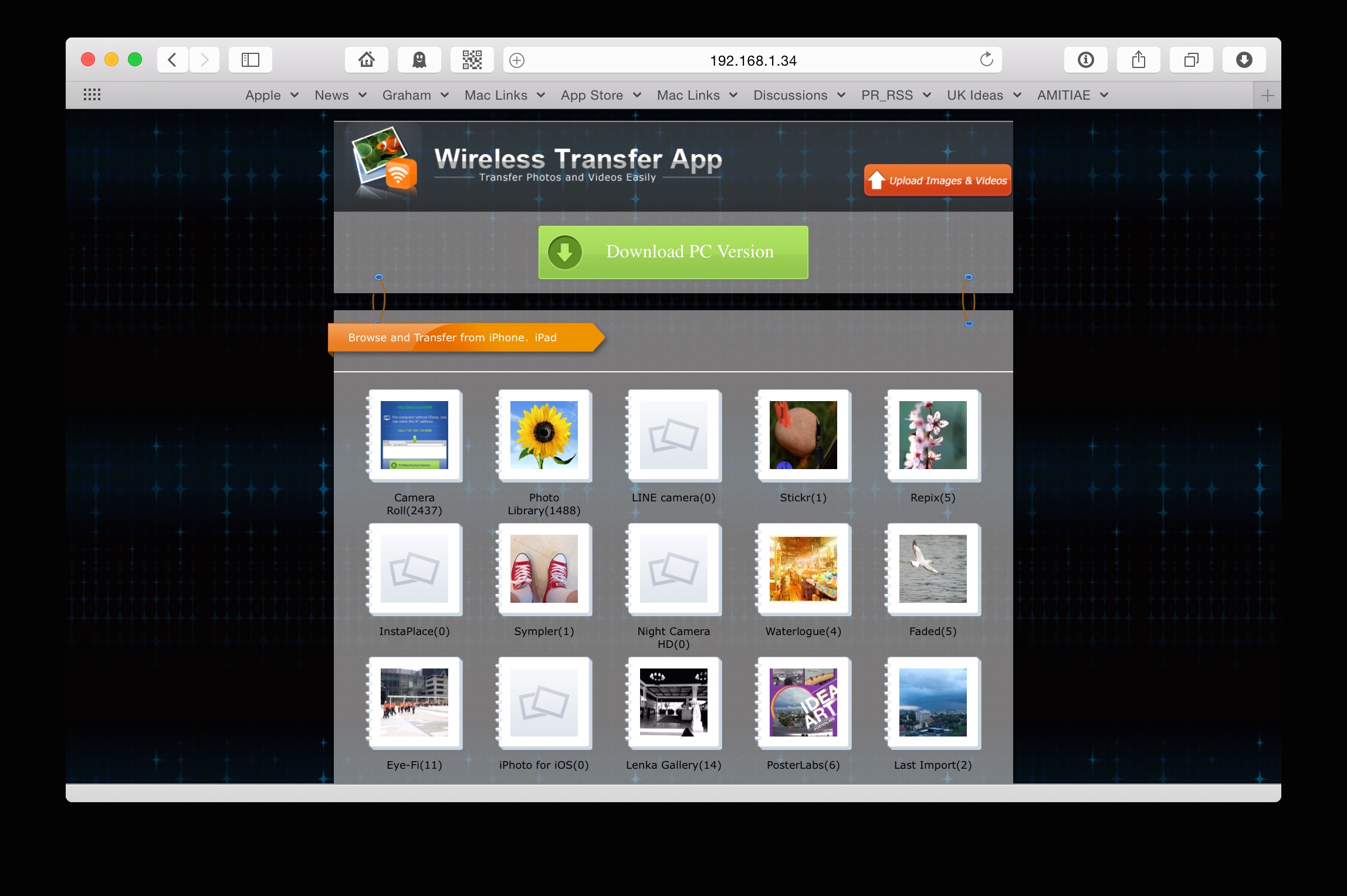 Uploading to the iPhone from the Mac required a similar process and used a Finder window to select images. Transfer to the iPhone was to the Camera Roll, or to a new or specified folder.
Wifi Transfer Page (left) and Linking to Eye-Fi Card in Network Settings

Apps work well enough for the iPhone (and iPad), but some users have larger (DSLR) cameras. The usual practice is to remove the SD card, insert it into a suitable port or connector and transfer the contents. That works fine once I am at home, but on the street I usually only have my iPhone.
I have been using an SD card with WiFi from a company in the USA called Eyefi. The card works just like a normal SD card (Class 10) when taking photographs: even with burst mode, when several photographs are taken in a second or so. I initially thought this would be perfect for transfers of pictures to my Mac, but when the card arrived, I revised my plans.
I work in RAW images: the digital negative. The Eyefi system only works with JPEG. Using the iOS app and opened up a number of possibilities, although I did have to change the camera settings to take RAW + Basic (JPEG). This still allows me over 800 images on the 32 GB SD card: the maximum I have ever taken is 450 in a day; and I have a spare 32 GB card in my bag.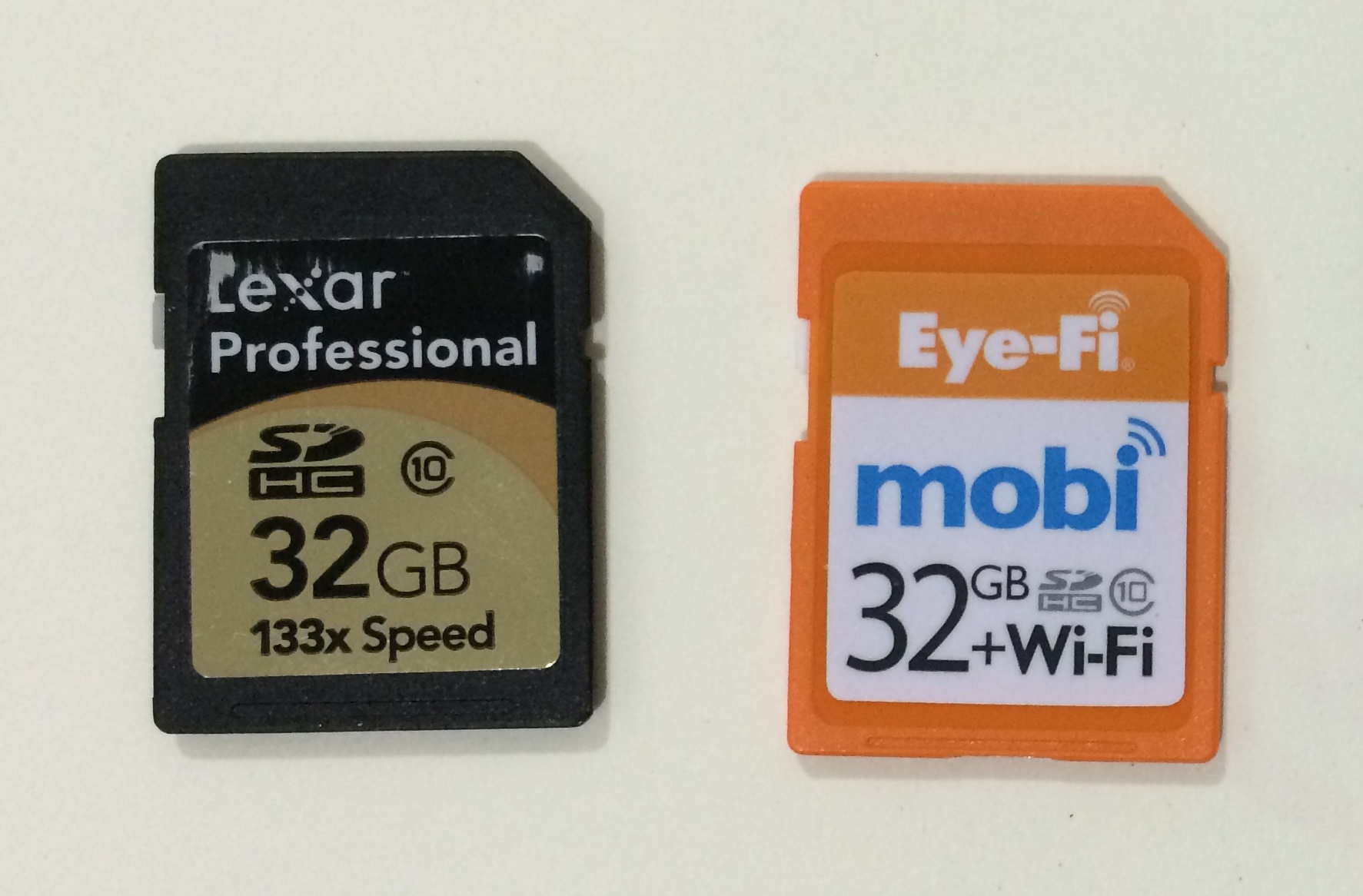 Standard Class 10 Wi-Fi Card (left) and Eye-Fi Class 10 SD Card

The Eyefi SD card creates its own network which is activated when a photograph is taken. The iPhone needed this connection set up (with some tight security), but once done it has always been available.
It took a bit of concentration when I first used it. When I am ready, I take a last photograph, start the app, and tap on the Eyefi network in Settings. I then go back to the app, which immediately starts downloading all the images.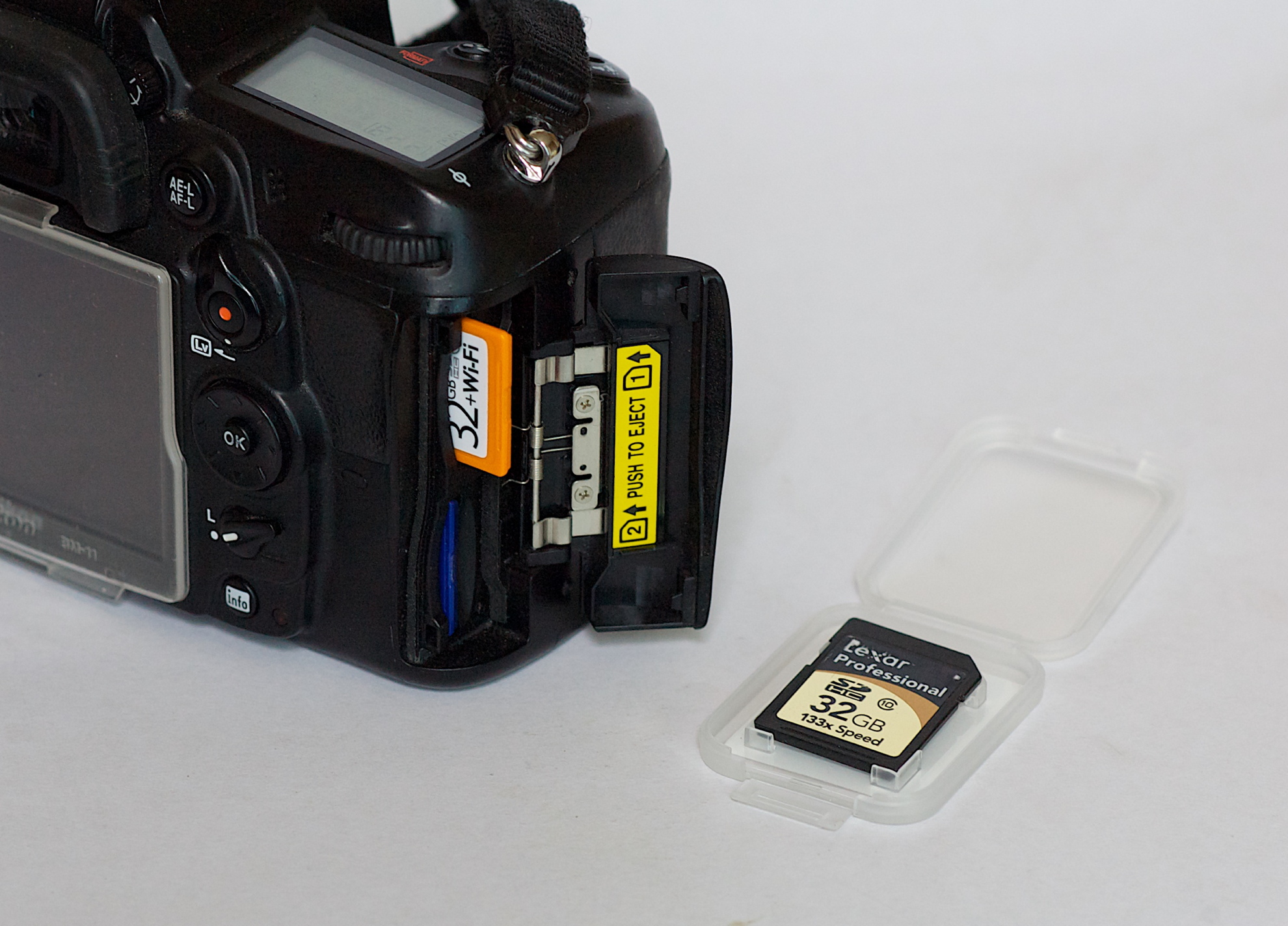 Nikon D7000 with Eye-Fi SD Card - Standard SD Card Alongside

The result is photographs on the iPhone, taken using a camera with interchangeable lenses. Images are a better quality than those taken using the iPhone camera. As good as the iPhone is now, there are limits, particularly with more distant subjects, so this hybrid approach makes photographs available immediately. I can upload these to the Internet without needing to go home.
At home, I upload the photographs to the Mac, via Aperture, which allows me to import only the RAW images, saving some space.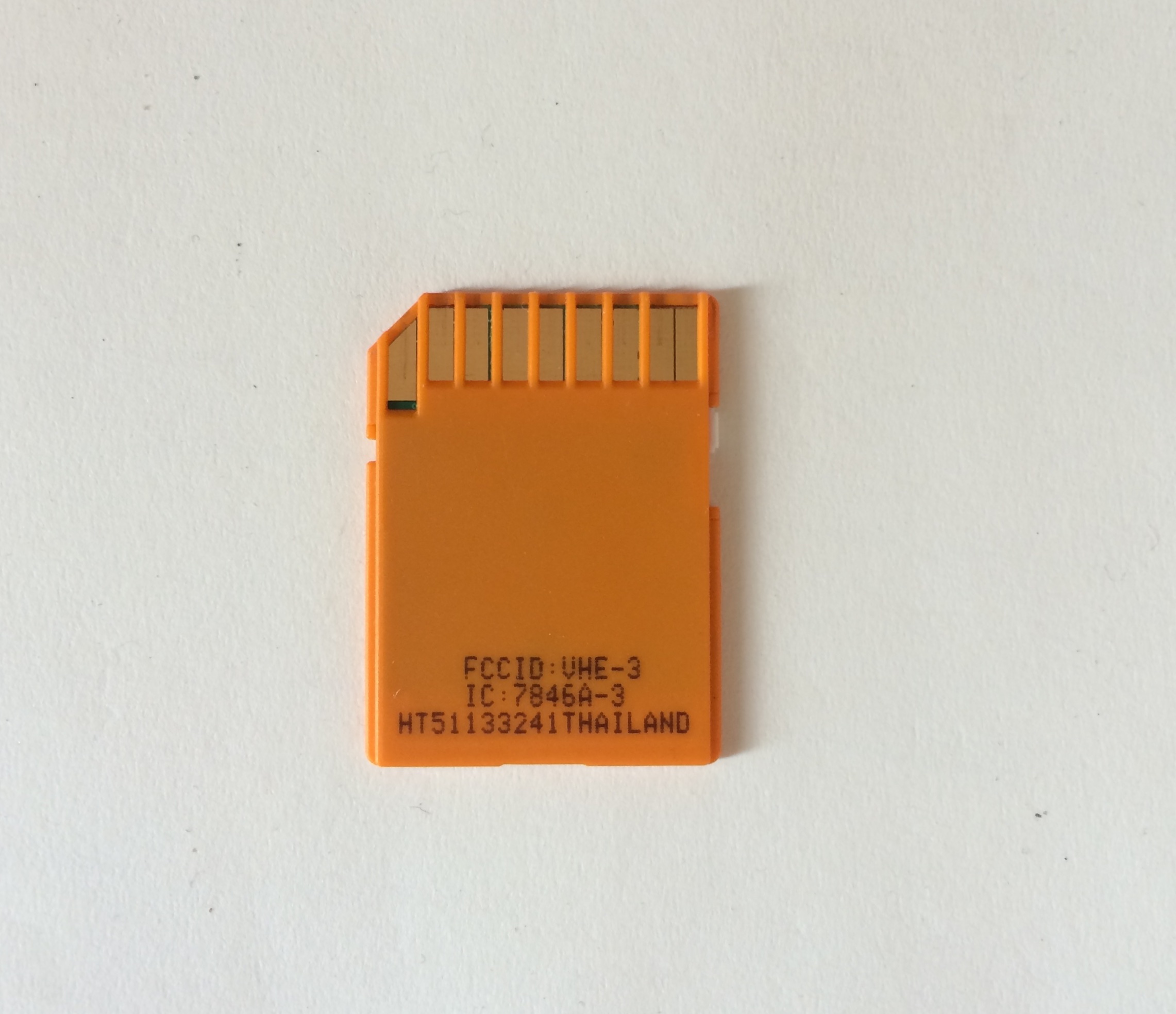 When I am happy that the files are all on the Mac, I reformat the SD card.

The Eyefi card was shipped to me via the normal postal service for a total of $99.99 (3187 baht) and took almost 4 weeks to arrive. The company has a patient customer query service and I was able to ask a number of questions about the card and shipping.
When it arrived, I noticed that, as well as FCC coding it was clearly marked as a version for use in Thailand.
Not all cameras are covered by Eyefi.
Useful Links
Wireless Transfer app
[A search for Wifi Transfer will bring up a large selection of similar apps]

Eyefi
Note also that EyeFi have now introduced their own cloud service for $49 a year: see this review by Brian Heater on Mashable.
Graham K. Rogers teaches at the Faculty of Engineering, Mahidol University in Thailand where he is also Assistant Dean. He wrote in the Bangkok Post, Database supplement on IT subjects. For the last seven years of Database he wrote a column on Apple and Macs. He is now continuing that in the Bangkok Post supplement, Life.