By Graham K. Rogers
---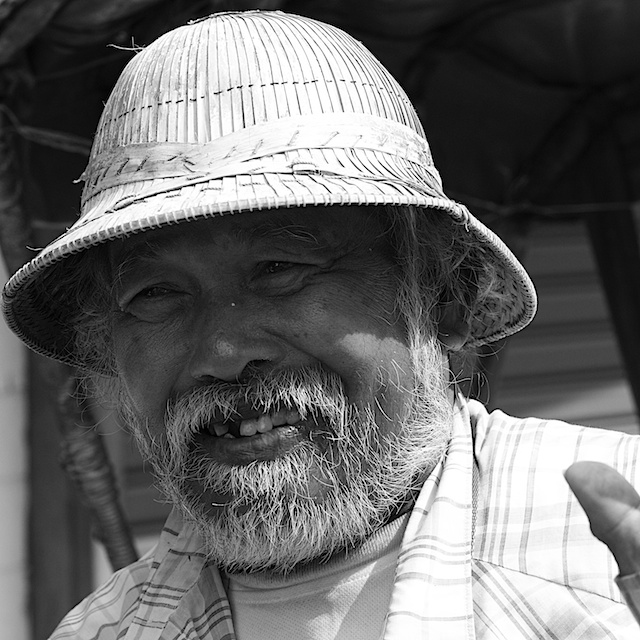 At the weekend, a number of online sources had the news that Aperture, Apple's photography workflow application, was no longer being developed. Although it will still work with the next version of OS X, 10.10, Yosemite, Aperture and iPhoto are to be replaced with Photo: a new application that is being built from the ground up, but will not be available until early 2015.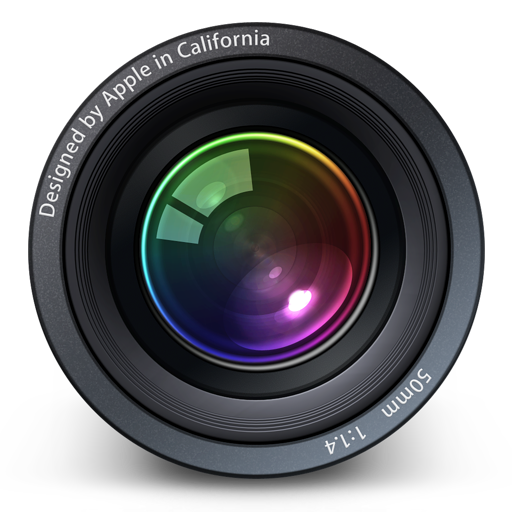 Aperture had not been updated in a while and on my older Mac was slow, particularly with the larger images from my Nikon D7000 camera. The late 2013 MacBook Pro with its solid state drive (SSD) and an upgrade to 16 GB of memory, put some of the sparkle back into Aperture and it could handle imports of a couple of hundred images nicely.
A lot of users, however, had already migrated to Adobe Lightroom and this point alone may have suggested to Apple that Aperture was no longer needed. I disagree, of course, and expect to carry on using it for a while: at least until I can assess the new Photo application and see if Adobe will ease the migration to Lightroom for Aperture users. What is also essential for me is image synchronisation between my Macs and iOS devices. While there is a Lightroom app, it requires a subscription and does not work with iCloud.

I went back to the video of the keynote presentations at Apple's WWDC last month and re-ran Craig Federighi's brief outline of Photo. He showed this on a Mac just after demonstrating Photo and the Cloud Photo Library on an iPhone and iPad: any (non-destructive) edits are immediately sent to other devices.
The new application has some basic features that we already use on the iPhone - Crop, Filters, Adjust, Retouch, Red-eye - but these can be expanded into more specific controls that have easy-to-read displays as adjustments are made. There is speculation that the tools will make this new software a compromise between iPhoto and Aperture, but it seems rather diluted so far. It is also hoped that 3rd party developers may make some plugins available to expand functionality, as they do now with Aperture.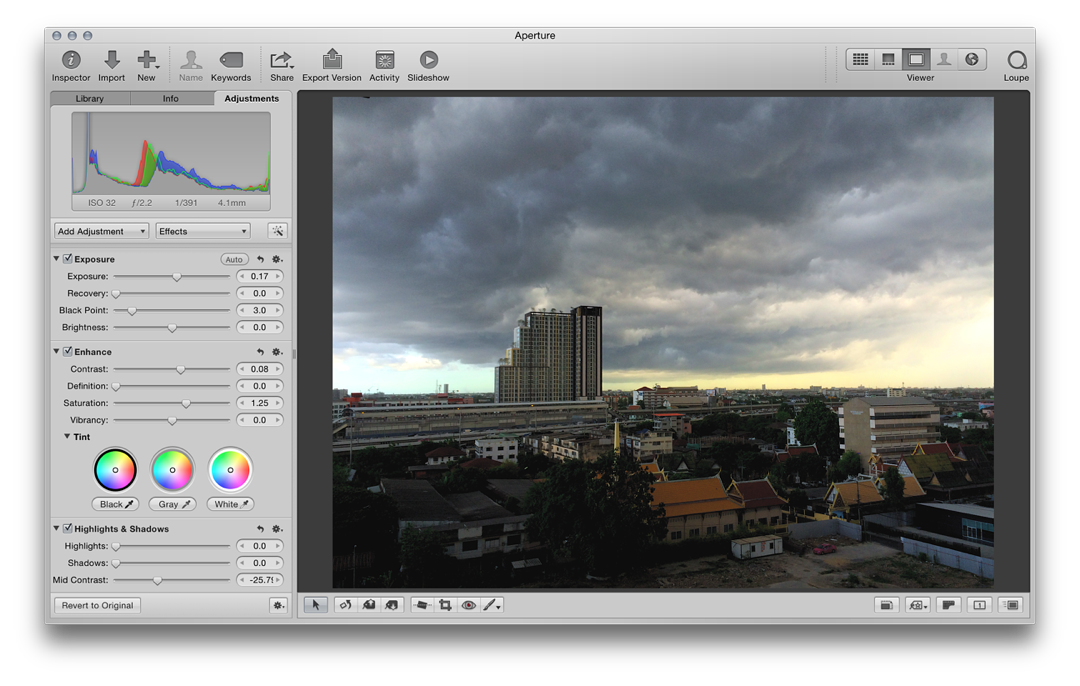 Editing in Aperture

I will certainly miss the controls that allow me to adjust images easily from within the application, although I do run graphics editing software already and specific applications that allow me to use photographs for specific outputs.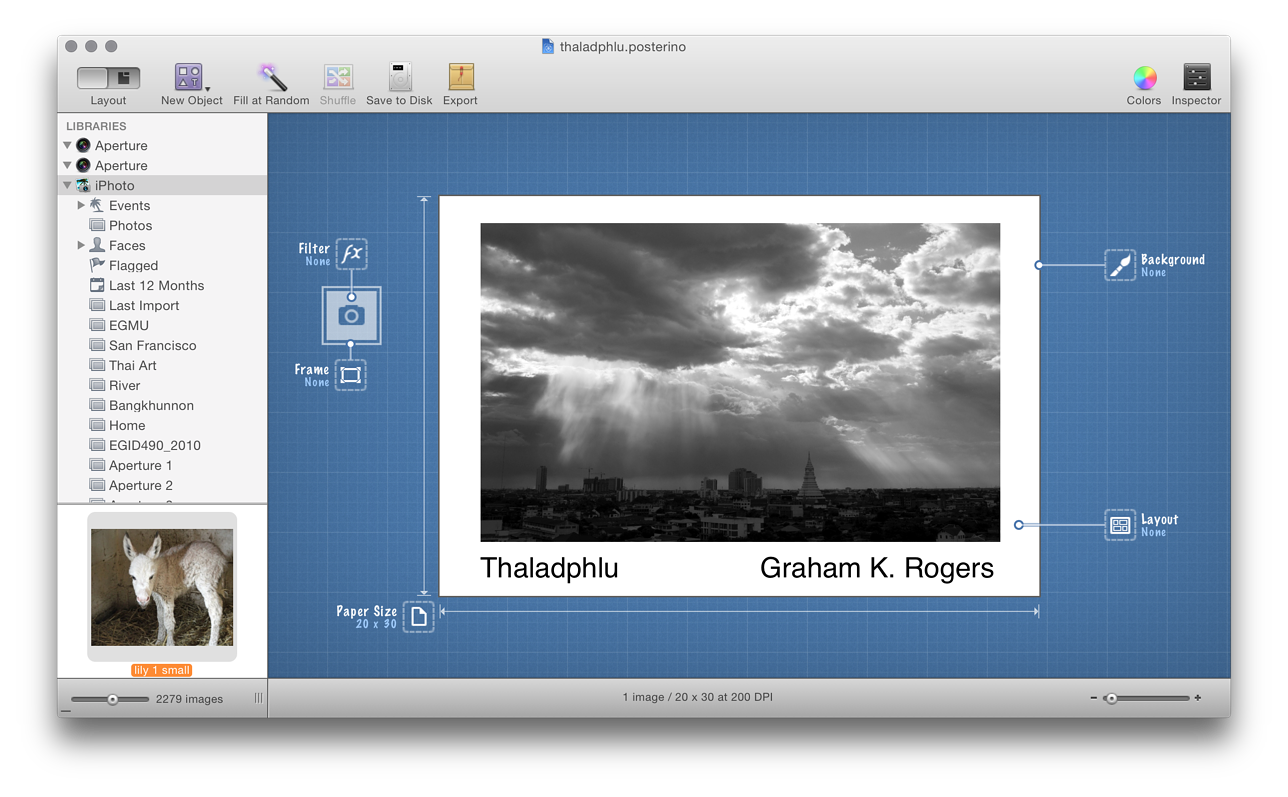 Layout in Posterino

Examples of these include Posterino which makes it a simple task to create posters and other similar output, either with images on the Desktop or from within Aperture (and iPhoto); and Comic Life. This also accesses libraries making image imports simple. Output here, is in a number of comic styles. Both of these are in the Mac App Store.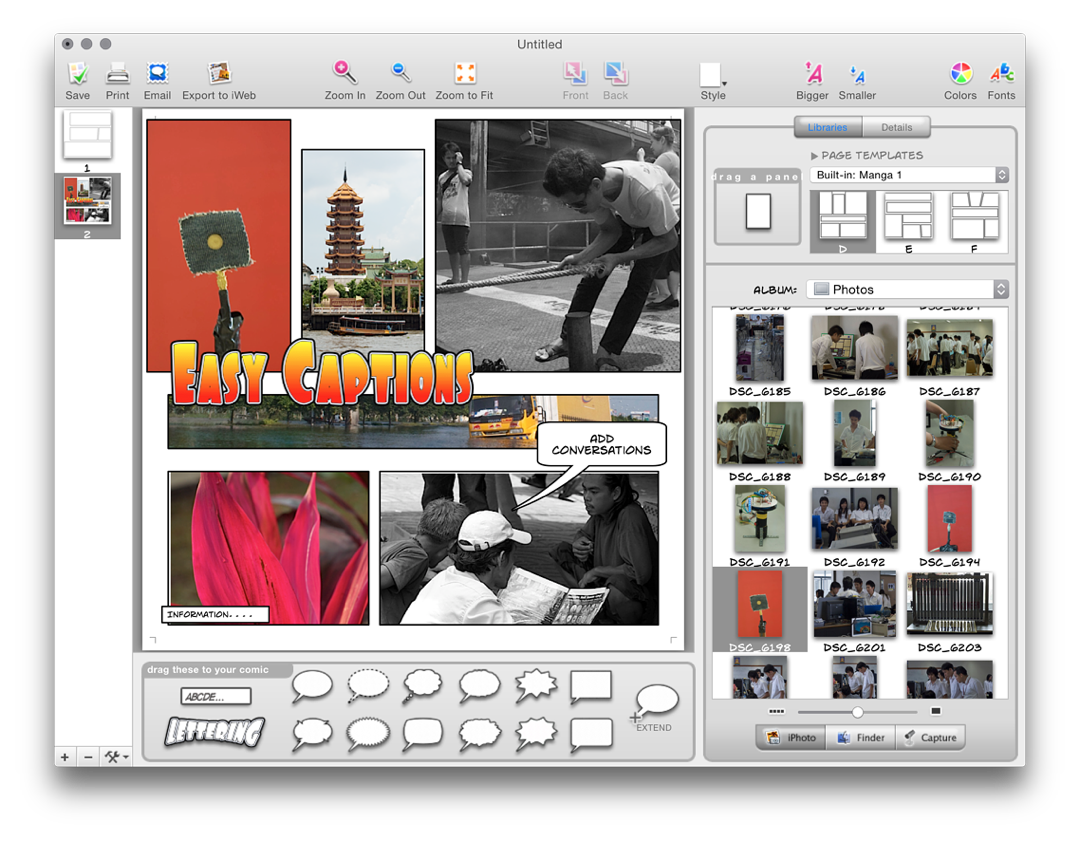 Comic Life

I have been trying out a template-based application from the developers of iWatermark and yType (text shortcuts), Plum Amazing. Their new PhotoMatte provides a quick and easy way to produce output with multiple photograph selections. It is priced at $30 (about 1,000 baht).
It is a hefty download of over 700 MB, mainly because of the video help files that show how best to create output with PhotoMatte. This is available when the application is first opened. Once the user has begun to use the application, it is a simple task to access all the information via the Help menu: an item in there opens the panel again.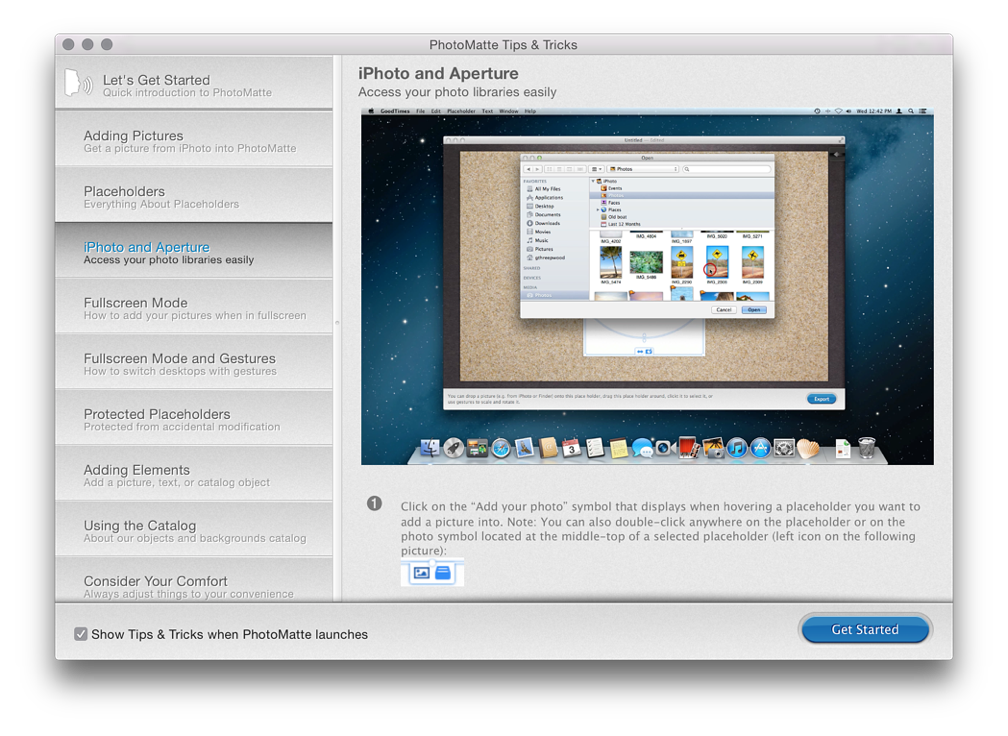 PhotoMatte Help Panel

There are some 48 templates available. A slider at the bottom of the window adjusts the size of the thumbnail, but running the cursor over any one displays a slightly larger version with information about the idea behind that template, images that can be used, and even the aspect ratio.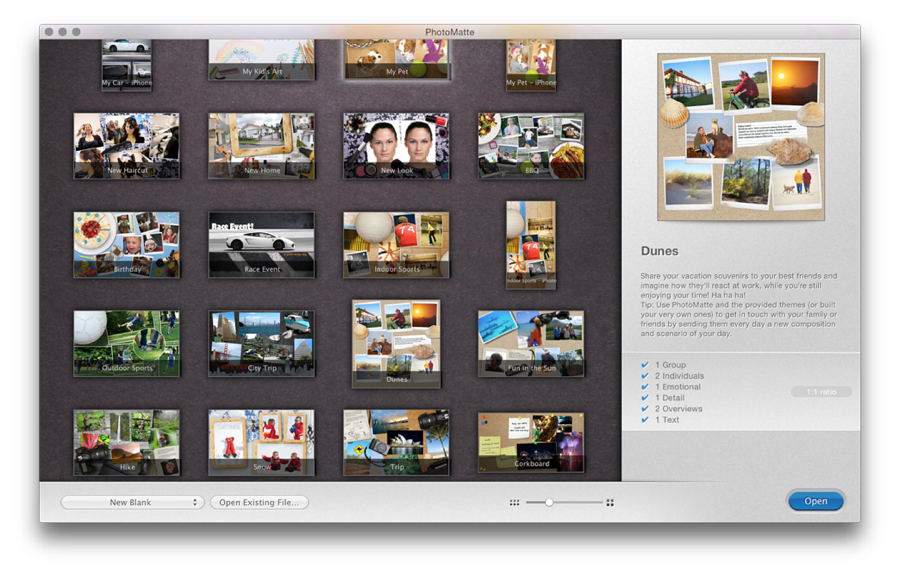 PhotoMatte Templates

As with the applications above, images can be dragged in from the Desktop, dragged from the application (like Aperture), or the libraries can be opened using the Media (Photos) item in the Finder sidebar available within the application.
Once an image is in the panel, it is easy to resize or reposition, as well as rotate, so that the user's preferred display style is possible. Once I had selected a suitable template, I dragged in some images and assembled these into a montage for a recent trip. It was easy to add more placeholders for images or text (or objects), so more could be added.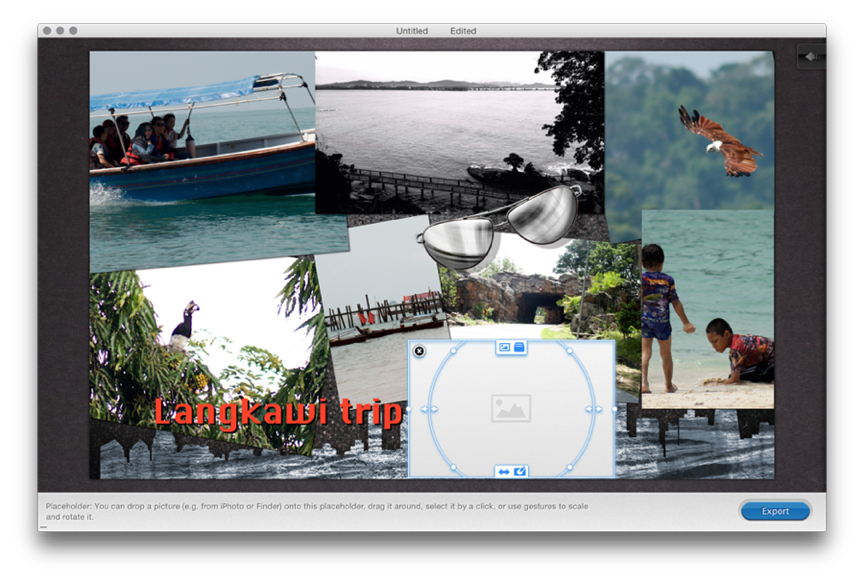 PhotoMatte - Quick Photo-Montage

Export was via a large button at bottom right. This opened a panel that appeared over the right side and allowed several methods by which the finished image could be exported: Facebook, Twitter, Messages, Mail. There are also a number of Finder options: Wallpaper, iOS devices (sends email), email, email template, as well as export to the photo library and saving to disk.
When I exported a montage I was able to adjust the resolution and produced a 1.5 MB file in JPG format of 56 x 35 inches which may be rather large for some uses but an indication of potential.
Graham K. Rogers teaches at the Faculty of Engineering, Mahidol University in Thailand where he is also Assistant Dean. He wrote in the Bangkok Post, Database supplement on IT subjects. For the last seven years of Database he wrote a column on Apple and Macs. He is now continuing that in the Bangkok Post supplement, Life.