By Graham K. Rogers
---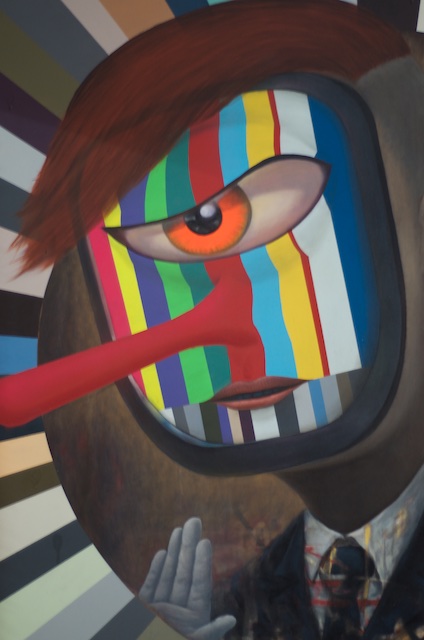 There does not appear to be much modern Art available in Bangkok apart from high-profile works at a couple of large galleries. There is almost nothing like the many galleries that can be found in European cities - even when I lived in Nottingham in the 1980s there were several spaces there - or in New York, where the young artist seeking recognition has a chance of proper exposure.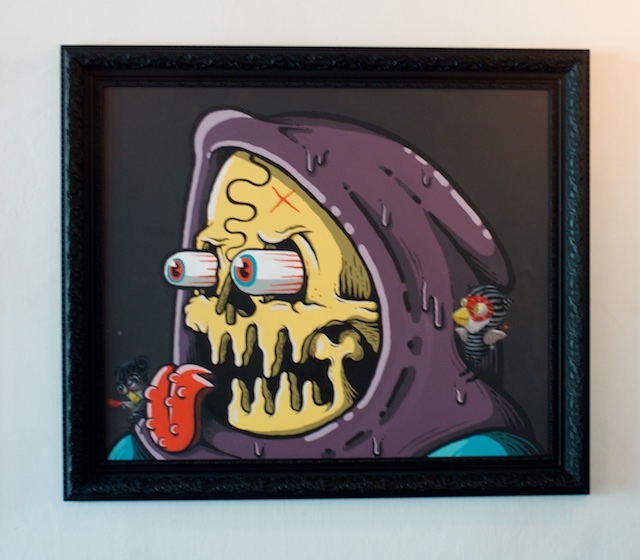 There is of course some exposure by way of street art, which the authorities tend to frown on, although there has been of late a growing awareness of the artistic merit of some of these artists, particularly of Banksy who has made some people realise there is also much value in the medium. There is also information on Banksy works on the Artsy site.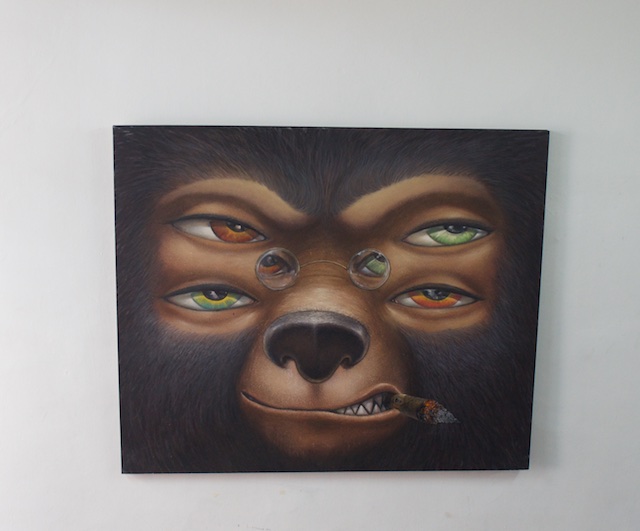 Smoker

I admit to being a lover of such art, sometimes demeaned by being called graffiti, but looking around Bangkok, the colourful depictions on the walls of otherwise derelict buildings are more to be admired than condemned.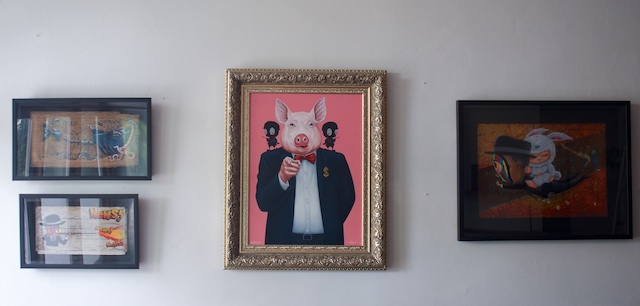 I was pleased to read a few months ago that one of Bangkok's street artists, Bon, was to have a show at the Soy Sauce Factory in Soi 24 Charoenkrung Road from 12 - 18 June, with support from Souled Out Studios. I marked the date on my calendar and headed down there this morning (12 June), a few hours before the opening at 18:30.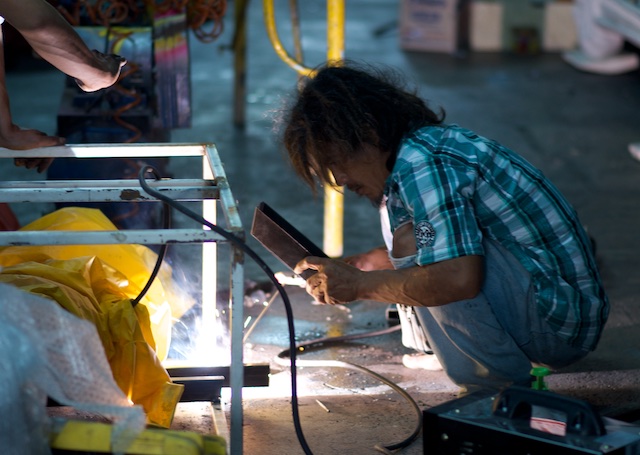 Soi 24 is a bit hidden and is immediately on the left as Charoenkrung Road does a dog-leg over the canal. The Soy Sauce Factory space is a few metres into the soi and its Chinese-style lanterns can just be seen as you turn in. The other end of the soi backs on to River City Complex.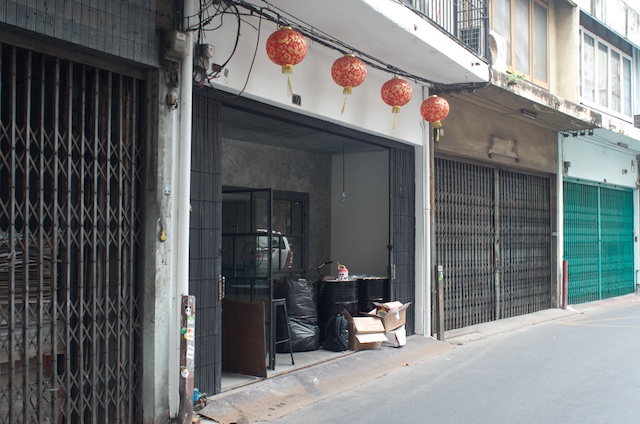 I spoke to Chris of Souled Out Studios who let me in and allowed me to take some pre-show photographs. As well as works from Bon, there are a number of collaborative items and art from several other contributors on show, which is on all three floors of the space.
Detail - Big Brother (left), Instaman and Believe Me

The artists were hard at work when I walked in setting up the displays and the lighting. Although this was not complete, Chris made sure a couple were displayed in conditions similar to how they will be viewed when the show opens later today.
Instaman (left) and Playing Game

I must emphasise again that the conditions were pre-show and equipment will be stowed by the time patrons arrive. The works are on sale, although likely to go quickly. They are mainly large paintings for the wall, although some smaller works and sculptures are available. Some of the sculptures are bronze, some resin while some are mobile (stationary but moved by electric power). The Art speaks for itself.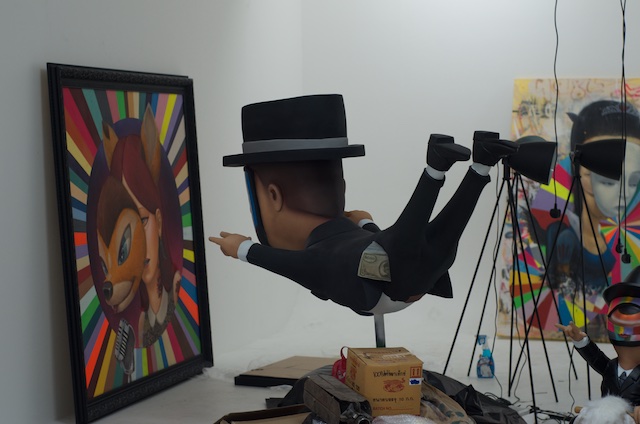 Deer Foxy (left - against the wall) with Follow Me (fiberglass mechanical)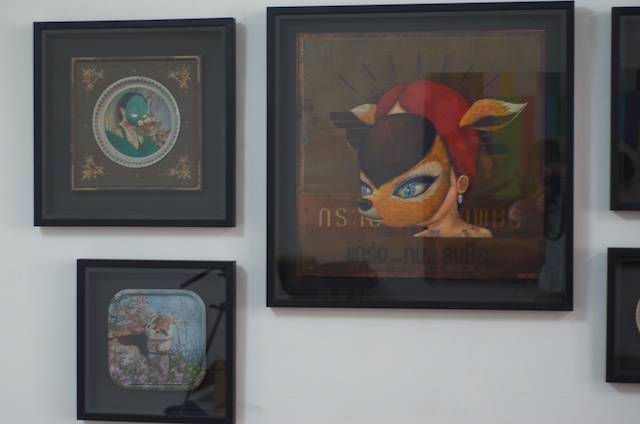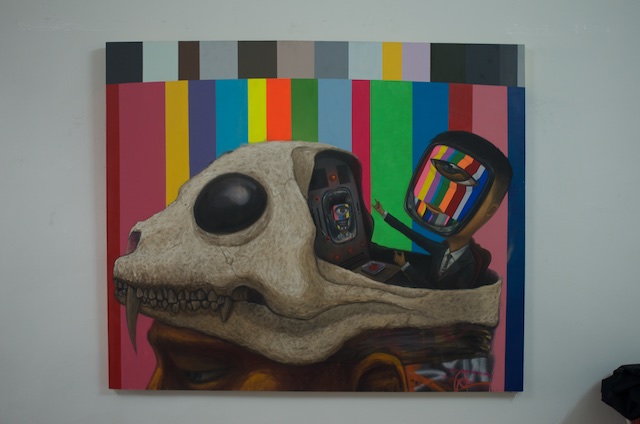 My Family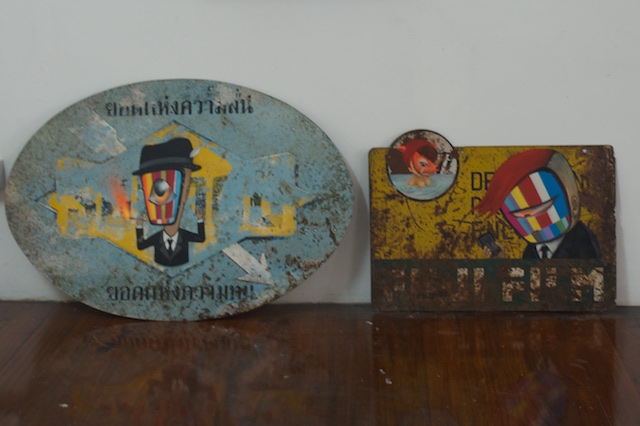 Strong (left) and World Wide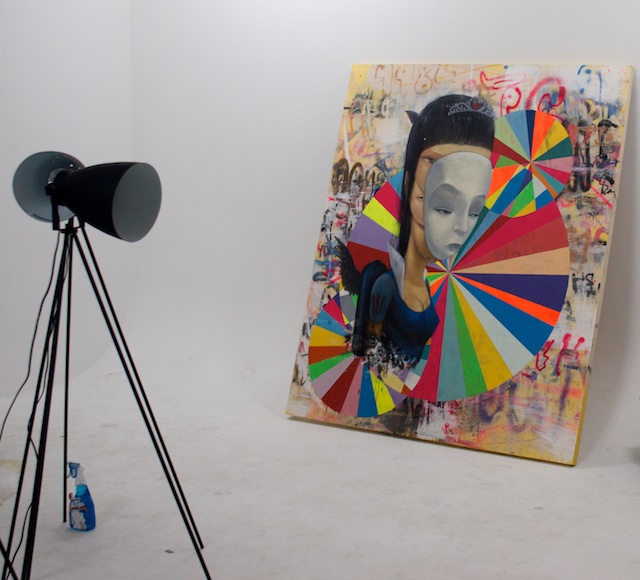 Snow White - ready for hanging
See also:
Banksy works on the Artsy site.



Graham K. Rogers teaches at the Faculty of Engineering, Mahidol University in Thailand where he is also Assistant Dean. He wrote in the Bangkok Post, Database supplement on IT subjects. For the last seven years of Database he wrote a column on Apple and Macs. He is now continuing that in the Bangkok Post supplement, Life.