By Graham K. Rogers
---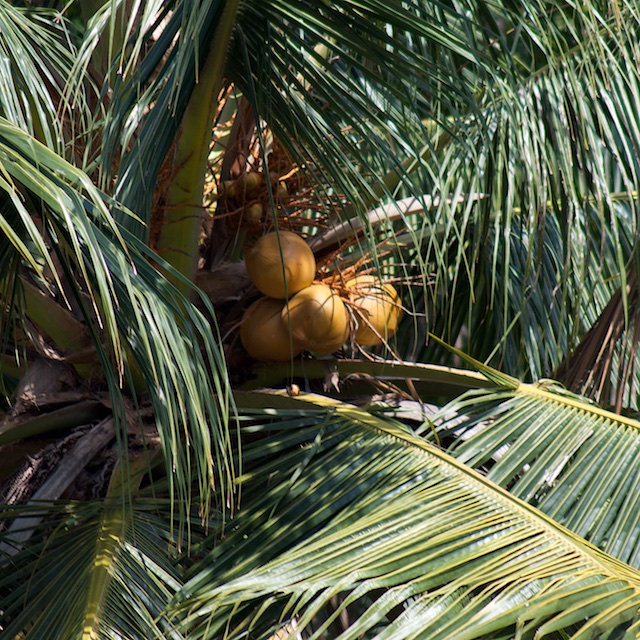 I am supposed to be on holiday but a late night coupled with a lot of messages and a lot of news, kept me at the computer, albeit with the balcony open and a view of the forested hills outside. While writing the first part of this trip, I mentioned the massive bird I had seen but had not been able to identify (or photograph). It was apparently a hornbill.
While preparing to go out for a look around, a smaller, similar bird flew out of a tree near the room and disappeared into the leaves of another. While it looked like the first, it had white and black feathers instead of the yellow and black of the bird I had seen earlier. I wondered if this were a female.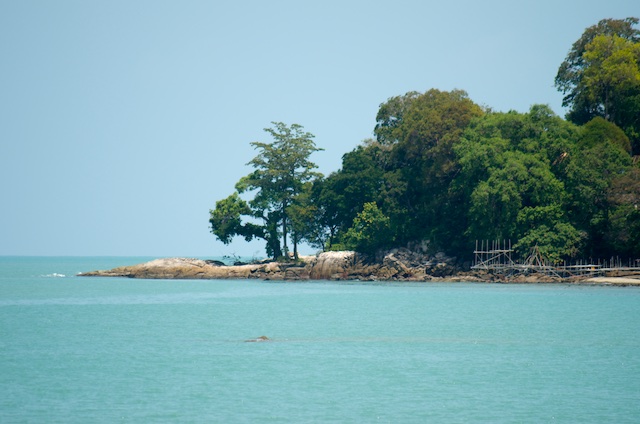 As the sea was close by, after I had showered and dressed, I walked down a steep path and hit the beach. As far as I could see, for a couple of kilometres in both directions, nobody was there. I started to take some pictures, but changed the lens for wider shots. I ended up changing the lenses back and forth all day. That's what happens when you use prime lenses: 24mm, 50mm and 85mm; plus the 70-300 telephoto, which is not a quality lens, but does a job.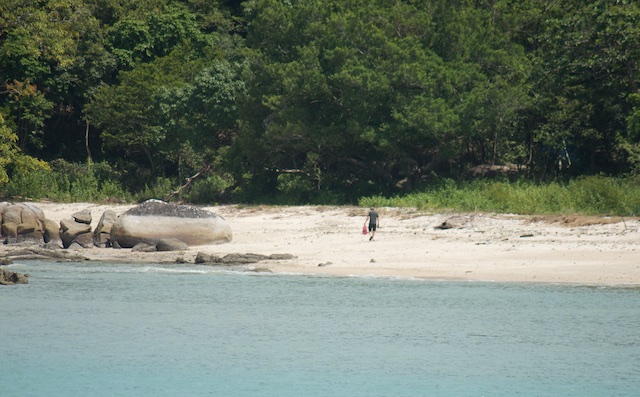 I did see one man in the distance walking about, and I think there was another person on a lounger; but as there was no movement, the jury is out of that one.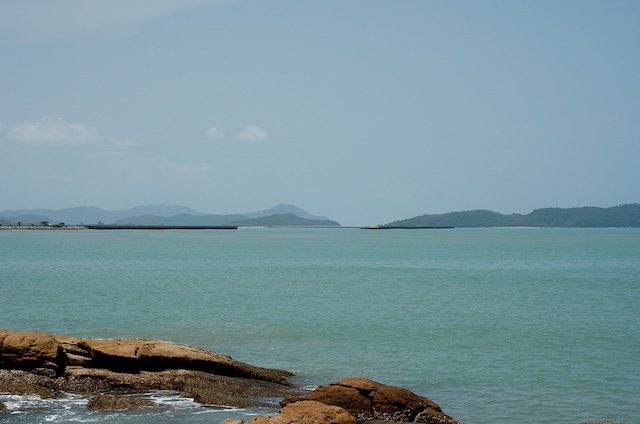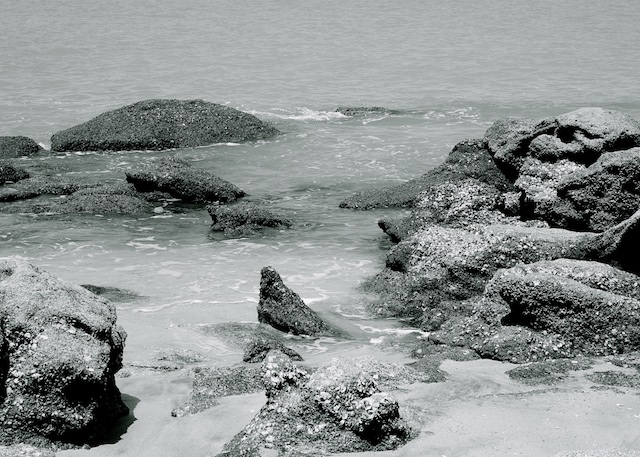 After a few minutes, I began to use the path that the hotel has at the edge of the sea. After I passed the pool, below which two people were swimming in the sea, despite the "Beware of jelly fish" sign, there is a boardwalk. It crosses the rocks and places where guests would otherwise be walking in the sea, making a convenient (and pleasant) walk round the edge of the resort. It was not at all busy as this is off-season. Definitely a good time to visit if you like quiet.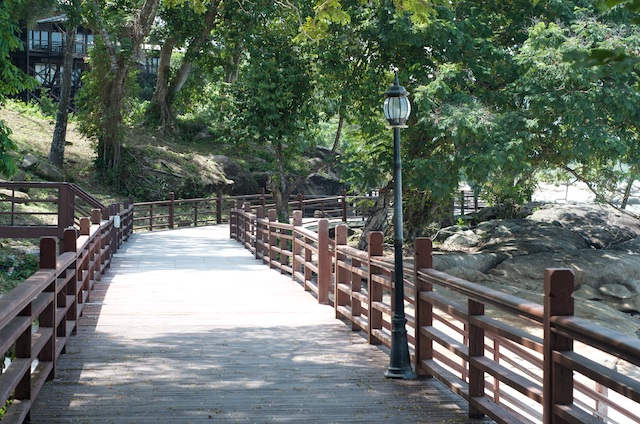 As I was on the path just below the impressive lobby building, I saw a flash of black and white in the trees. As the bird flew under the building, I saw the massive bill which I had not seen earlier. This was a hornbill. And then another: a pair. Almost immediately a member of the staff waved at me. He seemed as excited as I had been to see the bird.
I asked him about it and he confirmed it was a hornbill. When I mentioned the one with yellow and black feathers, he told me that was another, larger type - still a hornbill. He had to leave, but like many of the staff, he took the time wish me a pleasant stay. Everyone seems so friendly here.
A few metres on was a restaurant: closed for now. At the side, it was shady and there were a couple of chairs, so I sat down and waited. Surely the hornbills would reappear. This was a negative.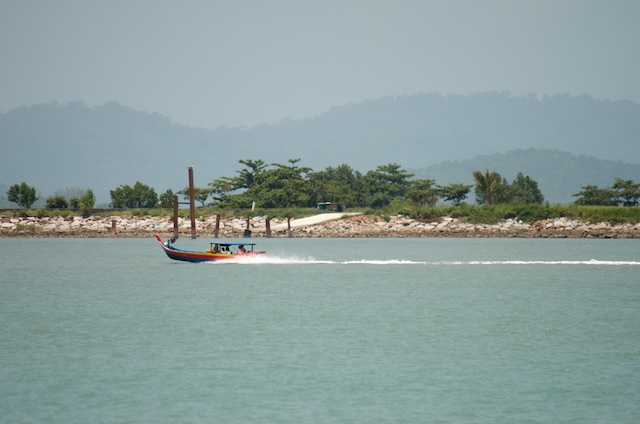 I waited about an hour. I had nothing else to do, so sat and watched. There were other things happening, albeit gently. A squirrel in the tree I was watching had my attention briefly; and to my right, way up in the trees, I caught a glimpse of a monkey before it disappeared in the leaves. There were butterflies a-plenty; and many swallows, plus a couple of other birds; but those hornbills waited me out and they won (today).

I continued along the empty boardwalk until it joined a road within the resort, then walked up a steep hill - the place must have been built on the edge of a hill right by the sea - to the lobby, where I asked about trips in the area. Several had caught my eye, and there were a number of places I wanted to see for myself: there might be trips that took these in too.
On my list were:
Mangrove tour
Island tour
Cable car
Black sand beach
Bird sanctuary
as well as a couple of other possibles.
One by one these seemed less possible, partly because of numbers needed to make the trip (one person means it is difficult to arrange); while others seemed less attractive, such as the bird sanctuary. I had already excluded the crocodile farm and the aquarium because of the way animals are treated in these places, but photographs of the bird sanctuary led me to think that this would not be a place where free birds would be and that they were caged or chained (or otherwise restricted). I do not wish my money to be used to perpetrate such establishments: I vote with my wallet.
Although I had wanted to take the mangrove trip, the price of R450 would exceed my daily budget: 4,500 baht for a couple of hours seemed less of a bargain. As there were still several places I wanted to go and no trips organised, the option of renting a car seemed interesting at R210 a day (around 2,100 baht). If I took one boat trip and then rented for a couple of days, I could visit a number of the other sites and it would be easier to carry both cameras and all my lenses.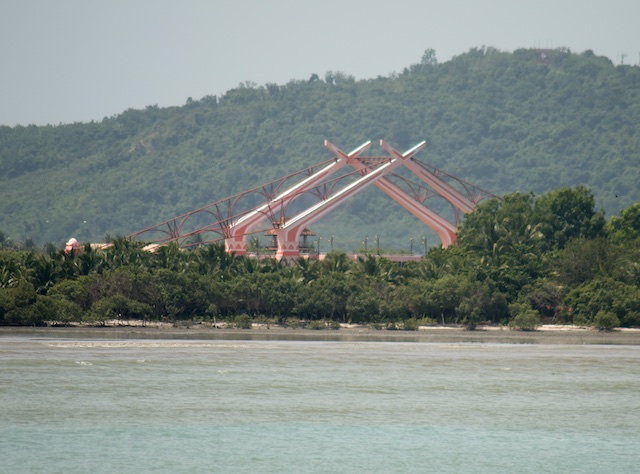 In the meantime I wanted to do some shopping. The lady organising trips suggested Ceneng Beach and said the doorman would call a taxi. That taxi, however, was likely to take 50 minutes to arrive. Just by luck (let's be positive here) one of the hotel staff was going home that way and I was offered a ride in his 4x4 Hyundai. Well, why not?
He was pleasant enough and we chatted on the way to Cenang Beach which did not strike me as being typically Malaysia: my mind went to early 1990s Samui. As well as shops selling beach clothes, there were motorbikes for rent and a wide collection of restaurants: Greek, Indian, Pizza. There was also a Thai massage parlour. I just wanted local fare.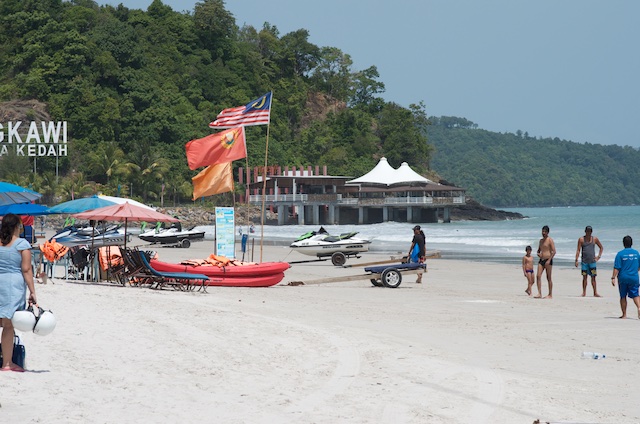 The driver dropped me off outside a Starbucks, which I avoided, and we agreed on R20 which is what the taxi cost me from the airport to the hotel. I took one look at the shopping center and walked away: convinced by KFC and MacD that I should not bother.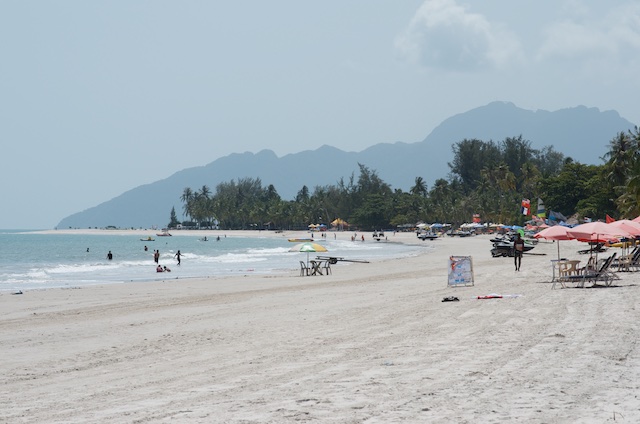 Before finding lunch, I walked down to the beach, which was busier than the one by the hotel. Not as commercial as some Thai beaches, the warning signs are all there, along with the banana boats, jet-skis and paragliding.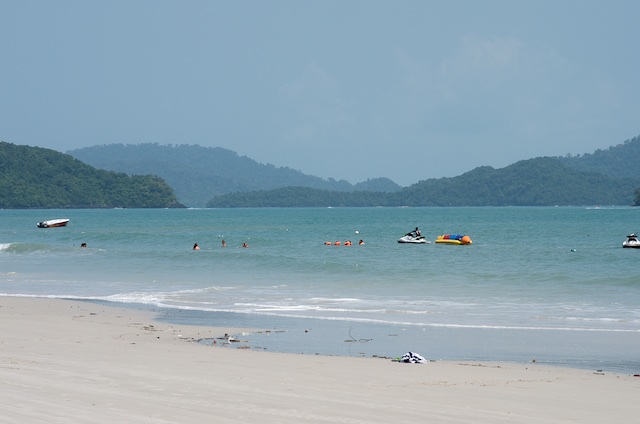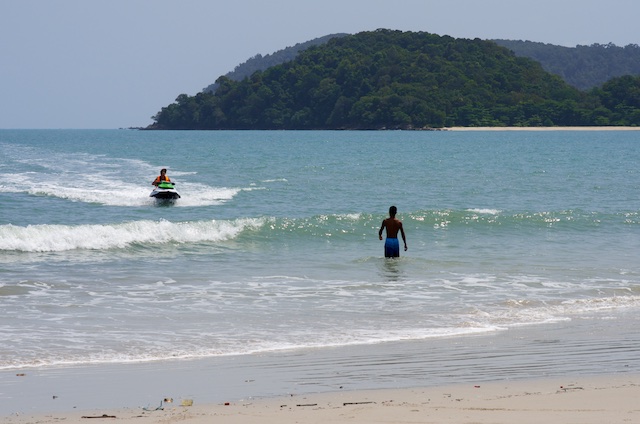 About 15 minutes on the white sands convinced me it was lunchtime. I headed back to the main street - only about 50 metres away - and chatted to one lady in a shop who had several women's hats for sale. She only stocked baseball caps for men: not my style. She did, however, make a suggestion for lunch and I wandered into an open restaurant across the road. It was not the best choice for me. The tea was fine, but the green salad had a dressing that was too sharp; and the chicken dish was overdone, although the spiciness level was right.

I walked back along the street and looked for a hat. It was OK in the shady spots, but I knew my forehead was beginning to redden and if I were going out in a boat the next day, that would expose me even more, even if the boat had a roof (I had checked). After trying a couple of shops, I found one that was sort of suitable, if a touch large. The lady said it was Free Size: how can you have a free size head? For R15 - about 150 baht - I was happy.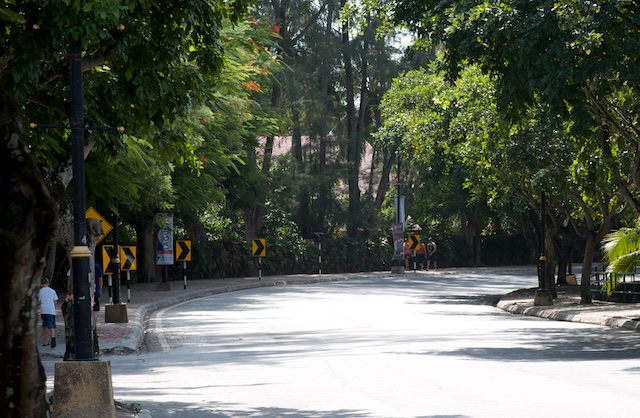 I next needed a supermarket. All I really needed was a 7/11 but had not seen one. Trying to find the usual bottles of water, yoghurt, chocolate and necessary carbohydrates was not easy here. Nor could I see fruit.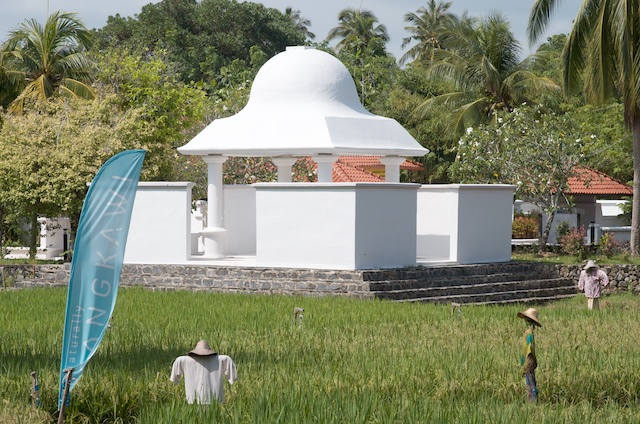 The walk to the supermarket was too far and my legs were aching by the time I got there, even at my slow pace. The well-kept grounds of the spa that I saw on the way were a small compensation.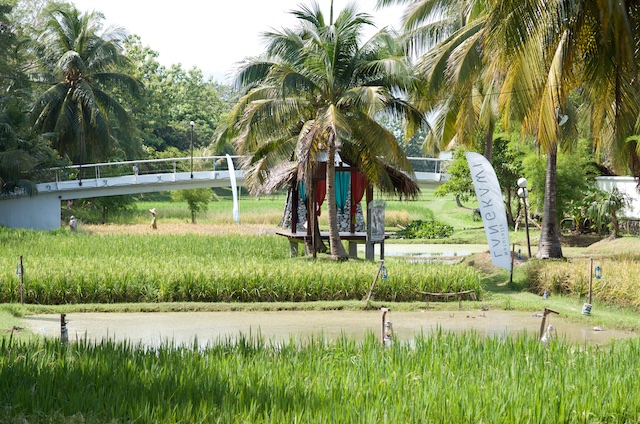 The store was a mess. With shelves poorly stacked and too close to each other, it was hard to walk down the aisles. I must admit that, in usually well-run Malaysia, this was a surprise.
It was worse at the checkout. A woman with an extended family had a basked full of goods. As these were being checked through - no barcodes- she was chatting to others in the store. As the basket was emptied, another person in her family appeared and these items were added in. Just when I thought it was almost finished, an old lady who had been standing at the door came in with an item and selected one more from the display at the cash desk. The sole girl working also had to bag all the items, despite there being others working in the store.
As my turn came, I saw a guy with a single carton of fruit juice, so I let him go first then paid for my purchases. Outside, I crossed the road and waited for a taxi. It only took a few minutes for one to arrive and I was heading back. I noticed that unlike taxis in Kuala Lumpur, there was no meter; but we had had no discussion on price. I was a little concerned and remembered what it had been like in Bangkok before meters were used.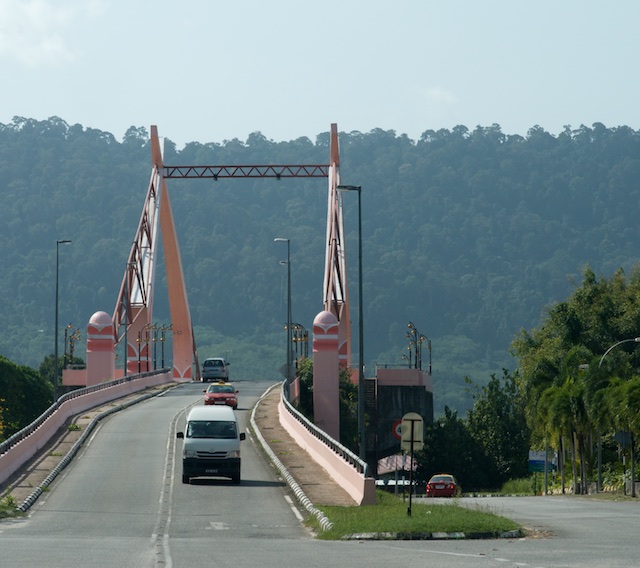 On the way back as we approached a bridge I had seen the night before and also from my hotel across the bay. I said that I would like to take photographs - meaning at some time in the future - but he was happy to pull over and wait while I took a few. I did not have the heart to tell him I had the wrong lens on (I was using the 85mm and needed the wider angle 24mm lens). It was interesting to see the undeleted Reformasi sprayed on the bridge and not removed. I made a mental comparison with things in Bangkok.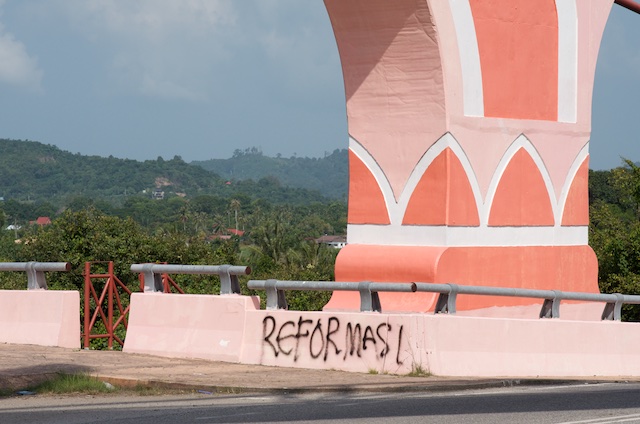 I returned to the hotel a short while later and he asked for R24 (250 baht?). A little high by Bangkok meter taxi standards, perhaps, but fair. I gave him R25 to save playing with change and headed for the room where I had a lot of liquids that I had to stuff into the tiny fridge. Poor little thing is working overtime.
Graham K. Rogers teaches at the Faculty of Engineering, Mahidol University in Thailand where he is also Assistant Dean. He wrote in the Bangkok Post, Database supplement on IT subjects. For the last seven years of Database he wrote a column on Apple and Macs. He is now continuing that in the Bangkok Post supplement, Life.