By Graham K. Rogers
---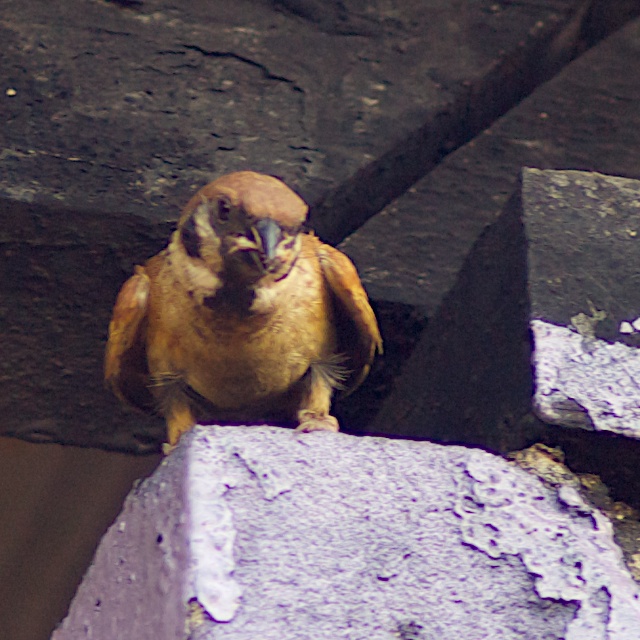 While I have been to the WWDC on a few occasions in the past, I am fortunate this year that I can see the keynote presentation on Apple TV. I will try to keep up as best I can and post updates to this text when I can.

It may be 10am over in Cupertino, but it is midnight in the Land of Smiles when WWDC things are due to start. Before the event opened, I saw one or two notes on Twitter. There were some nice looking cars including a Ferrari in the upper floors of the Moscone Center, so it did not take a genius to figure out that Car Play was to be featured during the proceedings. This would also guarantee that Eddy Cue would take the stage for a few minutes.
Also reported was the release of new APIs for iOS 8 and OS X 10.0 which Benjamin Mayo (9to5Mac) reported as appearing in open-source channels. He reports that the releases "indicate a focus on cross-platform API compatibility, between iOS and OS X." This also sort of confirms the open secret that these two OS versions would be highlighted.
There were a couple of light-hearted comments, including a Tweet by Craig Grannell who was "Wondering if this is the year Ive will be let out of the mysterious white room they seem to keep him locked up in". I expect we will have another Ive video with him doing his best to look humble and excited at the same time.

23:08 Matthew Panzarino Tweets that the doors are open and the press streams inside trying to grab the best seats: "Journalists running like animals." Yeah, been there, done that run. I see that Trevor Tan from The Straits Times is there. Thanks Apple.
Also adding to the information was a Tweet from Lance Ulanoff that had a photograph of a couple of Macs with the new Yosemite wallpaper: gorgeous. This was also covered in a post by Benjamin Mayo who points out that the iTunes logo is now red. Other changes are to the trash can (white), Facetime logo (green), plus "iOS 7-style Safari icon, as well as redesigned Finder, Calendar, Messages, Settings and other icons" that were visible.

00:02 Apple Feed goes live here with some videos of apps and developers.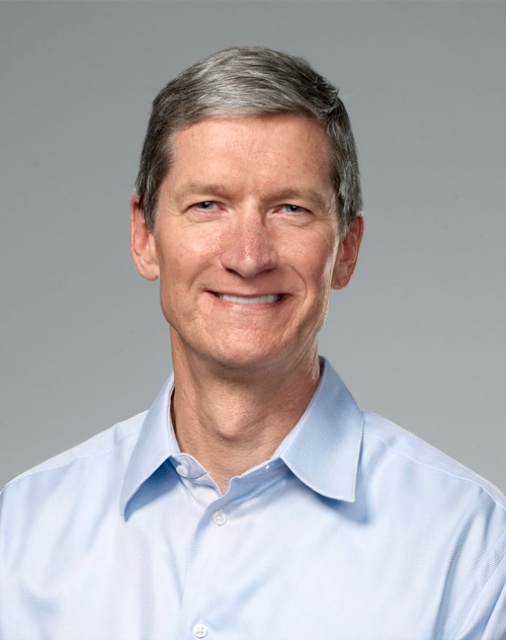 Music -
00:06 Tim Cook takes the stage to considerable applause. Good morning, Good morning. Welcome to San Francisco.
Thanks developers
Milestone year. 25th anniversary.
WWDC - over 1,000 engineers. 70% of developers are first time attendees. Special mention for student developers. Youngest 13.
Now 9 million registered developers. 47% up from last year
Will talk about OS X and iOS.
How they have been engineered to work seamlessly together.
Mother of all releases for developer section.
OS X and the Mac. The best Macs in history. Industry declined but Macs improved by 12%. Outlined features of Mavericks. 40 million installations of the OS. 51% of users work with Mavericks. Compares Windows to some laughter (Windows 8 - 14% adoption). Future of OS X - Craig Federighi.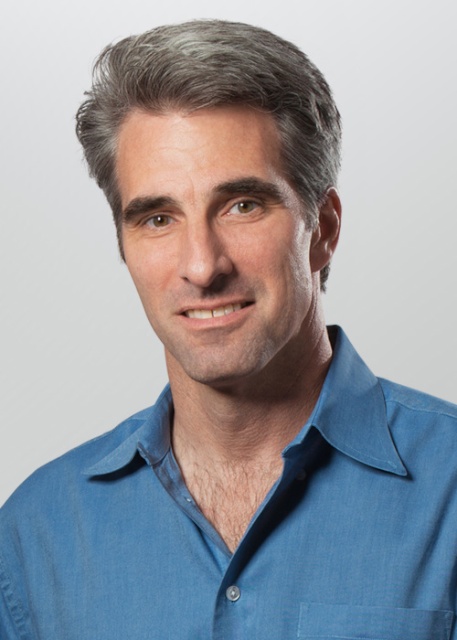 Federighi, mentions the naming crisis of last year. California names - Mavericks. This year looked at OS X OXnard, OS X Ranchio Cucamonga, OS X Weed (had some support), OS X Yosemite.
New apps and something called Continuity. Evolution continuing. Video of the interface. Clarity and utility. Refined toolbars and windows. Translucent materials. Translucent materials also in sidebars. Sense of depth. Also in the Dock. new icons. A lot of time spent crafting the Trash can. Dark mode also. Menus dark. Usable version of OS X.
Notifications Center redesigned. Spotlight.
00:20 Federighi gives a demo. New focus on Spotlight and the way searches integrates with applications, maps and documents.
iCloud Drive - Store files and synchronise across Macs: also accessible via iOS devices.
Mail - new UI. Reliable syncing, quick fetching. Large attachments (up to 5GB) solved with "Mail Drop" - attachment sent via iCloud separately.
Markup - ability to write or draw on messages and PDFs
Safari - all tools in a single bar leaving space for content display. Sharing includes RSS again, Federighi said. Sharing. Better tab view stacking pages for each site. Privacy can be applied only to some tabs. Updates to coding meaning some plugins not needed: improves battery use.

00:30 Safari demo (did not catch the name) - some nice feature here with the magnification and markup. Lots of value here for those of us who cannot draw.
Federighi - Continuity. The right device for the moment. Transitions between the devices: Air Drop now works between iOS and the Mac (OS X). Work on the Mac and then transition directly to an iOS device. And the other way: say in Mail 0- start a message on one device and finish it on another.
With proximity sensing, the iPhone and Mac will set up a Hot Spot automatically.
00:38 Messaging. Phone able to relay messages between devices. Also with phone calls. Mac gives caller ID and answer the call on the Mac. Can dial a call on the iPhone from the Mac.
00:40 demo of Continuity. Federighi keeps up the humor level. Calls Dr Dre and takes the call on the Mac. Much cheering and applause.
00:44 Federighi summarises Yosemite. Available to developers today. Everyone else in The Fall and it will be free. In the summer there will be a public beta program.

00:45 Tim Cook. Next iOS. Over 800 million devices sold. iPd touch over 100 million. iPad over 200 million. iPhone over half a billion. Each bringing new customers. 130 million in the last year were new to Apple. Many switching from Android. Cook joking by pushing the idea of better experience and better life. iOS 7 satisfaction measured at 97%. Keeps on at the Android user problems - ancient OS use. Not getting latest features. Cannot run the latest apps, or the latest security. Now mentions Android malware domination. Contrasts iOS and the availability of regular updates: iOS 8 announced. New features and new developer features.
00:51 Craig Federighi for iOS 8. Interactive notifications - do not have to leave the app you are in, including the lock screen. Managing mail easier, Flag messages. Delete with a gesture. Composing: access to other parts of iOS possible.
00:53 - demo. Use of favorites. Switches from iPhone to iPad. Swipe to mark as unread. Swipe to flag. Quick delete. Composing: swipe draft down to access another message. Copy/paste.
00:56 Spotlight on iOS. Spotlight suggestions like on Yosemite, also on iOS. Search in Safari also gives Spotlight.
Keyboard - QuickType. Autocorrect - predictive typing suggestions. Context sensitive. Personalised: learns how you type. Continuity on iOS as well. Instant Hot Spot. Messages is the most frequently used app. Group messaging features. Do not disturb in a thread. Share location in a message. Tap to talk: hold finger down and record then send the video or sound message.
01:02 Demo Greg Joswiak. Messages. Audio message: record, slide up and send. Listen to audio messages and reply from the Lock Screen.
01:06 Craig Federighi - iCloud Drive also on iOS - working across applications. Edits saved in original location. Also available on Macs and Windows.
Enterprise - a huge hit. 98% uses iOS. Array of technology. Device enrollment program can now be done without the need to take a device out of the box. Focus on Security, productivity and management. VIP threads allow special messages to be displayed on the lock screen. Management of books and PDFs.
Health - array of health care devices: heart rate, diabetes, blood. No single picture. Health Kit allows monitoring and can use 3rd party applications. Integration. Also working with Mayo Clinic. App can help provide care by notifying hospital. Also working with Epic Systems: share information with doctors.
Family Sharing - setup a family unit on iOS devices. Automatic configuration and sharing. Share also physical media: music, movies, books. Up to 6 family members who share the same credit card. Automatic messaging when a purchase is made.
01:15 Photos - device has access to photos in the cloud so no need to keep them all on the device. Search integrated (location, time, albums). Smart editing controls (light, color, cropping, straightening).
01:16 - Demo. Edited photos shared via cloud. Changes to photos are sent live to other iOS devices. The Mac will also have this next year. iPhoto (I think that is what it is) is renamed to Photos and has some closer relationship with what we see on iOS. Editing tools changed on the Mac.
All photos shared across iOS devices (and videos). New plans for iCloud. Including 200 GB for $2.99. Several features: unable to cover all. Also mentioned Siri and song recognition (Shazam). Can purchase iTunes content directly from Siri. New features for China.

01:23 Tim Cook on iOS 8 for the developers. Extending capabilities. 1.2 million apps in the App Store. 300,000,00 visit the store every week. 75 billion apps downloaded so far. Search improved in the store: e.g. related searches, scrolling. App bundles (multiple apps) - applause for this - at discount price. App previews - e.g. short videos. New beta test service: free Test Flight. Developers can invite users to try betas. All available in the Fall.
01:27 Craig Federighi - SDK is the biggest release since the launch of the App store. Extensibility- apps will be able to offer services to other apps. Sandboxing but apps can reach out to other apps: e.g. Pinterest can offer sharing to Safari. Photo filters. 3rd party apps can now define widgets that can go in Notification Center/
01:30 Demo. [Bing translate can be used in Safari.]
System-wide 3rd party keyboards. In a restricted access. Access can be granted by the user.
Touch ID. Potential for passcode use. 3rd party apps can now take advantage of this. Protects logins and user data. Protected data in the A7 processor.
Camera - photo-kit API improved. faster performance.
Home Kit - home automation devices. Bringing rationality - a common network protocols.
Cloud Kit - 3D graphics - Metal. OpenGL standard. In games OpenGL is an "overhead" but Metal reduces overheads and access to the compute power of the processor. Working with providers of gaming engines (e.g Plants v Zombies). 4,000 draw call per frame.
01:40 Demo - Epic Games, Tim Sweeney. Effects on the iPad are fairly stunning. Thousands of objects being animated. Zen Garden will be free.
01:43 - Craig Federighi. Casual gaming: SpriteKit enhanced. Light sources, field forces, per-pixel physics, inverse kinematics. Now SceneKit.
XCode - Objective C served Apple for 20 years. Objective C without the baggage of C: a new programming language: Swift. Fast. Lots of developers language being used by Federighi here. I will examine this later in more detail.
01:48 Demo - really fast to build a simple game. Good applause.
01:53 - Craig Federighi. Swift ready out of the gate. Documentation available for download (by developers).
Summary of the new iOS. Available in beta today. Available to users in the Fall

01:55 Tim Cook. "A fun morning" Concluding? OS X, iOS 8. Integration of OS and services across products. Developers can extend services. A seamless experience for users: unparalleled in the industry.
Made Apple personnel in the audience stand up: applause. Thousands more in Cupertino.
01:58 show over.
It looks as if the predicted hardware is not going to appear at WWDC (iPhone, iMac, iWatch, etc.) so we should be expecting some announcements within the next few weeks.

I am well and truly done. Tomorrow (or later today really), I will rerun the video of the proceedings and closely examine some of the technical specifications. In the meantime, who will be the first to shout out "No innovation" or "Tim Cook must go"?
Graham K. Rogers teaches at the Faculty of Engineering, Mahidol University in Thailand where he is also Assistant Dean. He wrote in the Bangkok Post, Database supplement on IT subjects. For the last seven years of Database he wrote a column on Apple and Macs. He is now continuing that in the Bangkok Post supplement, Life.