By Graham K. Rogers
---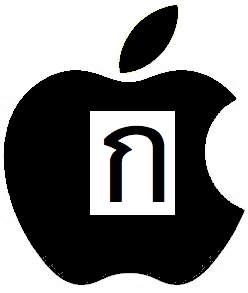 A few months back, as an exercise, I compared the prices of a number of Mac computers on sale in Thailand with the equivalent prices in the United States. While making those calculations I took into account the differences in display prices. Those in the US (which Apple usually cites in its presentations) are in US$ and with no taxes applied.
This makes sense because different states and cities apply sales taxes at different levels. It is also common for prices all over the USA to be quoted in this basic way. Countries like the UK and Thailand by law show all prices with the taxes included, so at first glance the prices may seem high.
The recent release of new MacBook Air models caused some frustration in some quarters as certain countries had prices adjusted downwards, while in others (such as Australia) the prices remained the same, apparently to cover fluctuations in exchange rates. With comments received in emails, I did write to Apple asking about the price changes, but as yet have had no reply. There now seems to have been some adjustments in pricing.

In the meantime, however, although I had not intended to go through the entire pricing comparison table again, it may be useful to examine some of the differences.
This time I worked backwards and have run comparisons on a smaller group of computers just to gauge the differences. I calculated the prices by taking the baht price and dividing bu 107, then multiplying by 100 to give me the base price minus VAT. Using that figure, I used the conversion facility in the Apple Calculator utility to give me the dollar price. Finally I compared that with the price of the same device on the Apple Store in the US. Figures that show negative (-) are cheaper than the US; those with + are more expensive in this comparison.
Model
Price in baht
Price minus VAT
Converted to $
US Price
Difference

MacBook Air
11" 128 GB
30,900 baht
28879
$892.41
$899
-$6.59

MacBook Air
11" 256 GB
37,900 baht
354321 Baht
$1094.58
$1099
-$4.42

MacBook Air
13" 128 GB
34,900 baht
32617 Baht
$1007.94
$999
+$8.94

MacBook Air
13" 256 GB
41,900 baht
39159 Baht
$1210.10
$1199
+$11.10
The price differences did not seem to be overly significant, so I looked further at the four models in the current MacBook Pro range: one with a basic screen and the other three with Retina display:
Model
Price in baht
Price minus VAT
Converted to $
US Price
Difference

MacBook Pro
13" 2.5 GHz
37,900 baht
35421 Baht
$1094.58
$1,199
-$104.42

MacBook Pro
13" 2.4 GHz
128 GB SSD
43,900 baht
41028 Baht
$1267.86
$1,499
-$31.14

MacBook Pro
13" 2.4 GHz
256 GB SSD
49,900 baht
46636 Baht
$1441.15
$1,499
-$57.85

MacBook Pro
13" 2.6 GHz
512 GB SSD
59,900 baht
55981 Baht
$1729.95
$1,799
-$60.05

MacBook Pro
15" 2.0 GHz i7
256 GB SSD
86,900 baht
81215 Baht
$2509.73
$2,599
-$89.27

MacBook Pro
15" 2.3 GHz i7
512 GB SSD
66,900 baht
62523 Baht
$1932.12
$1,999
-$66.88

All of the MacBook Pro models cost less than the US equivalent when VAT is deducted. I then examined the three Mac mini models: two consumer devices and the Mac mini Server.
Model
Price in baht
Price minus VAT
Converted to $
US Price
Difference
2.5 GHz i5
Mac mini
19,900 baht
18598 Baht
$574.73
$599
-$24.27

2.3 GHz i7
Mac mini
26,900 baht
25140 Baht
$776.89
$799
-$22.11

Mac mini
with OS X Server
33,900 baht
31682 Baht
$979.06
$999
-$19.94

With the prices of the Mac mini range all falling in the range of being slightly cheaper in Thailand than the US, I turned, finally, to the iMac where 4 models are shown: 2 with 21.5" screens and 2 with 27" screens.
Model
Price in baht
Price minus VAT
Converted to $
US Price
Difference
21" iMac
2.7 GHz i5
44,900 baht
41962 Baht
$1296.74
$1299
-$2.26

21" iMac
2.9 GHz i5
51,900 baht
48505 Baht
$1498.91
$1499
-$0.09

27" iMac
3.2 GHz i5
61,900 baht
57850 Baht
$1787.71
$1799
-$11.29

27" iMac
3.4 GHz i5
68,900 baht
64393 Baht
$1989.88
$1999
-$9.12

Once again, the pricing of devices in the Thai online store was slightly lower than for the US store with the adjustments for taxes. I looked at one more device: the Mac Pro. These are just available here in Thailand although like the US, delivery is shown as 3-4 weeks.
Model
Price in baht
Price minus VAT
Converted to $
US Price
Difference
Dual GPU
3.7 GHz 4-core
99,900 baht
93364 Baht
$2885.18
$2999
-$113.82

Dual GPU
3.5 GHz 6-core
132,900 baht
124206 Baht
$3838.24
$3999
-$160.76
Graham K. Rogers teaches at the Faculty of Engineering, Mahidol University in Thailand where he is also Assistant Dean. He wrote in the Bangkok Post, Database supplement on IT subjects. For the last seven years of Database he wrote a column on Apple and Macs. He is now continuing that in the Bangkok Post supplement, Life.