By Graham K. Rogers
---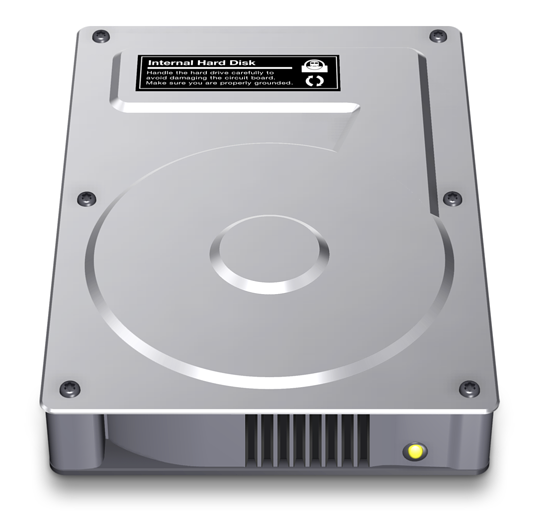 There will come a time for many users when OS X lets them down. Unfortunately, some users are complacent and think that because the Mac seems to be running with no problems, all is well. That may not be the case. A minor file problem can evolve into something more. At the time of an OS X update, for example, the system (and the Mac) can be stressed and weaknesses will be exposed.

When problems occur, particularly at the time of an update, it is of course Apple's fault. Users with problems wonder (usually out loud) why Apple releases software without it being tested. That is a fallacy. Thousands of users worldwide are enrolled in programs to help test pre-release versions of OS X. Before testing, those testers are urged to backup data (and continue to backup while testing) and to make sure that the system is running at optimal conditions.
This should be no different to the normal day-to-day situation. Unfortunately, it clearly is for many users. I back up my data daily using Time Machine (on different disks) and I also copy data, such as photo libraries onto disks, simply using the Finder. Regular maintenance may need a more hands-on approach.
I do not shut down the computer every day, but once in a while, the Mac may become a little sluggish. A restart can perk things up a little. Many restart every day and they have a small advantage in that OS X carries out checks before the user can begin to work. If a startup is taking a long time, it may be that the checks are being repeated, which could indicate a problem.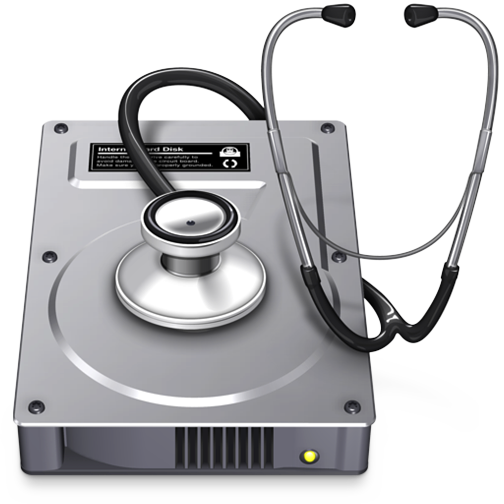 Many users also repair permissions regularly. I do this less nowadays. Using Disk Utility in the Applications > Utilities folder, highlight the disk or the partition that OS X is installed on and click on Repair permissions. Much text will appear, but there is little to worry about as many entries indicate that items cannot be found. This is because they have been moved: nothing to worry about.
Also in Disk Utility are two buttons for Verify and Repair. Repair is greyed out as a disk that is mounted and being used cannot be repaired. It has to be repaired from an external source (a disk or another computer), with a couple of exceptions.
Using the Computer Itself
The Unix installation that OS X is built on has many utilities available. A file and system check can be carried out by starting the computer in Single User Mode: hold down Command + S at startup (to see what this looks like try Command + V - the Mac will then start as normal). This does not mount the disk, so a repair can be done. Unless you are happy working at the command line, this is not recommended.

When the computer has started and all the text information has been displayed, there is a command line prompt. Here we type the command fsck -fy. That adds on two extra commands to the check
Force fsck to check clean filesystems when preening.
Yes to all questions asked by fsck (Mac Developer Library).
When the check is done and all is well, there is a report that the disk (it is named) "appears to be OK". If something is found to be wrong, it is fixed and the check automatically runs again. Some fixes may take a long time. I had to use this on an iMac that had a disk stuck in the drive (that gives some idea of the user's skills) and the number of repairs to specific files took a couple of hours. When the job is done, I use the command reboot to restart the computer and OS X appears as normal.

Nowadays an installation of OS X has two partitions: the one we work in on a daily basis and a hidden (Rescue) partition that can be accessed using the keys Command + R at startup. A lot can be done in here including downloading and installing a fresh version of OS X. In the Utilities menu there is an item that opens a version of Disk Utility. As the main (OS X) disk is not mounted, a repair can be carried out.
What we hope is that the disk is reported to be OK (just like with fsck) and our problems evaporate. The "OK" message is in green; but if there is a problem that Disk Utility cannot fix, the warning is in red. It would then be time for external methods of repair to be used.
Using External Media
If Disk Utility is not cutting it, there is little point in using the same application from an external source. There are stronger tools. Two in particular are considered superior for OS X fixes: Micromat's TechTool Pro 7; and Alsoft's Disk Warrior.

I have no experience of TechTool Pro. Disk Warrior was recommended to me when I first used OS X and I have stuck with that. Some people swear by TechTool Pro which does have a real advantage now with its ability to create a bootable partition and run the repair from there. This was reviewed extensively by Chris Barylick on MacWorld a few months ago. The price is $100.


Although I have Disk Warrior, there is a problem in that the newer Mac I have does not have a disk drive. I always found this slow anyway, so preferred either to run Disk Warrior from external bootable media or from another computer connected using Target Mode.

I contacted Alsoft about this and was told that they now frequently supply Disk Warrior via email. They were not able to give me any information about future non-disk downloading from the site. Disk Warrior costs $99.95. Some locally have balked at this price, but like backups, if the computer goes wrong, it is already too late and a data recovery service may cost much more. I was also lucky the last time I had a disk fail (See below): Disk Warrior was able to retrieve all the files and I saved them to an external disk.

As well as a repair, it is useful to run such a utility from time to time as part of scheduled maintenance. Doing this when nothing is apparently wrong, is better than having to react when there is a problem, especially when that important project is due or some other critical event that needs the data is looming.


It is not so easy to install a separate version of OS X onto a disk with the latest 10.9, Mavericks, so I have delayed this. A recent arrival of a larger Thunderbolt disk and the extra backing up of all my photos to the new disk, means that I can now try this on the rescue disk I have without the fear of losing all data if I were to do anything wrong. Once I have updated OS X on the external disk, I will also try to update the USB flash drive.

Both of these external disks currently have OS X 10.8 installed and work with my older computers (iMac and 15" MacBook Pro). The 13" MacBook Pro with Retina display came with a version of Mavericks so cannot be started using the older Mountain Lion.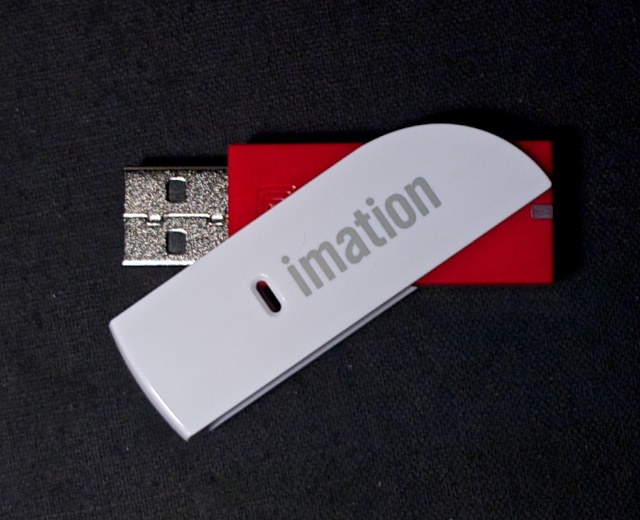 To start up those older computers using these external media, I would shut down, connect the disk (or insert the thumb drive) and start up with the Option key pressed. That displays all the disks that can be used to start the Mac. Selecting one (left - right arrow keys) and pressing Enter, boots the Mac from that external disk.
Currently, that option of the external disks is not available for the new Mac, so I have to consider Target mode. In the past I used Firewire cables to connect two devices. Apple's information on this tells me that Firewire or Thunderbolt can be used. Although a Mac can be started from external media using USB cables, there is no mention of a USB cable with Target mode.
The 15" MacBook Pro has Firewire ports, while the 13" only has Thunderbolt. Fortunately, I had crossed this bridge with one of my backup disks and have a Firewire to Thunderbolt adapter.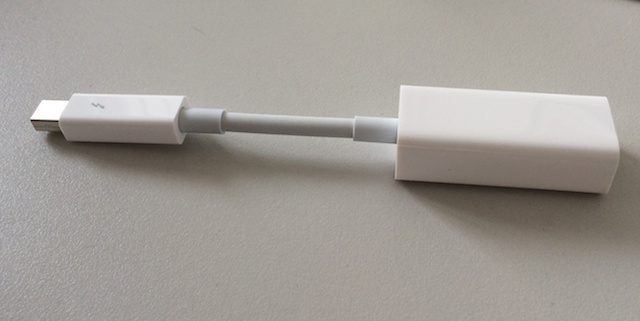 Rolling My Sleeves Up
The Mac was running fine, the sun was shining, I had the morning free: a perfect time to run Disk Warrior and keep my Mac in prime condition. First I connected the power supply and also attached a Time Machine backup disk. When both Macs were charged (this is in case the mains power cuts - it happens) and the 13" Mac was backed up, I shut down the newer Mac. I used the Firewire 800 cable from the hard disk to connect to the 15" Mac. Before connecting the two computers, I shut down the 13" Mac. The 15" Mac stayed on.

With the FW 800 cable in the 15" Mac, I connected the other end to the Thunderbolt port of the 13" Mac using the Firewire to Thunderbolt adapter. I pressed the power button and almost immediately, the Firewire icon appeared on the screen. Initially there was a struck-through Thunderbolt icon, but this disappeared. When the hard disk icon for the newer Mac appeared on the desktop of the 15" MacBook Pro, I started Disk Warrrior (v 4.4) on the older device. As I was working in a User account, I was asked to type in Admin name and password.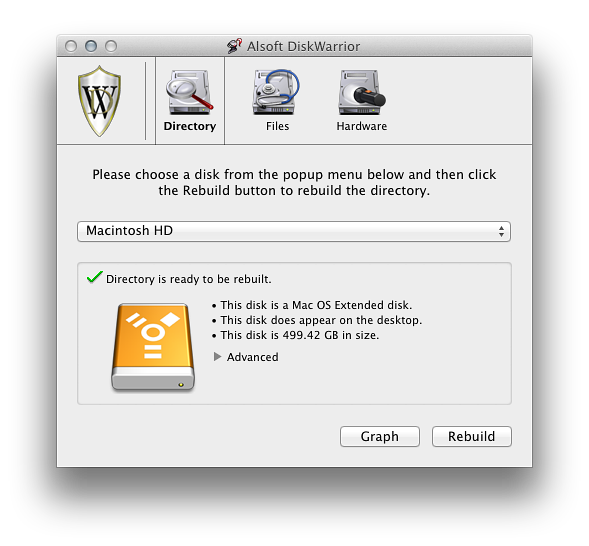 Disk Warrior has a couple of options with regard to examining disks and files, but I stuck to basics, first using the Graph button. This took a minute or two and showed that 34% of items were out of order: not perfect, but not a disaster. Rebuilding the desktop would probably sharpen things up a little.


I then pressed the Rebuild button. The first steps, which included Locating Data and constructing a replacement directory took about 4 minutes. Verifying directory data then took a couple of minutes more. The data is then checked for differences (and problems) with Disk Warrior always reporting that it runs several million tests. Note that the time can be extended considerably if Disk Warrior needs to repair serious directory or file damage.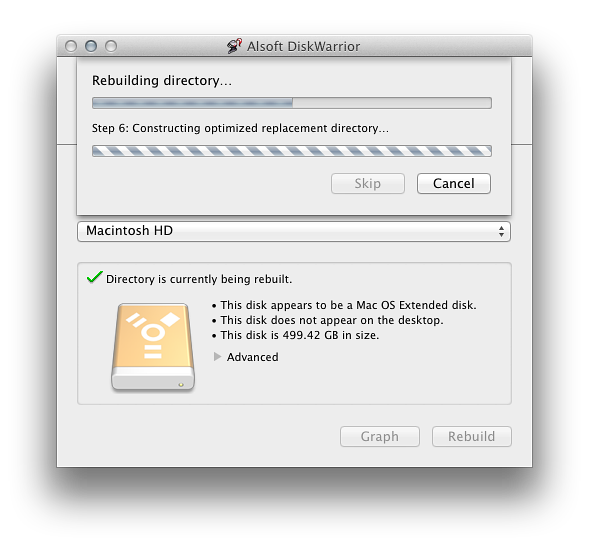 When all that was done, a report was prepared that did reveal a few minor problems that had been fixed. I elected to Replace the directory. This takes a while. When done, I declined the offer to save the report and ejected the disk icon of the repaired Mac. When that was done, I shut down the computer (using the power button) and disconnected the cables.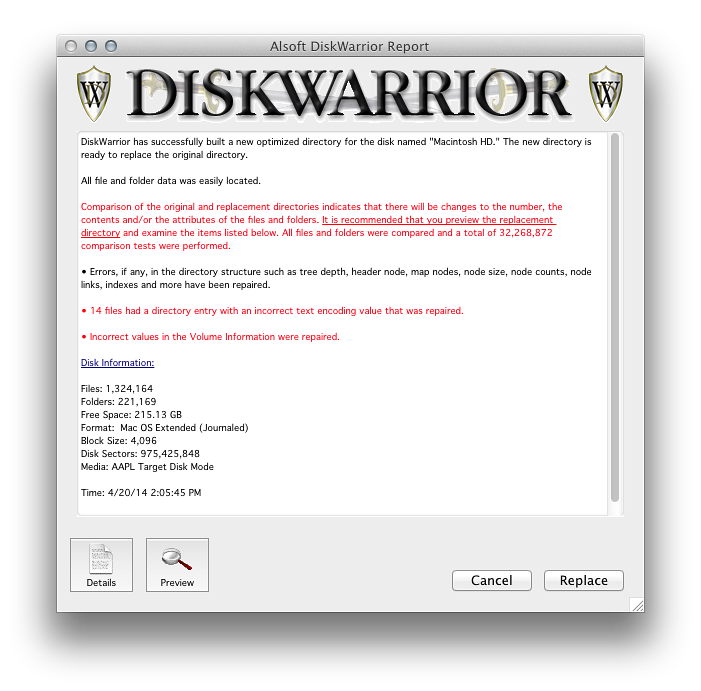 When I restarted the Mac it felt crisp and lively. That of course may be my biased reaction to a problem-free run of Disk Warrior. This took me a relatively short time and I like to do this - even if nothing appears to be wrong - every few months just to make sure. The alternative of running Disk Warrior after something has gone wrong may reveal many problems that require a complex repair process that could take several hours (or more). From this aspect, buying the application saves me much time and worry each year, so that is easily worth $100.

As a reminder, I did have a hard disk fail on my office iMac a couple of years back and as part of the process of finding out what was wrong, I ran Disk Warrior (on that occasion from a flash drive). It reported that the disk was indeed on its last legs, but also kept the data during the process. That allowed me to borrow an external disk and I was able to copy everything on to that.
See also:
Graham K. Rogers teaches at the Faculty of Engineering, Mahidol University in Thailand where he is also Assistant Dean. He wrote in the Bangkok Post, Database supplement on IT subjects. For the last seven years of Database he wrote a column on Apple and Macs. He is now continuing that in the Bangkok Post supplement, Life.