By Graham K. Rogers
---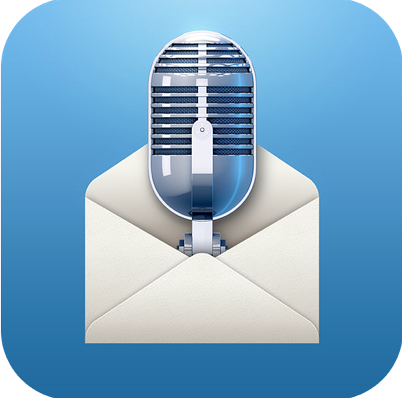 I find that with most of the installations I have - the Mac, iPhone and iPad - apart from photography apps, I am usually content with the standard Apple installations. So why many try variations on the calendar theme, or the contacts, I am quite happy to stick with the basic apps, if only because of the way they synchronise across all my devices.
My philosophy here might be summed up by the motorcycle motto, "if it ain't broke, don't fix it," something that I apply to much of my device use. One area that Apple did not have a good solution for was when I wanted to record sound. The app it now provides, Voice Memos, is good enough and with a couple of taps on the screen, it is possible to send an email with a sound file attached. That third-party app I had been using was called Dictation (of course), but when Apple provided its app, I stopped using it.

Last week, I was alerted to another solution by a user in the US who occasionally reads what I put online. Say it, Mail it is a simple app with one main purpose that it carries out effectively and with less effort than the Apple solution. Perhaps the most complex thing about it is its name, although this describes perfectly what it does. It is made by Rich Love of Carnation Software.

When first started, the app suggests that users enter their email addresses. One this is done, the app just needs a tap on the screen to start working. The main screen is nicely set out with an envelope dominated by a microphone icon. Beneath the envelope is a bar (grey-blue to begin with) that will indicate sound levels in green. To the right of this bar is a small i in a white circle, which allows access to the basic settings. It is in here that the username and email address can be changed if needed.
Also in that panel is a button for preferences: a list of items that can be toggled on or off:
Shaking to start/stop the recording;
Include the app name in the message;
Map location used;
Map screenshot used when possible;
Include file attached info (audio, photo, map);
Start recording when the app launches;
Allow proximity recording; and
Always mail to a group
At the bottom of the main screen are three buttons: Say it, Play it, and Mail it. The second is greyed out until there is actually a recording to play. When the Say it button is pressed, that changes to a Stop it button.
As well as the Say it button, tapping on the microphone will also start the recording. At the base of the microphone, there is a red button marked, Reset, which only works when something has actually been recorded.
As the recording is being made, a small time counter is displayed near the bottom of the envelope. A 10-second test gave me a file size (shown top right of the main panel) of 158 KB.

I made short files using Apple's Voice Memos and the Say it Mail it app, both of about 10 seconds just to see how each worked. Voice Memos looks more like a studio recording set up with its sound wave display. I found it easy enough to start, but (despite the single button) less instinctive when ending the recording. The recording is then saved (and named).
The specific file must be selected from a list and the action selected (Export, Edit, Trash). If Export is used, there is a choice of Airdrop, Message or Mail. The file sent by email is in the m4a format (MPEG 4 using the Apple Lossless format).
The file in Say it, Mail it on the other hand was almost twice as large (we are only talking about 84 KB size here for a recording of under 10 seconds) and was a .WAV file, which is more common on Windows systems.
As can be judged by the number of steps needed to email a sound file using the Apple app, Say it, Mail it is much more efficient. When sending the email itself, both apps require the recipient's details to be entered, although Say it, Mail it already have the sender details entered as one recipient. If emails were to be sent to a specific recipient often (or to a group) that could be entered in the information screen as a shortcut.
There are two versions of the app Say it, Mail it Lite for $0.99 and a more complete version for $1.99 which is the one I examined. While mailing recorded memos is not something I do often, there are sometimes when it might be useful; and for some people, recorded sound as a means of communication may be preferable, either because of time constraints, or a disability.
Say it, Mail it is straightforward and can shave seconds off the time otherwise taken to set up and send email with a dictated sound file. As implied by the settings, it is also possible to add other file types to a message when it is sent, including image types.
Graham K. Rogers teaches at the Faculty of Engineering, Mahidol University in Thailand where he is also Assistant Dean. He wrote in the Bangkok Post, Database supplement on IT subjects. For the last seven years of Database he wrote a column on Apple and Macs. He is now continuing that in the Bangkok Post supplement, Life.