By Graham K. Rogers
---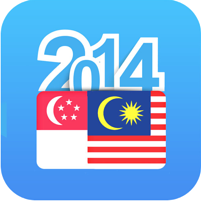 At one time, Singapore and Malaysia were linked under the British. When the Malaysian Federation was formed, they were part of the same country, more or less. Differences between the mainland and Singapore itself soon became too difficult for some to handle. Despite the subsequent separation, the two countries are still linked in a number of ways.

An app that recognises this is Singapore and Malaysia Calendar 2014, from the developer, William Wong (Song Rong Wong). This is a low-cost $0.99.
There is a wealth of information available in the app which covers holidays in both countries: religious, public and state. The app caters for three main groups: Malays (Islam), Chinese, and the Buddhist population. Despite all the information, there is no link to a developer website, but there are two other apps in the iTunes App Store: a 2013 calendar app as well as Leave Calendar and Leave Calendar Lite.

While Malaysia is primarily Islam and Singapore Chinese, there are Malays in Singapore and Chinese in Malaysia. Penang, for example, has a high proportion of Chinese descendants as it was an important British port. It is sensible, therefore, to include all of the dates for all the groups in Singapore and Malaysia Calendar 2014. As well as nationals of both countries, those doing business with either of the nations would find this of value. For example, Friday is not a day for business in Malaysia as most will go to a temple for the important Friday prayers.

When downloaded (4 MB) the app appears on the iPhone as SgMy Cal, but the icon itself is clear enough with the two flags above the year on a sky-blue background.
When first opened, the screen showed January 2014 with detail for Singapore. This is easy to change in the settings (below) with options for Singapore, Malaysia and 16 states from Johor to Terengganu with Kuala Lumpur and Penang as well. The country or state name and a flag are at the top of the screen. The months have dates marked in red for public holidays (e.g. 1 Jan), while other significant dates have green flags in the top left of the date cells. At the beginning of each week (a Sunday) the week number is usefully displayed.

Depending on the country or state selected, so the data available will be changed, although some events are shown in all calendars, for example 31 January is both the Chinese New Year and the Birthday of Maitreya (Buddhist). Each has a relevant symbol alongside. Other holidays shown in my quick look included World Cancer Day (4 February) and St Patrick's Day (17 March).
It is easy to scroll through months using slim arrows at the top of the panel. An additional feature, marked Date (top right), reveals a scroll wheel, making it simple to check a specific calendar from 1901 to 2100 although holiday data is only available from 2010 to 2015.
At the bottom of the screen are 5 icons: Calendar (default), Holidays, Events, School and Settings. Some comments on the calendars are above, but the other sections are
Holidays displays a list of the holidays for a specific year from 2010 - 2015

Events shows a list of other important or significant dates, such as Valentine's Day, April Fool's Day and World no Tobacco Day (31 May). Again data is included from 2010 to 2015

School gives a list of significant dates in the school calendar. Malaysia and Singapore differ here. Data is available from 2010 to 2014 (not 2015 like other sections)
Settings has a number of options that will be useful to users. As well as the locations there are ON/OFF Display options: Weekly Rest Day, School Holiday and Week Number.

Below are options for a second calendar . . .

. . . that allow language and date alternatives to be included.

There are also 6 ON/Off options for events: Buddhist, Christian, Chinese, Hindu, Islamic and General.

At the top of the Settings section there is Support information for the app. The current version is 2.1.3 and contact with the developer is via email. Using the email address I found that the developer does have a basic website which has links for Leave Calendar.

The app is simple enough to use. It is useful for those who may live in Malaysia or Singapore, but also of great value for those outside who may have business within the area. The app is clear and well-designed with plenty of useful data. At the low price of $0.99, Singapore and Malaysia Calendar 2014 is recommended.
Graham K. Rogers teaches at the Faculty of Engineering, Mahidol University in Thailand where he is also Assistant Dean. He wrote in the Bangkok Post, Database supplement on IT subjects. For the last seven years of Database he wrote a column on Apple and Macs.