By Graham K. Rogers
---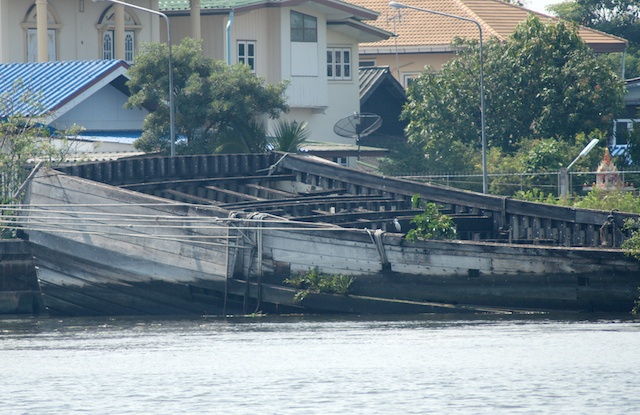 There are two stations in Bangkok with the name Thalad Phlu. One is on the BTS, Silom Line, which tomorrow (Thursday) will be extended past Thalad Phlu to Wuttakat and Bang Wa (at Petchakaasem Road).
A few hundred metres away from the BTS line is an older SRT (State Railway of Thailand) line that was taken over by the state company. Originally, it was built to take fresh produce, especially sea food, from Samut Sakhon to Bangkok. It is not connected to the main network at all, and is doubly odd in that it is in two sections. A fair description of this is on the Thailand By Rail site.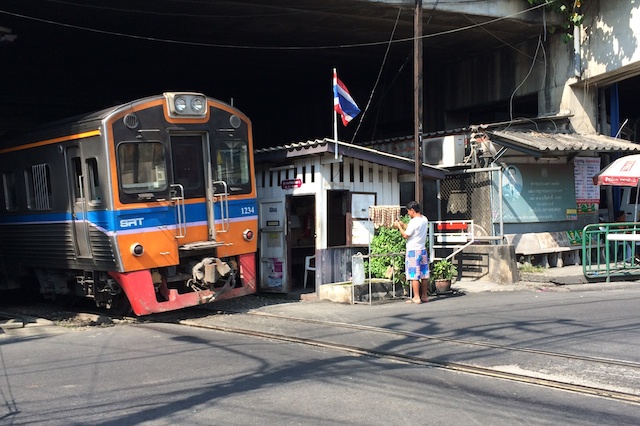 With a political temperature higher than usual, it was the ideal time to take my cameras out to deal with a project I had been planning for a few months as the university is closed this week.
Perhaps, I also thought, this could be an antidote to the intimidation I experienced when walking past one area of protest earlier in the week: a man walked diagonally across the road blocking the shot in my lens and sat on a barrier next to me, staring at me until I put the camera away. I am not a journalist and do not need to take risks.

My plan was to take a mid-morning train on the first part of the line that runs from Wongwian Yai, passing near my apartment, to Mahachai. After lunch I would cross the river and walk to the second half of the line at Ban Laem, then take a train to a station a few kilometers from the Mae Klong, in the middle of nowhere. Using this line always makes me feel as if I have entered another country - or another time period - as everything on this side of the river is much slower: including the trains.

The first part of the plan fell into place perfectly. Before lunch I walked round the market area. After lunch, as I had some time to spare, I sat in a park near the ferry and watched some of the other people there, taking a few shots when I could.

The train from Ban Laem to Mae Klong, where the line runs through a market made famous by the way stallholders have to clear their wares from the tracks to let the train pass, was due to leave at 13:30. The last time I used this section of the line, it left after 2 pm and on the way back was considerably delayed due to a break in the line. We had to wait while a team was sent out to weld the track. At least the driver spotted it.
I noted then, as I had done the year before when I had also made the trip, that the whole section required more maintenance. The first section down to Mahachai was already under some repair which has clearly continued, although the track changes have brought a couple of derailments. The section from Ban Laem to Mae Klong, however, was so bad that the trains were forced to slow almost to a stop to reduce risk and the line was in dire need of investment. Be careful what you wish for.

As I crossed the river to the Ban Laem side, I noticed that there was little water hyacinth in the water. Nor were there many of the water birds that usually flock there in great numbers. Heading back to Bangkok later I noticed that at the usual places where one might expect to see herons and grebes, there were none. With the advent of cooler weather here, they have probably migrated.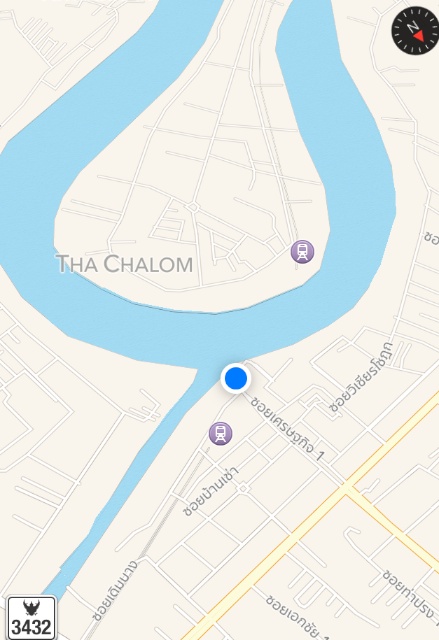 Walking to the station, a woman in a shop called me over and told me that, if I was going for a train at 1:30, it was cancelled. I did doubt her. With the number of tourists that are warned that the Grand palace is closed for the day and then invited to gem stores, I do not take things at face value. I told her I would check for myself.
At the station I was told the same. There was no train at 13:30. When I dug a little deeper, I found that this was due to maintenance. After a few minutes asking questions - they were impressed with the PDF of the timetable I had on my iPhone - I found that trains out of Ban Laem were running at 0730, 1010 and 1640.
Returning from Mae Klong, trains ran at 0620, 0900 and 1530. There are usually only four a day each way, so cutting the trains in the middle of the dy must give them a bigger time slot in which to work. I also found that the work is expected to last another 2 months.
Back at Mahachai later, I saw information from SRT about line problems for those travelling to or from Chiang Mai, but no information about the line out of Ban Laem. A notice would at least have saved a lengthy walk.

I walked slowly back to the ferry and sat opposite a group of school children. They were a bit shocked when I replied to one of their questions in Thai and we had a brief conversation to the amusement of some of the other passengers: "Hmmm, Westerner, speaks Thai he can".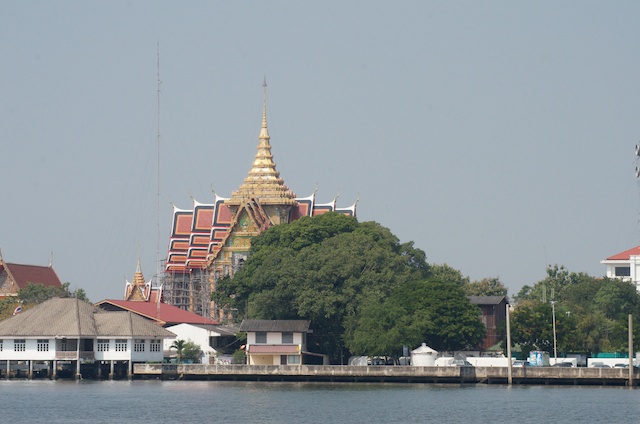 When I jumped off the ferry, I walked to a park nearby where I had sat earlier. This is full of those who work in the fishing industry and the nearby processing plants. While a lot of Thai is spoken, and some Lao, the main language here is Burmese. The centre of the town was one of the stopping points for Aung San Suu Kyi when she visited Thailand not so long ago and Samut Sakhon is also known as Little Burma.

As well as monks, a fortune teller and some locals on their way from the nearby market, there were a few less fortunate people. Among them was a group of teens, some of whom were sniffing glue. Unless quickly taken off this substance, the abuse will destroy brain cells rapidly.
While killing time in the park, the phone rang and it was my nephew who told me he was coming to Bangkok next week with his new Ukrainian wife. He wants to park an empty suitcase with me, and maybe we can have a meal together. As his sister - the two do not communicate often - is also due here on Sunday, I may have some time-juggling to do.
I had checked the timetable and knew I had around 30 minutes to sit around, but as I walked back towards the station, the telephoto lens dropped on the ground. I had checked it earlier and had obviously not secured it when I put it back. The lens can still be used to take pictures, but the telephoto function is not working fully, and autofocus is not good. It is not an expensive lens, but I will have to repair (or replace) this quickly.

Back at Mahachai, there were two train units being cleaned and maintained. The area round the market seemed a lot quieter than usual. When the train returned to Bangkok, there were none of the usual numbers of schoolchildren using the service. As it is Father's Day tomorrow (the King's Birthday) I suspected there was some connection.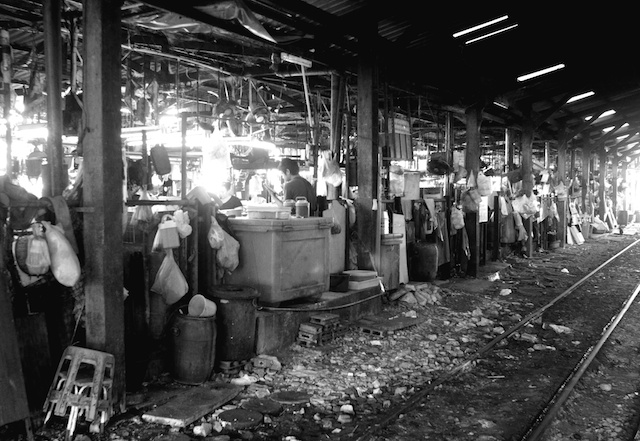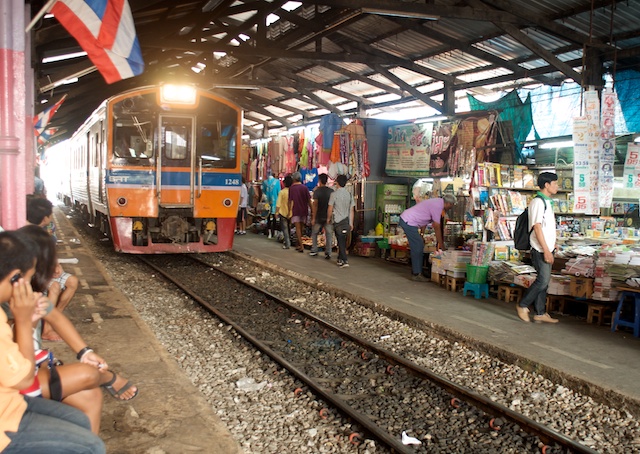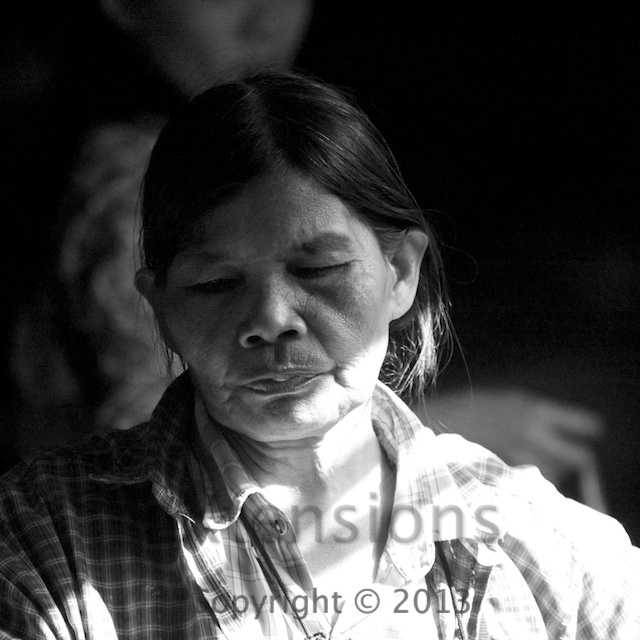 Coming down in the morning, I noted that, despite (or perhaps because of) the amount of maintenance that has been carried out on the Mahachai line over the last few months, the ride was like a bucking bronco in places, with considerable lateral movement as well as vertical. Springs on the train were not absorbing enough of the shocks I felt. As there had been a couple of derailments, I was keeping my fingers crossed that I would not experience another at first hand.

At Bangbon I saw that as well as track maintenance - the replacement of all sleepers and tracks - a new bridge over a canal had been constructed. There were a couple more of these new bridges, still with a shiny metal finish as they had not yet been painted.

The ride back home was a little gentler than the ride out. I must now re-plan the trip to the Ban Laem - Mae Klong line for some time in February.
Graham K. Rogers teaches at the Faculty of Engineering, Mahidol University in Thailand where he is also Assistant Dean. He wrote in the Bangkok Post, Database supplement on IT subjects. For the last seven years of Database he wrote a column on Apple and Macs.