By Graham K. Rogers
---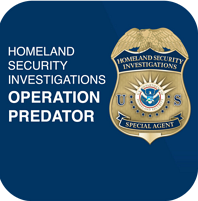 In August of 2011, the FBI released an app that focuses on missing children. At the time I described this as having "Some Shortcomings from a Good Intent". As the app, called FBI Child ID, was available in the App Store here, I downloaded it for a look.
Its main purpose was to register children before the event of them going missing. I could think of several reasons then why parents might not wish to have such information held by the FBI (even with a disclaimer). I am sure there are several more now, with the recent information concerning authorities in the USA and their hoarding of information. It was also, of course, irrelevant to Thailand. Now at version 1.3, it is still available in the iTunes app store for Thailand.

Somewhat more relevant is an app that was released recently by the Department of Homeland Security that has child pornography offenders as its main target. While the main focus is still on crimes committed by citizens of and in the United States, South-east Asia is an area in which such materials are produced. A search of Google, using the key-phrase, "production of child pornography in South-east Asia" will bring up several links.
In addition, the area is often used as a haven for suspects of all types of crime, and many may remember the case of the Canadian, Christopher Paul Neil (known as "Mr Swirl Face"), who was arrested in Nakhon Ratchasima after fleeing from South Korea.

The US Immigration and Customs (Homeland Security Investigations) has issued an app called Operation Predator, that can be used by those who suspect that persons in their communities may be carrying out such activities.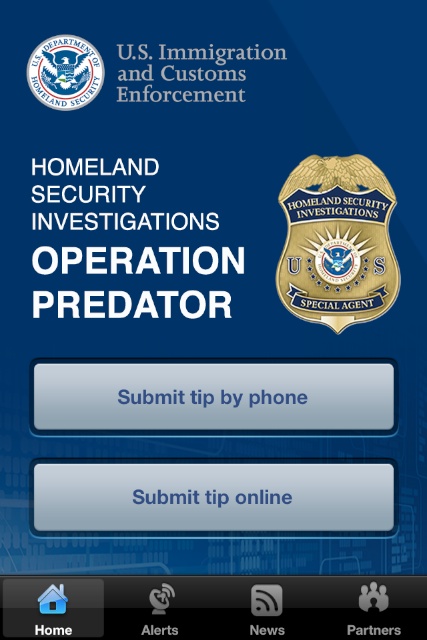 While this part of the app appears initially to be related to domestic crime in the United States, there are other parts of the app that might be valid in other countries. I examined the app on my current iPhone 4S. It also works on the iPad.
The app opens with a basic page that allows users to submit tips: by phone or via the internet. At the bottom of the panel are links to other screens: Alerts, News and Partners.
I am ambivalent about such submissions as they can be hit and miss, or may even be related to revenge. Nonetheless, suspicions may be the first suggestion that authorities have about such activities and on balance may be justifiable, especially with relation to exploitation of children.
This can run from someone taking a video of an assignation, to the criminally organised making and distribution of output. Distribution channels may be blocked, but these are soon circumvented. Like drug sales, arrest of a few mules does not stop the manufacture of the drugs themselves.
This app may be one way to bring more attention to the problem, but it needs to be more developed.
Submitting Tips
Pressing the "Submit by Phone" button on the Home page opens an HPI Tipline page with instructions and another button. This calls a Homeland Security number in the United States and a recorded voice goes through menu options. I did not complete a call, but I wonder if they will call me back.

With the web submission, there is again a fairly lengthy page of instructions, followed by a form. This has only one required field: the activity itself. All other data submission, including name, phone number, email, are optional. Two buttons within the form are for States (within the USA) and for Country of Criminal Activity: this reveals a click wheel starting with Afghanistan and ending with Zimbabwe. All the countries in South-east Asia are included.



Alerts
The panel marked as "Alerts" shows the faces of suspects. I felt that this was under-used with only 9 suspects, and one of these was marked as "Arrested." Each face linked to a larger information panel. Of the nine listed, the John Doe and Erich George Eckart may both have links to this region.





Each month a number of criminal suspects are arrested here on outstanding warrants from other countries and it is no stretch of the imagination to think that some of these suspects - were they here - could be identified and dealt with, as Christopher Neil was in 2007.

If ICE (Immigration and Customs Enforcement) want this to be fully used, the number of suspects listed needs to be expanded.



News
There are over 20 links to stories in the News section. A number of them read like the sorts of stories that the Sunday newspapers report, although the texts were a little less salacious. There is shock value here of course. It is possible on the iPhone to use the Copy command to insert sections of the texts into other media (such as emails).

One of the stories contained information about the John Doe featured in the Alerts section. Again, more use of such information might be made available to publicise these offenders.



Partners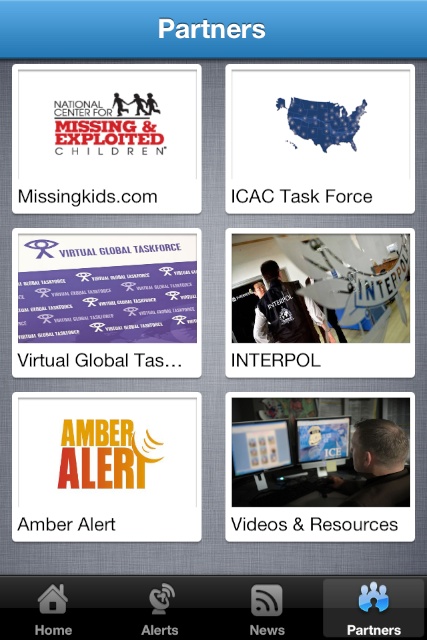 The Department of Homeland Security does not work in isolation with these types of international crime and the panel lists 5 partner organisations. There is also a further link marked Videos and Resources.

As with other parts of the app, this is under-used. So much more could be done. For example, despite linking to these important groups, not one has a live internet link. The URLs are simply included as text: not live links. It took me a few minutes to list the organisations and provide the links that the App should have had:

If I can do it in a few minutes, the developers of the app could have done it too.



Comments
I will not criticise the app in terms of being a bad idea. Any way in which child pornography can be lessened must be for the good, especially for the victims of the crimes.

As it stands, however, the Operation Predator app is little more than a product of a bureaucratic organisation throwing money at a problem, hoping that will be enough, but failing to come to terms with the potential of the devices on which it can be installed, and of the Internet that it will use.

Pages are heavy on text and instructions, while the real information, on suspects is thin; while links are sparsely provided. I hope that the content of Operation Predator will be further developed and improved.



Graham K. Rogers teaches at the Faculty of Engineering, Mahidol University in Thailand where he is also Assistant Dean. He wrote in the Bangkok Post, Database supplement on IT subjects. For the last seven years of Database he wrote a column on Apple and Macs.