By Graham K. Rogers
---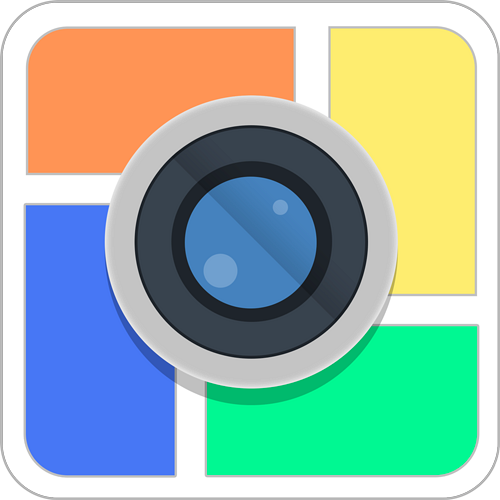 When apps first appeared for iOS devices - in those days the iPhone and iPod touch - many of them had the appearance of scaled down desktop apps. As such they did not initially work in an optimal fashion. The smaller devices work better with a minimalist display and many desktop apps depend on menus to provide access to a wide array of features.

As the number of apps expanded, and the iPads arrived, so apps evolved and many of the best are simple: they do one thing and do it well. In the last couple of years there has been a mild evolution in apps for the Mac as some of the feature sets found in iOS apps have begun to be found on the Mac. Some good examples of the crossover might be CameraBag or iSplash.
There are also some desktop apps that have taken lessons from the approach used for iOS apps and a number of these have appeared. They do a basic task and do it simply, with a basic menu system that removes clutter from the interface.
A recent arrival in my Applications folder is Composure from the developer StuckPixel. There is no equivalent app for iOS devices.
The app opens with all the necessary information and controls available in the working panel. The center of the screen has an area for the current project. To the left are tools: frames, filters, frames and stickers. There are some Finder menus, but these are hardly necessary: major controls are on the working screen.
To the right is an image picker. These may be imported from the desktop, from Facebook and from Photostream. The selection process from this service was not easy to grasp with the way the folders are organised. It might be easier to import directly from Aperture or iPhoto, in the way other apps, such as Posterino, have done for a number of years.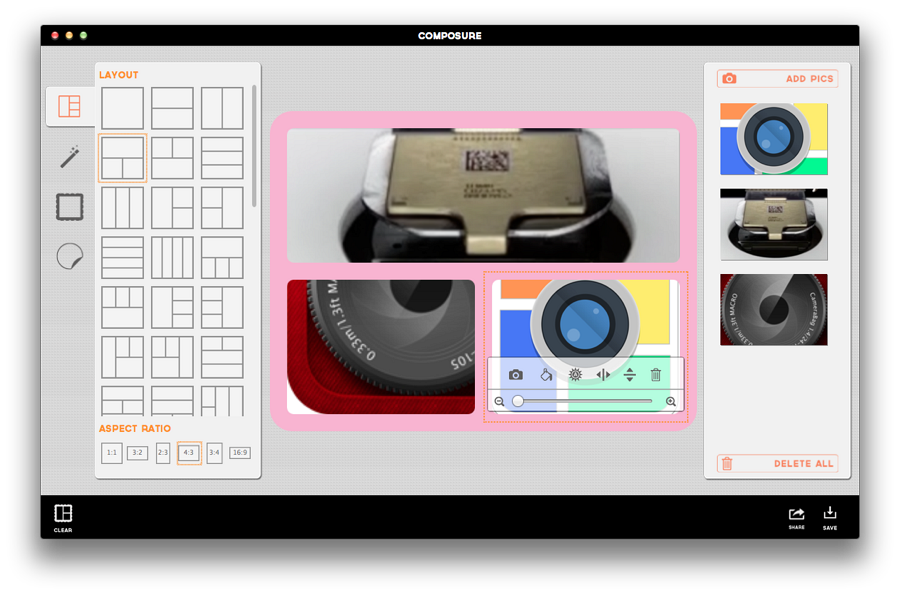 It is easiest to start with a frame design. As there are 54 available, there is considerable flexibility. This is enhanced by the 6 aspect ratios that may be selected from 1:1 through 4:3 and 16:9. Selecting any frame format or aspect ratio will be applied instantly, even to an image project already started. This allows a user to try out options quickly.
Clicking on a photo that has been imported, displays a simple tool bar with camera, fill, brightness, flip horizontally, flip vertically and trash. Below these icons is a slider for image size.

There are 30 filters to choose from, plus original. These can be applied immediately by selecting the image in any frame and clicking. When a frame is selected, all of the filters display the image chosen, so the user can see what that image (not just an approximation) looks like.
The frame color or pattern is applied to the whole project. There are sliders below the 45 styles available that allow for size, rounded inside, and rounded outside. As with all the other features, changes are made in realtime.

Below the working panel to the left is a Clear icon. This resets the whole project, clearing all images and changes. Images in the picker panel are not cleared. To the right is an icon marked Share (Email, Messages, AirDrop, Twitter, Facebook and Flickr. A Save icon alongside allows the user to save a file using a Finder panel that also has a slider for Resolution.
I saved an image that I worked on and found it to be in PNG format (see update, below) with dimensions of 3201 x 2401 pixels (respectable), which gave me an image of just over 44" x 33" at 72 dpi.

The app is simple enough to use and is a free download from the Mac App Store, so may be ideal for those who want to produce basic image output with frames, for example for quick poster displays. Younger members of the family who may connect to social networking sites will also find the simplicity helpful.
Update
Only a few hours after I uploaded this review to my site, the Mac App Store shows that this application has had a significant update (to version 1.1) and the following changes are now available:
In app purchases now available
Connect and print using a printer or save as PDF
Additional image save formats - JPG, BMP as well as PNG
The bottom bar now includes a "Restore" icon to the left, and a "Print" icon on the right. Print is also now added to the File menu. The in-app purchases are only available for the Stickers section. A menu shows those currently available - considerably more than last night - as well as some that can be unlocked. When "All" is selected, those that need unlocking are also displayed.
Graham K. Rogers teaches at the Faculty of Engineering, Mahidol University in Thailand where he is also Assistant Dean. He wrote in the Bangkok Post, Database supplement on IT subjects. For the last seven years of Database he wrote a column on Apple and Macs.