By Graham K. Rogers
---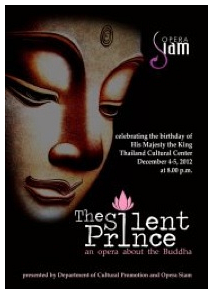 I spent part of last Sunday afternoon as member of the audience at a matinée performance of the opera, The Silent Prince, by S. P. Somtow: Somtow Papinian Sucharitkul. He appears to be something of a force majeure when it comes to the increased acceptance of western music in Thailand.
When I first came here several years ago, there were few, if any, public concerts; but in the last few years, through the work of Somtow and the Music Program at Mahidol University at Salaya (and others), there is a fairly wide choice for those who like such live music events.
The repertoire has consisted mainly of classical music works, such as symphonies, with Somtow himself working through conducting Mahler works with the Bangkok Philharmonic Orchestra: a group of younger musicians that he has put together mainly through his own efforts.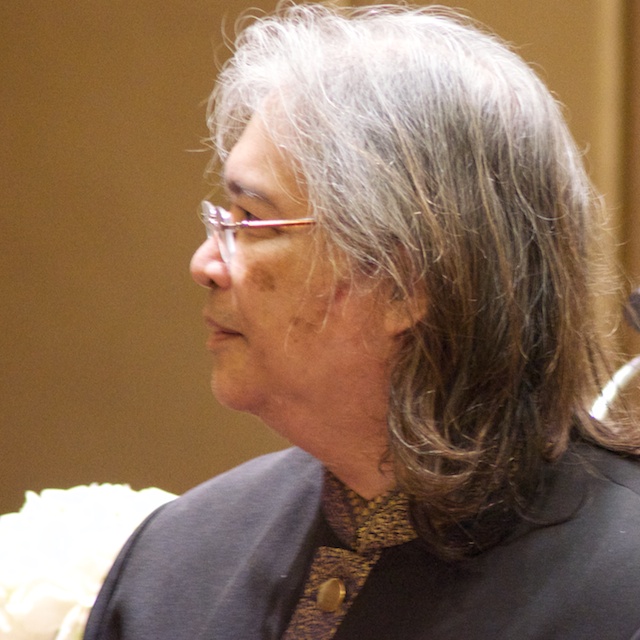 Opera is another world, however, and such performances are more limited than symphonic performances; but earlier this year, for example, Somtow Sucharitkul conducted Verdi's Otello at the Thailand Cultural Center proving that an audience does exist for such works and before that, in 2010, there had been a performance of Bizet's Carmen. More events are listed on Somtow's own website.
Somtow has written a number of musical works himself and is hard at work on others. One that caused many favourable comments was his interpretation of the story of Temiya: one of the incarnations of the Lord Buddha: The Silent Prince.
The opera had its world premiere in Houston last year and a Thai debut in December to celebrate the King's birthday. Two more performances took place this weekend at the Thailand Cultural Center: Saturday night and the Sunday matinée

On a scale of 1 - 10 (with 10 being, say, Meyerbeer's Les Huguenots), this was around 8. On a scale of 1 - 10 for accessibility and enjoyment, this scored 11. The story was fairly familiar to most at the performance so unlike (say) Faustus would have needed little explanation to a Thai audience. While the set was decorated sparesely in a neutral Asian theme, the lighting was used to excellent effect.
I am not sure if it was the position of my seat (4 rows from the front), the acoustics of the hall, or another cause, but at times the orchestra overwhelmed the voices of some singers, particularly Nadlada Thamtanakom as Queen of Heaven. It was not that her voice was especially weak - later it came though beautifully - but for a moment it was lost in the output from the instruments.
Also suffering from this was Duo Pan who played the King's faithfull servant Sunanda. Particularly in the grave-digging scene, his voice was so crystal-like - a beautiful and rare clarity - but he was away from the front of the stage, however and with the orchestra between: I wanted there to be more power (or less orchestra) at that moment.
The orchestra under the baton of Trisdee na Patalung performed well. Violins were at the right levels, brass was in the main clear, and the percussion effective: along with most of the audience I jumped at one dramatic moment.
You could feel how much the chorus along with the main performers were enjoying the event and how engaged they were. As a small example, the moving scene in which the King of Banares (Temiya's father) kills the criminal in anger and frustration at his son's refusal to do so, was moving and powerful. This was the right place to end the act and the lights were dimmed. On the darkened stage I saw Kyu Won Han (the king) stoop down to help the criminal, played by Andres Espinoza to his feet and they moved off stage supporting each other.

The leading cast members all produced delighful performances. I particularly enjoyed the fullness and empathy of Grace Echauri who played Temiya's mother: the Queen of Benares. At the moment when she and the king abdicated to save Temiya, tears welled up in my eyes: silly old fool, I thought; but later a number of people made similar comments concerning the emotional content here and in other sections. I found another example of Grace Echauri, singing "Seguidilla" when she played Carmen in that 2010 production by Siam Opera. I wish I had seen that too.
As the God of Heaven, Martin Snell was suitably aloof and rigid with some powerful singing, but when he came to earth as the Procurer or to tempt Temiya as the god of the underworld, he loosened up giving me some more enjoyable moments. Barbara Zion too produced some lovely moments in the scenes she appeared in.
Overall then, the soloists produced admirable performances and I hope they return to Bangkok to give us more of the same (some including Grace Echauri will be back for the Symphony of a Thousand - see below). The core of the drama was reserved for the Prince himself, played by Jak Cholvivarn. Somtow is on record as saying that to give the fullest effect to the ending of Temiya's silence, he decided to use a male soprano. Jak is not a counter-tenor (and certainly not falsetto): the effect is stunning.
A friend who had flown down from Chiang Mai just to see the Silent Prince, remarked at how uncanny this was: "to close your eyes, you would think a woman was on stage". I heard Jak at the press conference, and it was even more uncanny as before he sang I had heard him talking behind me in a clear male voice: then the singing.

Apart from the more serious dramatic scenes, when darker emotions are displayed, the cast and the chorus - under chorus master, Athalie do Koning (a former Mahidol university teacher) - displayed a sense of happiness with what they were doing, as if if the entire entourage were part of one great team. In one crowd scene, when the two cast members who played the younger Temiya (Rom and Rit Parnichkun) joined the chorus, the entire group beamed as they performed.
As well as the singers, there were a number of dancers who produced some memorable performances. Of particular note was the seduction scene (they failed but tried really hard - lesser men than Temiya would have succumbed). The male dancers were also impressive. One dancer stands out and although I have the names of all performers (thanks to Athalie de Koning who sent me a digital program), I cannot identify him (much makeup): the taller dancer who played the proud and powerful chariot horse needs a special mention. The kids in the audience especially loved that (and some of us older kids too).
While I would not rank Somtow among the greats like Mozart or Wagner, there was more than enough promise here to make me want more. The music (instrumental and vocal) was strong with some immensely powerful moments: dramatic and emotive. I found tears welling up in my eyes more than once (and thought, Silly old fool) but from conversation later with people I knew and from comments on Facebook, I had obviously not been alone.

I noticed when I booked my expensive ticket (self-indulgence at a special event, and to support the company) large areas of seating in front and behind were pre-booked. When I arrived I was delighted to see these were full of teenagers in jeans and t-shirts. I speculate that this was to give them an exposure to the Arts, and in some parts it worked.
Despite the jeans and sandals without socks, these kids were well-behaved and quite attentive at times. There is nothing wrong with that, I saw a number of men in tuxedos in London at a performance of Siegfried all asleep (after the break for a meal). The kids were fairly quiet and far better behaved than the perfectly dressed young teen two seats from me with his father, who insisted on banging the seat up and down: a glare fixed that. A couple of my former students - electrical engineers, both with an interest in performance - were also at the Silent Prince and wrote that they enjoyed it immensely. Mercifully, as far as I know, we were spared any mobile phone moments.

As well as cheers for Somtow and the performers, especially the younger ones, there was a great roar for Trisdee na Patalung and it looked like his young fan club had taken up station near the back of the auditorium. Well, why not? The idea of classical musical performers having adherents, like some do in the west, is healthy for the state of music here.
I was a bit disappointed with the venue. This was my first visit to the Thailand Cultural Center and it is not easy to get to by public transport. Leaving the MRTA I followed the far too few signs available and when I found one had been damaged was wondering which way to turn, but was rescued by a young lady who knew exactly where we had to go.
The staff at the Center were polite and helpful but I was horrified to find that for a concert of this nature, it was not possible to buy any refreshments at the interval. Instead, patrons needed to walk outside to a minimart with doors so narrow it was difficult for the numbers of people to get in and out. In a bar at the Barbican Centre or at Stratford on Avon one pre-orders a gin or a glass of wine. Here it was a rush and grab for a cardboard box of orange juice.
I look forward to the next performance of the Siam Opera and more output from Somtow. Next up in Bangkok appears to be a performance of Mahler's Symphony Number 8 in E flat major: Symphony of A Thousand (24 July 2013 - 8:00 PM at the Thailand Cultural Center). I have my ticket already.
Related Links:
Graham K. Rogers teaches at the Faculty of Engineering, Mahidol University in Thailand where he is also Assistant Dean. He wrote in the Bangkok Post, Database supplement on IT subjects. For the last seven years of Database he wrote a column on Apple and Macs.