By Graham K. Rogers
---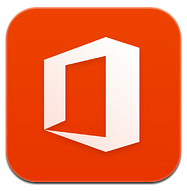 As anyone who has read anything on this site or my earlier output may realise, I am not a particular fan of Microsoft products, having moved to the Mac sometime in the early 1990s when my last PC (running MSDOS 6.2 - I have the disks in my office) expired. A used Mac was offered and the price was right. I have owned several since.
I have also owned iPods - music players and the iPod touch - iPhones, iPads and other Apple hardware, including the Airport Extreme Router (more on that later). With the use of iCloud and Dropbox I tend to leave my MacBook Pro at home these days, using the iMac I keep at work as well as files like Keynote presentations on the iPhone: I can run a presentation from an iOS device as easily as on a computer.
Since the first apps were available, I have had a number that allow me to use documents and spreadsheets on the iPhone and later the iPad. A good example is Documents to Go: an example of software that I had earlier used on a Palm device. It works on the iPhone and the iPad.
There have been plenty of other apps, including Apple's iWork, that allow easy access to documents that I am working on at home: files I create there on the Mac is synchronised between all devices. With the advent of the iPad, scores of apps that allow users to create formatted text files, and handle other formats have been released. All except what some insist is the most important suite for efficient working, Microsoft Office.
Several sources are reporting that, albeit a couple of years late to the party, Microsoft has finally released an app for iOS: Office Mobile for Office 365 subscribers. It uses the subscription license of Office 365. The app name is a bit of a mouthfull in itself.
Of all the stupid business decisions that have been made, however, the app will only be available for the iPhone: not the iPad which is the more logical device for creating and working on documents, presentations or spreadsheets. The app is further limited by the need for a (not so cheap) subscription to the Micrisoft 365 cloud service; and it is not available worldwide.
After all this time, with such a limited effort, why did Microsoft bother at all?

Sources like Sean Gallagher on Ars Technica have more information on the app, as he has already been trying one out; Michael Grothaus on TUAw also has a good description of the contents and how this works; with Jay Greene mentioning the limits on use.
Needless to say, the app is not available worldwide, and when I tried in the Thai App Store to have a look I was offered a switch to the US Store. Sean Gallagher says the app will not suit everyone "because of two very big caveats" (iPhone and 365 Subscription) but for some Microsoft continues its parochial view of the world (tried to download the Bing app here?) and it just will not be available.
As one of the comments on the Ars Technica article said, "Once again, MS snatches defeat from the jaws of victory."
What are they smoking up in Redmond?
Graham K. Rogers teaches at the Faculty of Engineering, Mahidol University in Thailand where he is also Assistant Dean. He wrote in the Bangkok Post, Database supplement on IT subjects. For the last seven years of Database he wrote a column on Apple and Macs.