By Graham K. Rogers
---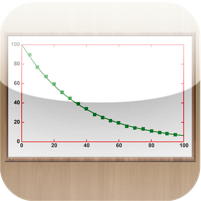 I was fairly competent at math in high school, but when it came to a graduate level statistics course, I was out of my depth, despite the efforts of the capable professor teaching the subject. During the course, I had to run a program on an IBM mainframe computer - this was 1986 - I had no idea what I had done, or why. It was time for a reappraisal.

Since that time, I have been forced to learn a little more as I have read and even supervised thesis work in which the students rely heavily on data analysis, so expressions like chi-squared, t-distributions are a little more accessible to to me now.
I do understand more simple forms of data use, particularly (for example) pie charts and the basic X, Y graph which is one of the easiest data displays to grasp with its ups and downs.
As the iPad has become a tool for calculating, producing information and displaying it, either by holding the screen under someone's nose, or by displaying on a larger screen, the idea of a simple tool for graphing data is rather appealing.

As sometimes happens on the iTunes store, I was looking for one thing and found a dozen others that were intriguing, including the DataAnalysis app from Data Analysis Systems which not only has a number of features concerned with graphing, but has several ways that the data can be input and exported.
The developer site itself is worth a visit as there are several items accessible that will guide users through the more complex operations possible. Indeed, there is so much useful information, much of it cross-linked with other pages, that my usual explanation of how I work through an app are pretty much redundant.

The simplest way to enter data for graphing in the app, is by typing it into the panel provided, but this could be tedious. It turns out I did have some suitable data as I had just marked some student exams. I first tried to use iTunes to send the data to the app. Although it synchronised, I was not able to see the TXT file in the app. iTunes showed a number of .DAES files - DataAnalysis files (.daes) - so I tried changing the suffix of the file to .daes, but although it then appeared, the data was not complete.
Far simpler was copying the text into an email, then using copy and paste on the iPad when the message arrived. I was able to graph the data (not that it meant much in the rough and ready form I had it) with a simple button press.
The graphs may be adjusted in terms of the displays with an easy to use scroll-wheel method of changing data points and lines (e.g. dotted and solid, thick or thin). Graphs so produced may be exported in a number of formats including PDF and PNG. The app integrates with DropBox and data can be transferred via this service in a number of formats, including PDF, text (txt) and PNG files.

In case the information on the site is not enough, there are tutorials on YouTube. Unlike many such videos, the voice was at a reasonable speed, so non-native speakers should be able to deal with this. The speed with which a simple data set was entered and graphed was interesting as well as the way other manipulations were carried out quite swiftly. The second video on more advanced use was a little more difficult to grasp, but showed how many sophisticated features this free app has.
For a straight forward graphing app that is easy to use and produces quite satisfying results, the free DataAnalysis app is well worth a look.
Graham K. Rogers teaches at the Faculty of Engineering, Mahidol University in Thailand. He wrote in the Bangkok Post, Database supplement on IT subjects. For the last seven years of Database he wrote a column on Apple and Macs.