---
<! ----------------------------------------------------------------------->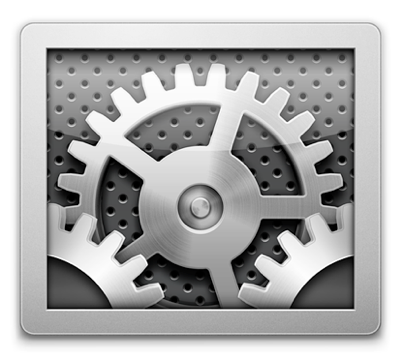 I first started writing about System Preferences in OS X, 10.5, Leopard, at the suggestion of a Bangkok Post reader, I expected that it would take a few weeks to complete. In the end, with interruptions, it took several months.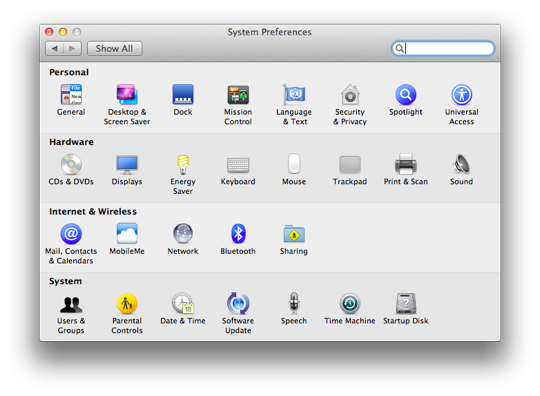 System Preferences saw several changes with the update to OS X 10.7, Lion. While certain of the panels had additions and some had major changes, some kept the same interface. There were one or two losses, such as QuickTime. Some of the preferences have been renamed, such as Accounts which is now Users & Groups. It is a bit thin to call this an A - Z as really we only have B - U.
There are a number of technologies installed which will only become active when specific devices are attached. For example the handwriting recognition software called Ink, is designed to work with attached graphics tablets; and FibreChannel (for which a preference pane is included with OS X installations) is an OS X server utility that will only work if a Fiber Card is attached. I have omitted these. I have also excluded the third party technologies that install preference panes, such as Flash or Growl. There are a fair number and these may be unique to a user's setup.

This guide is certainly not definitive. What I have written is a brief overview of the preferences as a way to help new users (particularly) overcome any problems they might have and to understand what is available in OS X: this is aimed at those moving (or trying to move) from Windows where things are somewhat different and at those new to Leopard who may want to have a quick view of what is now available.
I have gone through each part again and rewritten the information totally. The original 10.5 System Preferences texts are available online in PDF format (and ebook).
Before trying anything new, such as changing settings or turning features on or off, users are urged to back up all data -- you should be doing this anyway -- and I take no responsibility for any havoc you might wreak on your own computer.
Preferences Panels
For most ordinary users, System Preferences is the core of the system: where much fine-tuning takes place. With OS X, Lion, there have been several changes to certain of the panels as well as software changes (under the hood).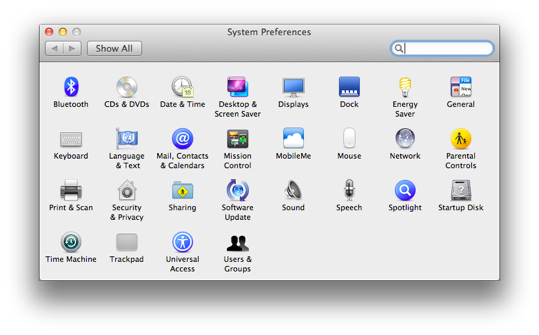 When a user opens the panel icons are organised in five categories: Personal, Hardware, Internet & Wireless, System and Other. The last showing preferences installed for third-party system tools (see above). Using the View menu, however, I organise my preferences alphabetically. It is also possible to make some preference icons invisible by using a Customize item in the View Menu. A check box appears beside each of the icons and we may deselect those we do not wish to be seen.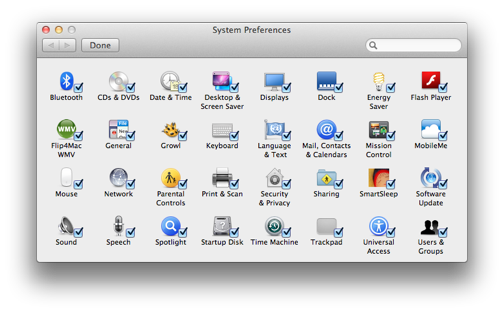 While all of the articles I wrote initially were available separately on the AMITIAE site, I collected them all and they are now in PDF format on the eXtensions site

<! ----------------------------------------------------------------------->