By Graham K. Rogers
---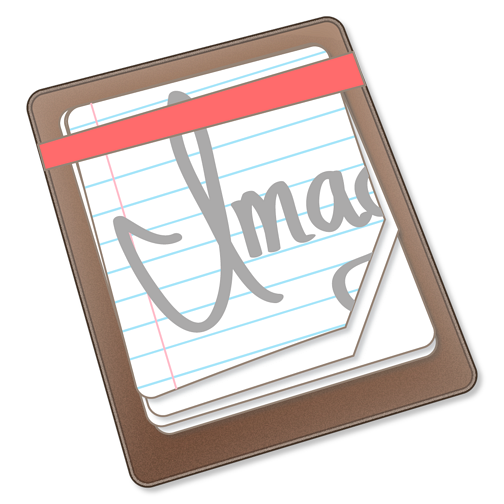 One of my constant frustrations when people ask me about moving to OS X is when being asked about Microsoft Office and more particularly Word. Most people insist they need Word, while only a few actually do. There are a number of far simpler applications available that produce output sufficient for most users, but familiarity means so many waste resources typing shopping lists or brief notes with the sledgehammer that this application has become.
Background
When I first moved to the Mac, the computer I bought used had a legal copy of Word 5 installed and that was nice to use. Since that time, it has become engorged with features that most never use, but changes from version to version impel those who depend on the application to keep up to date.

My own students confront this lack of compatibility daily.They work in their rooms, but bring the finished product to a commercial print service on campus that runs a different version of Word. The result is work that in some cases is not acceptable as the printed output is not the same as the student input.

Most of my writing is done in a text editor like TextWrangler -- particularly useful for when I am putting the content into web pages. I also use WriteRoom as this synchronises using DropBox so I can write on my office iMac and pick up where I left off when I come home, or continue out on the street with the iPhone or iPad versions.

Those applications do not allow formatting of text. My preferred application when I need this is Apple's own TextEdit: I write all my teaching materials using this, including simple tables, numbered lists, bullets and included images. The files are saved in RTF (Rich Text) or RTFD formats. For printing, I give these or a PDF file to the office secretary.



Imagine
I was pleased to see details of a new, simple word processing application available in the MacApp Store with the name, Imagine. This is amazingly clutter-free and its young developer (a high school student who appears to come from the US Mid-west) has got to the essence of what is needed for writing basics. However it does lack any export or printing functions.

The app appears with a simple template: a heading in what appears to be the Geneva font (which cannot be changed) and the text body which can be adjusted with some simple controls available to the user.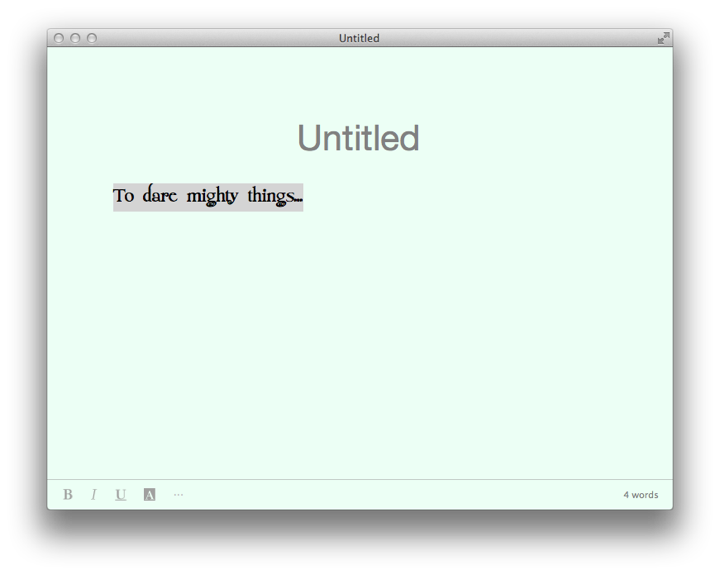 Typing on the centred heading writes over the semi-greyed out text. Below is the half sentence, "To dare mighty things...." which is a Theodore Roosevelt quotation. This writing panel was a bit small when it first appeared on my MacBook Pro, but it was easily resized by dragging a corner. The double-arrow icon at the top right also allows a full screen display to be used which was particularly effective here, removing all distractions (I have other applications always running) and allowing me to concentrate on the task in hand.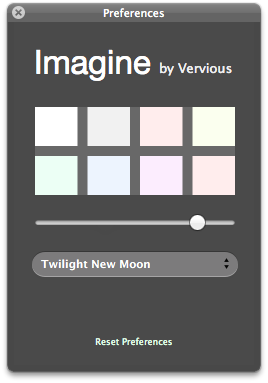 There are menus available for most operations, although some of the commands I often use (such as Command + to enlarge text) were not available. Instead the application Preferences which were focussed on the formatting of the display. The semi-transparent preferences panel opens over the page.
There are 8 small windows to colour the screen a user is working on: light, pastel shades that are easy on the eye. A slider beneath the colour selector, adjusts the fint size and a button below this revealed a list of all fonts installed, including Twilight New Moon that I downloaded last week. The application was able to display Thai (but of course not all fonts will display this).
In the View menu there is a toolbar item (called a Format bar) that places a few icons beneath the text. I was a little surprised by this -- usually toolbars are displayed above the text -- but this quickly felt so right for the limited icon set shown, that I wish other developers would have a look at this alternative placement.
The icons were for quick formatting of text: bold, italic, underline and highlight (yellow coloured): just what a student would need. The respective commands were also available in a menu and as key commands. Also displayed in the Format bar to the right was the number of words typed.
A number of other commands were available, like Spelling, Transformations and Speech, making use of the features that OS X now provides. However, the feature that I would have expected to see in any word processor -- printing -- was not available. Nor was there any export function, although I could duplicate and save a copy.
Drawbacks and Comments
Printing required me to access another application (such as TextEdit) or to transfer the file to another computer. As this is what I have to do at work where the Sanyo printer someone bought a while back does not have drivers for Macs, I lose little, but others may not be so pleased.

Without the Print menu, it was also not possible to create a PDF file. I did wonder, bearing in mind the high school genesis of the application if some teachers would allow submission of reports via email (I do not) or other electronic means.

Other shortcomings were found when I tried to import (click and drag) any image. Unlike Apple's TextEdit, this was not possible, meaning this is a text only application.


Despite these gaps, Benjamin Chan (who has also written the Noteworthy+ app) does explain on the page in the MacApp Store that this is a first attempt and more developments are to be expected. I find it encouraging that high school students are motivated and skilled enough to produce such applications. While working on this I reminded myself of Cody Krieger who wrote the useful gfxCardStatus utility.

Imagination, the application, is free which makes this an easy decision for someone who is looking for a lightweight word processor: ideal for basic writing tasks. We should look forward to more features (especially printing) and other applications from this young developer.

Although this app has shortcomings there is much that is encouraging too.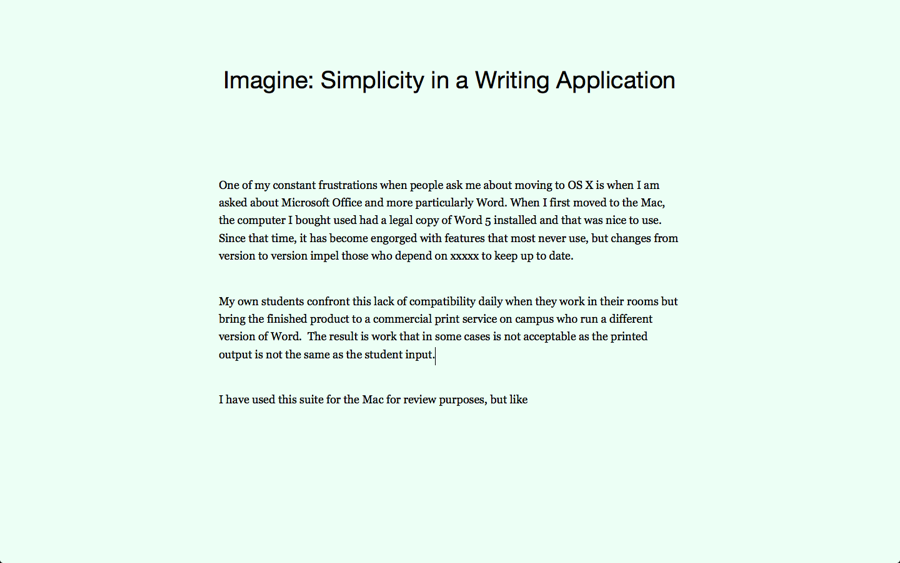 Graham K. Rogers teaches at the Faculty of Engineering, Mahidol University in Thailand. He wrote in the Bangkok Post, Database supplement on IT subjects. For the last seven years of Database he wrote a column on Apple and Macs.