By Graham K. Rogers
---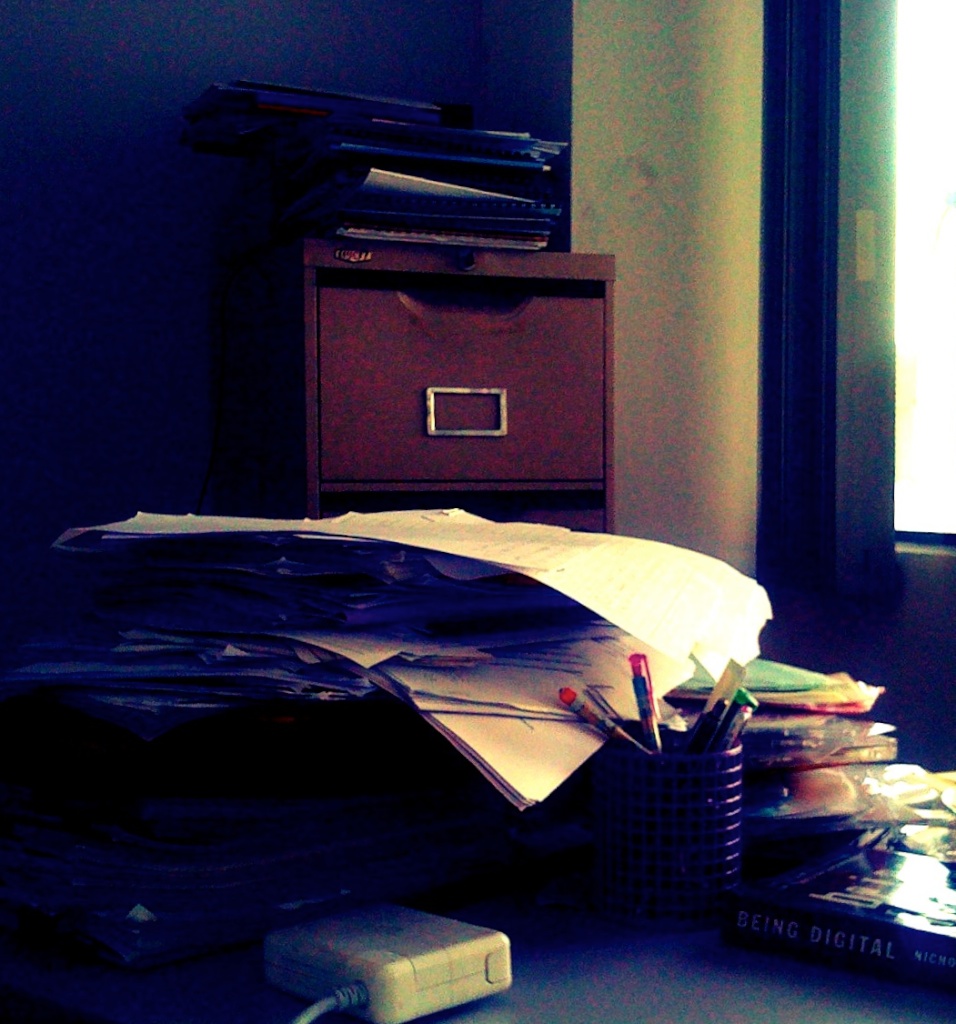 Opening Gambit:
Apple media event for the iPad 3 next week. More on Foxconn matters. More on the Apple-Proview iPad spat. iPad rumours and apps. Some information on what is in Mountain Lion. How Jobs changed industry and is ranked with Henry Ford. Apple has a patent case decision in its favour in the cases concerning Motorola. Apple and Google sued together. Samsung is not making much from tablets at all. IBM developments on quantum computing.



Apple Stuff
I woke Wednesday morning to the news that media invites had gone out, a day earlier than might be expected, for Apple's iPad 3 event next week (7 March). Coincidentally, we are told by Buster Heine on Cult of Mac (who manages to write with a snigger), Apple sent out the email invitation to the event at the exact time that Eric Schmidt was on stage at the Mobile World Conference talking about "awesome" Android. Not so awesome as the iPad 3, eh?

Along with many sources, Jim Dalrymple on The Loop has a pic of the invitation: "We have something you really have to see. And touch." The picture shows a finger tapping the Calendar icon (for 7 March). Keynote and Maps are also on the Home bar.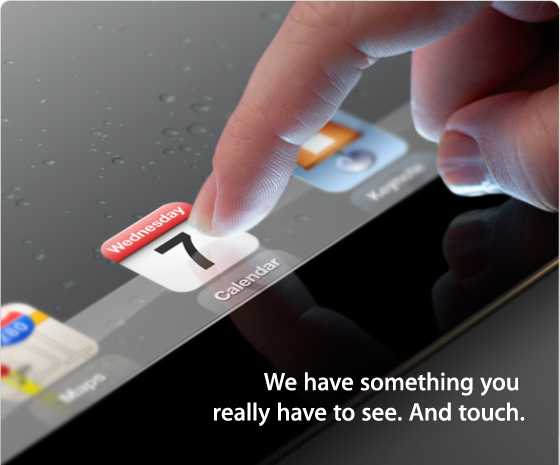 Apple Invitation Image from Jim Dalrymple's article

And Apple shares soared after the announcement with them now standing at $535.41 (that added about $13 over the day).

When the reports concerning Apple and workers in China appeared last month, I was a bit cross as it seemed that the sole target was Apple which, despite its own recognition of problems and putting steps in place to identify and rectify any that came to light, was roundly criticised all over, yet not one of these do-gooder, hand-wringing, petition-waving, anorak-wearing, tree-hugging wailers had a thing to say about all the other companies that, just like Apple use the same factories in China, yet unlike Apple have zero programs in place for worker improvement or safety. Does that sentence work? Yes. Following a link from Huffington Post, I read an article by Adam Satariano and Peter Burrows on Bloomberg which analyses the different approches being taken by Apple and other companies. Steven Sande on TUAW also has some comments on this and the article in Bloomberg that notes the lack of openness from several big names. Sande also includes something from the Loop's Peter Cohen who has similar frustrations to me concerning these companies: "Where's the outrage from citizen's groups and environmental groups?"

There has been some more airing of the problems that are ongoing between Apple and Proview. I guess some of it revolves round why Apple might not have been forthcoming as to its identity when it was after the iPad name. We might consider that the information once out might damage the surprise factor that Apple likes to build into its releases; or the possibility that, had Proview known it was Apple after the name, they would have insisted on a much higher price. Now that the iPad -- the Apple iPad -- is successful, they are insisting on a higher price for the name, which is all they have. Matthew Panzarino on the Next Web explains how Apple used what he calls a shell company to make the deal and links to some earlier articles that are useful in examining the larger picture. Electronista too mention the way Proview is making new claims with its suit in California and the article discusses the shell company. An article we were directed to by The Next Web on Focus Taiwan indicates that Proview is suing Apple for fraud: deceptive practises in obtaining the trade name. The article ends with,
Should the contract be declared void because of Apple's deception, the rights to the iPad trademark in the European Union, South Korea, Mexico, Singapore, Indonesia, Thailand and Vietnam will be given to Proview, the company said.
All reports indicate that -- apart from the trade name which Apple claims it bought, and Proview says it would never have sold so cheaply had they known -- they have nothing. So all this posturing and opening of litigation in courts round the globe is perhaps nothing more than an attempt at forcing Apple to come up with a nice round figure to settle. One notes that the grounds they use for suing Apple in China are not the same as they are using elsewhere (Panzarino, above). Odd that.

With the iPad 3 (or whatever it is finally called) expected to be with us in only a few days -- at least the announcement -- a rumour suggests that the price is going up some $80 according to AppleInsider. The article suggests that if this is so, it may be due to the costs of the Retina Display.
A week or so ago, there was a report that the chip in the new iPad was to be not an A6 but the A5X. This week we read in a report by Rene Ritchie on iMore that Apple is apparently working on both and that the A6 will be the processor in the iPad. Mysterious,. But trying to outguess Apple is not a game to play.
The iPad has caused some changes with the way people are using computing devices and Megan Lavey-Heaton examines the theoretical idea of modular computing: allowing us to use one device (like an iPhone or iPad) and that becomes the computer when it is linked to suitable peripherals. The article also discusses the 30-pin connector, recently subject of a rumour that suggested Apple was perhaps going to dump this, as several of those pins are unused and could have some extra purposes in the future.

A lot of comment over the weekend concerned a release of an app from Adobe for the iPad: Photoshop Touch. It was released then withdrawn, then on Monday the first reviews began to appear (before the embargo ended apparently), so I looked for it myself in the iTunes App Store here. No luck for me until the evening when I had just started reading a review by Graham Spencer on MacStories. I got as far as the comments about tutorials and stopped, downloading the app then writing my own review based on initial impressions: some of the other reviews had had 7 days with the app so were really able to put it through its paces well. But that is how we work here.

There are a lot of apps that are almost clones of others and Apple has been working to remove some of these recently, but Evi which runs on other devices apart from iOS ones, has some similarities to Siri. However, rather than just dump it, according to iPodNN, Apple is attempting to come to some arrangement with the developer.

Information about Mountain Lion keeps seeping out and AppleInsider tell us how deep the integration with iCloud is expected to be and have some useful screen shots. Apparently not just the file but the application that created it will be significant with the way it is stored. We also note that rather than a folder, iCloud will be the default location for saving also adding some more levels of security.
Related to the release of Mountain Lion is the new trust system for developers. This week, Mike Schramm on TAUW reports (among many others) that Apple has now rolled out its Developer ID that will be a part of the Gatekeeper setup of certifying apps to run on our Macs.
We also read in an item by Katie Marsal on AppleInsider that Apple is rumoured to be developing a new audio format specifically for iCloud users.

Despite his reputation as an enfant terrible Steve Jobs ended up changing the way things work at Apple and now some other corporations are emulating the model. MacDaily News points us to a new book The Elastic Enterprise: The New Manifesto for Business Revolution in which Haydn Shaughnessy and Nick Vitalari, who usually write for Forbes argue that his legacy is not just in the great products that some of us take for granted in our daily lives (I mean me, for sure) and others seek to copy, or in the way Apple moved effortlessly into adjacent technologies, but in the company operating system: putting Jobs alongside Henry Ford.

Those who like to take video off of DVDs and put it on their iPhones (or other devices) might be pleased to hear that Handbrake 0.9.6 has been released (MacDaily News).
Half and Half
Much has been made of a decision in Germany in the Motorola-Apple cases running there in which the court said that Motorola Mobility cannot further enforce its standard-essential patent injunction against Apple in Germany during its appeal. We caught this first on Monday in an item by Florian Mueller on Foss Patents who also discusses some of the future implications. AppleInsider also followed up the Mueller item with some comments, condensing it a bit.


Sometimes legal cases make strange bedfellows. Electronista reports that Google is being sued over technology it uses in its Street View and Apple has been named as co-defendant as it uses Google mapping technology. It may be that both knew about the patent concerned but chose to ignore it.


Despite all the bravado and hype, at a recent product demonstration in Barcelona a Samsung exec has had to admit that all is not well in tablet land, Roger Cheng reports, and the company has a flop on its hands. Are we learning lessons yet? We also saw this week that the ghastly Padphone thing from ASUS is in another updated version and almost ready for the market among other offerings. What market? Asian pride sometimes needs to face reality.



Other Matters
IBM are reporting major advances in quantum computing device performance that may accelerate the realization of a practical, full-scale quantum computer. IBM researchers have established three new records for reducing errors in elementary computations and retaining the integrity of quantum mechanical properties in quantum bits (qubits) -- the basic units that carry information within quantum computing. IBM has chosen to employ superconducting qubits, which use established microfabrication techniques developed for silicon technology, providing the potential to one day scale up to and manufacture thousands or millions of qubits. Considerably more information on the possibilities, how quantum computing works and a video as well as a number of photographs are available on the IBM press release.

Reading an enthusiastic tweet on a new Nokia phone I was surprised to see that it was reported to have a 41MP camera which is far better than most DSLR camera. Not so fast. A look online showed that there was some software fudging going on and it shared information from adjacent pixels so the real output was considerably lower.


As a late item we see on The Next Web that the site is now producing a monthly magazine available via the App Store. The TNW Magazine App is free but the content is apparently $9.99 for a year with the first issue free.



Graham K. Rogers teaches at the Faculty of Engineering, Mahidol University in Thailand. He wrote in the Bangkok Post, Database supplement on IT subjects. For the last seven years of Database he wrote a column on Apple and Macs.